The Fitbit stock price is down 45.9% so far this year even though the wearable tech firm has posted two strong earnings reports in a row. And the company is expected to report another strong quarter on Monday, Feb. 22.
FactSet Research Systems Inc. (NYSE: FDS) analysts expect Fitbit Inc. (NYSE: FIT) to earn $0.25 per share on revenue of $649 million for the fourth quarter of 2015. That would be up from $0.24 per share on revenue of $409 million for the third quarter.
Despite the strong earnings outlook, many analysts still think Fitbit stock has more trouble ahead in 2016. And that's mostly because of increasing competition. But there's one important reason why Fitbit stock is still a strong investment despite the market's increasing saturation.
First, here's why Fitbit stock has been so volatile since its June 18 debut…
Why Fitbit Stock Has Plunged Since Its Debut
With two strong earnings reports under its belt, Fitbit stock should've seen huge gains last year.
In its second-quarter earnings report, Fitbit posted $0.21 per share on revenue of $400 million. That smashed the Thomson Reuters estimate of $0.08 per share on $319 million in revenue.
The company did it again in the third quarter when it reported earnings per share (EPS) of $0.24 on revenue of $409 million. Analysts had projected an EPS of $0.10 on revenue of $351 million. Fitbit's first two quarters proved the company's strong profitability – a rare trait among newly issued tech companies. After all, online craft marketplace Etsy Inc. (Nasdaq: ETSY) went public two months before Fitbit and has posted three quarterly losses in a row.
But Fitbit's profitability wasn't enough. And the broader market sell-off has had a huge impact on the stock…
The Fitbit stock price fell 40.6% from its all-time high of $51.64 on Aug. 5 to $29.59 by the end of the year.
Its volatility has continued in 2016 due to the sudden free fall in the tech sector.
You see, China's slowing economy has investors worried the world's second-largest economy will reduce demand for tech products. That's caused the tech-centric Nasdaq index to plunge 10.2% so far this year.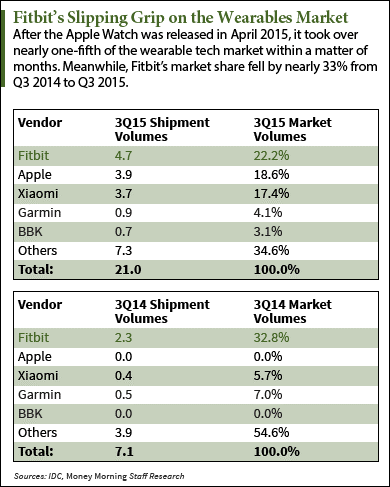 Another drag on the FIT stock price over the last year has been the Apple Watch's growing market share.
During the third quarter of 2014, Fitbit benefited tremendously from the Apple Watch's absence by controlling nearly one-third of the wearable tech market. Other companies like Xiaomi and Garmin remained in the shadows with their 5.7% and 7% shares, respectively.
While Fitbit has consistently sold more devices than Apple Inc. (Nasdaq: AAPL), Apple Watch sales skyrocketed immediately following its April 24 debut. Roughly 3.9 million watches were sold in Q3 – the device's first full quarter on the market.
Despite all these bearish factors, Money Morning Defense & Tech Specialist Michael A. Robinson – a 34-year veteran of Silicon Valley and one of the top tech analysts working today –  says you can still make money from Fitbit stock.
Here's how you can get a piece of FIT stock's 130% upside potential this year…
Why Fitbit Stock Is Still a Profitable Tech Play
Analysts fear Apple's strong entry into the wearable tech industry could be Fitbit stock's worst nightmare over the long term.
"The single biggest risk to the name and impediment to our call is if Apple were to launch a product that competes more directly with Fitbit's [hot-selling] Charger HR [device]," Brad Erickson, analyst for tech research firm Pacific Crest and long-term Fitbit stock bull, told MarketWatch.
But Fitbit stock has gained 16% over the last six trading sessions. If shares keep moving higher and the company posts another earnings beat on Monday, Robinson believes FIT would be a strong rebound pick for bold investors.
"They definitely have a loyal installed customer base and strong profit margins on rising sales," Robinson said. "I'm anxious to see year-end results and how well they did in the fourth quarter. I would say buy this only as a turnaround play for aggressive traders."
Yahoo! Finance analysts give the Fitbit stock price a one-year target estimate of $36.84. That's a whopping 130% gain from yesterday's close of $16 a share.
The Bottom Line: Despite two strong earnings reports in a row, Fitbit stock has been exceptionally volatile since it hit the market last June. Even if Fitbit posts another strong quarter next week, many analysts predict shares will head lower due to the company's slipping market share thanks to the Apple Watch's sales growth. But FIT stock has surged recently, which means it could be in the middle of a rebound. If the company reports another earnings beat, Fitbit stock will be a profitable turnaround play for bold traders with faith in the company's market dominance.
Alex McGuire is an associate editor for Money Morning. Follow him on Twitter for all of the biggest Fitbit news.
Like us on Facebook: Money Morning
Tech IPOs Are in for a Rough Year… Only 23 tech companies went public in 2015. And 2016 is set to be another rough year for tech IPOs as the sector endures a massive sell-off. This chart shows just how bad tech IPOs suffered last year…