The Yahoo stock price rallied 2.3% to $30.23 this morning (Friday) after the struggling Internet company said it has formed a committee to explore strategic alternatives. The Yahoo stock price is now up 11% since last Thursday.
But we don't expect the Yahoo Inc. (Nasdaq: YHOO) stock price rally to last through 2016. And there's one major reason why we remain bearish on YHOO stock.
First, here are some key details in Friday's announcement and Yahoo stock's rebound...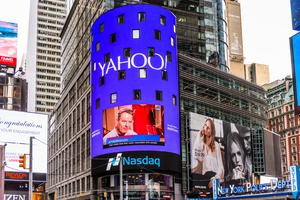 Yahoo's board of directors has created a strategic review committee of independent directors to "conduct a process to evaluate alternatives for the company." Numerous financial advisors have been retained from firms like Goldman Sachs and JPMorgan.
The committee will help Yahoo locate possible buyers or strategic partners. It will then make recommendations to Yahoo and its shareholders.
Yahoo has been under pressure for years to find ways to restore value to the company.
Yahoo is no longer an attractive platform for advertising, its key moneymaker. Leading players Alphabet Inc. (Nasdaq: GOOGL) and Facebook Inc. (Nasdaq: FB) continue to chip away at Yahoo's online and mobile advertising market share.
According to latest available data from comScore, Yahoo has just a 12.8% share of the search market. Google has a 64.5% share.
In the first half of 2015, Yahoo reported that only 20% of its total ad revenue was from mobile ads. In comparison, Facebook recently reported that 80% of its ad revenue came from mobile advertising.
Even sputtering Twitter Inc. (NYSE: TWTR) is besting Yahoo in this category. Twitter reported that 88% of its ad revenue in the first half of 2015 came from mobile.
Yahoo's stock has tumbled 34% over the past 12 months, while the S&P 500 has lost 8.6%. Its market cap of $28.34 billion has dwindled from $42 billion a year ago.
And while the advertising business' performance has been weighing on Yahoo stock, there's an even bigger reason to be bearish on the Yahoo stock price...
The Biggest Reason We're Bearish on the Yahoo Stock Price
CEO Marissa Mayer has continued to make unsuccessful investments and decisions over the last two years. And that is the biggest reason to be bearish on the Yahoo stock price...
In a written statement Friday, Mayer said splitting off Yahoo's lucrative stake in Alibaba Group Holding Ltd. (NYSE: BABA) is "essential" to maximize shareholder value.
A number of analysts maintain the Alibaba stake is the only real value to the Yahoo stock price.
Activist investor Starboard Value LP originally supported Yahoo's plan to sell its stake in the e-commerce goliath. But that was before the IRS denied Yahoo's request for a private letter ruling on whether the Alibaba spin-off would be considered tax-free. Going forward without the IRS tax-free status approval raises the risk the agency could challenge the spin-off in a future audit.
It also means shareholders could be responsible for as much as $9 billion in taxes from the Alibaba spin-off.
Still, Mayer says there are strategic alternatives that could boost Yahoo stock.
Earlier this month, Yahoo CEO Marissa Mayer outlined an ambitious $400 million cost-cutting plan to simplify the company. Mayer also said she would trim the company's headcount by 15%.
Mayer made a big push in turning Yahoo into a video content provider that could rival Hulu and Netflix Inc. (Nasdaq:  NFLX). But her endeavor, known as Yahoo Screen, ended up being a costly failure.
Mayer spent more than $100 million over the last two years to gain a share of the video marketplace and had to fold Screen at the beginning of 2016. But that wasn't before she wrote off $42 million in losses from original programming in Q3 2015.
As the Yahoo board weighs a sale and/or a spin-off, the group will also likely decide Mayer's fate. Despite any potential deals, Mayer's stint with the company may be coming to a close.
When Mayer took the helm at Yahoo in July 2012, hopes ran high that the former Google executive would turn around the struggling company. But during her three years, the Yahoo's core business has shrunk. Upon Mayer's arrival in 2012, Yahoo's sales totaled $4.5 billion. In 2014, the tally was $4.4 billion.
Investors are losing patience with Mayer and with the Yahoo stock price, down 9.76% year to date. Despite this week's rebound, now is not the time to buy into Yahoo stock.
Stay informed on what's going on in the markets by following us on Twitter @moneymorning or liking us on Facebook.
Related Articles: