The Fitbit earnings report was released after the closing bell today (Monday), and the wearable tech firm beat top- and bottom-line expectations.
Despite the strong earnings, the Fitbit stock price is down 45.8% this year. That – along with increasing competition – has many analysts convinced that shares of Fitbit Inc. (NYSE: FIT) will keep falling in 2016.
But Money Morning Defense & Tech Specialist Michael A. Robinson – a 34-year veteran of Silicon Valley and one of the top tech analysts working today – says there's one way you can still make money from Fitbit stock.
First, here's what you need to know about the stellar Fitbit earnings report today…
Fitbit Earnings for Q4 2015 Rise on Strong Sales Growth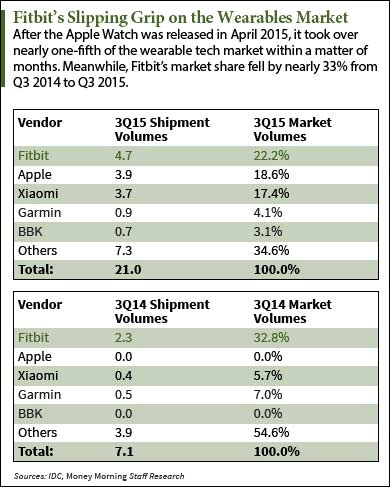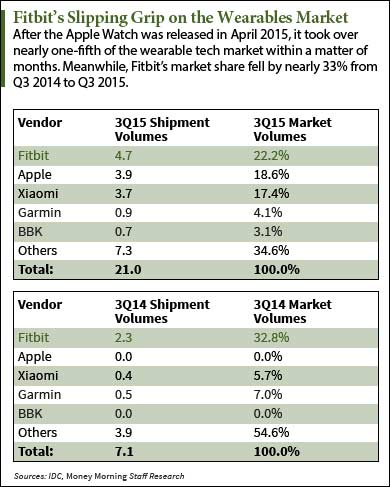 Fitbit posted earnings per share (EPS) of $0.35 on revenue of $711.6 million. That smashed Thomson Reuters' expectations of $0.25 per share on revenue of $647.8 million and marks a year-over-year increase of 66% and 92% in both metrics.
The company sold 8.2 million devices during the last three months of the year – a 55% increase from 5.3 million during the year-ago period.
Despite the earnings beat, Fitbit stock fell more than 14% in post-market trading. With its aftermarket price of $14.14, Fitbit stock is now down more than 60% in 2016.
The massive plunge this year is largely attributed to the Apple Watch's growing market share.
In Q3 2014 – before the Apple Watch hit the market – Fitbit controlled nearly 33% of the wearable tech market. Other competitors like Xiaomi and Garmin remained in the shadows with their 5.7% and 7% shares, respectively.
While Fitbit repeatedly outsells Apple Inc. (Nasdaq: AAPL), sales of the Apple Watch soared following its April 24 debut. Roughly 3.9 million watches were shipped during the product's first full quarter on the market. That quarter, Fitbit sold 4.7 million devices.
Despite Apple's encroaching competition, Robinson says FIT stock is still a strong investment this year for certain investors.
And you can get a piece of Fitbit stock's 117% upside potential in 2016…
Why You Should Buy FIT Stock After Fitbit Earnings
Investors worry the Apple Watch's successful entry into the wearables market could pull FIT stock lower over the long term.
"The single biggest risk to the name and impediment to our call is if Apple were to launch a product that competes more directly with Fitbit's [hot-selling] Charger HR [device]," Brad Erickson, analyst for tech research firm Pacific Crest, said to MarketWatch last week.
But with another strong earnings report in the bag today, Robinson believes Fitbit is a strong rebound pick for short-term traders and investors.
"They definitely have a loyal installed customer base and strong profit margins on rising sales," Robinson said on Feb. 19. "I'm anxious to see year-end results and how well they did in the fourth quarter. I would say buy this only as a turnaround play for aggressive traders."
Analysts from Yahoo! Finance give Fitbit stock a one-year target estimate of $33.84. That's 117% higher than its Feb. 19 close of $15.60.
The Bottom Line: With another strong earnings report under its belt, investors want to know if Fitbit stock has long-term growth potential in an increasingly saturated wearable tech market. After all, a number of analysts see FIT stock falling lower due to the company's declining market share to the Apple Watch. But shares are due for a rebound this year thanks to the company's consistently strong sales performance. Right now, we recommend Fitbit stock as a turnaround play for bold traders with faith in the company's market dominance over growing competitors.
Alex McGuire is an associate editor for Money Morning. Follow him on Twitter for all of the biggest Fitbit news.
Like us on Facebook: Money Morning
Tech IPOs Are in for a Volatile 2016… Only 23 tech companies went public last year. And 2016 is projected to be another bad year for the tech IPO market as big-name companies like Amazon and Apple endure a massive sell-off. Here's how bad tech IPOs suffered last year…
Related Articles: