It's true that global markets rallied last week, and the Dow Jones Industrial Average has climbed 3.8% since Tuesday, Feb 16.
But our stock market predictions show more losses ahead. In fact, Money Morning Global Credit Strategist Michael E. Lewitt says investors should not be fooled by the strong performance of stocks last week.
"Fundamentals have not changed and still present major headwinds to a market recovery," Lewitt says.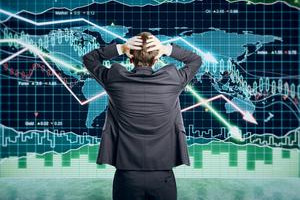 "What we saw was a classic short-covering rally inside a bear market that has further to run," he continued. "Readers should not let their guards down and let themselves get fooled into diving back into dangerous waters."
But Money Morning experts also warn investors not to panic. And they've compiled the best investments to make now to protect your hard-earned money.
First, here's why the markets are falling and why our stock market predictions show further drops…
Even with last week's gains, the Dow, S&P 500, and Nasdaq are still down 5.93%, 6.17%, and 8.25% in 2016, respectively. And many individual stocks are painting a bleaker picture. More than 60% of S&P 500 companies are 20% below their 12-months highs. Roughly 37% of S&P 500 stocks are down more than 30% from their 52-week highs.
Another troubling sign is market breadth, which is the number of stocks rising versus the number falling. Declines are handily outpacing advances. That shows that while benchmarks are edging higher, their components aren't.
Global markets officially fell into a bear market mid-month when the MSCI All-Country World Index fell more than 20% from its May peak. A bear market is defined as a decline of 20% or more below a recent high. The MSCI World Ex USA Index dropped 25.7% from its peak to the January low, and the MSCI Emerging Markets Index fell 37.5%.
Investors have grown increasingly worried about the threat of a global recession, a systemic banking crisis, and the economic impact from plunging oil prices.
And China's economic slowdown has slowed demand for raw materials. As the world's second-largest economy decelerates, oil prices have fallen to a 12-year low.
The recent rout in financial stocks is another warning sign. That's because financials tend to lead at tops and bottoms.
Another red flag is this year's excessive volatility, which is characteristic of market tops. Standard & Poor's 500 Index has moved up or down by 1% or more 19 days this year, versus 72 days for all of 2015, according to Barron's.
But just because our stock market predictions show the markets falling further in 2016 doesn't mean investors should panic. In fact, panicking is one of the worst mistakes you can make now.
That's why Lewitt has detailed several investments to make now to protect your money…
Investments to Make When Stock Market Predictions Show Losses
Unfortunately, Lewitt's stock market predictions show the markets will keep heading lower before recovering.
Lewitt explains, "Stocks were pushed higher last week by more idiotic comments from European and Japanese central bankers promising to make greater efforts to destroy their currencies and create inflation."
Worse, Lewitt continued, "They promise to do so regardless of whether they destabilize the global financial system in the process. Markets were also treated to more remarks from a variety of U.S. Federal Reserve officials sending mixed signals about their intentions to raise interest rates further."
That's why Lewitt says some of the best plays right now are cash, gold, and Treasuries.
Global financial woes, additional quantitative easing, and a potential currency crisis in China are all bullish catalysts for gold prices. Money Morning Resource Investing Specialist Peter Krauth notes strong technical signals also suggest gold prices will continue to trend higher. Spot gold prices are up some 16% just two months into 2016.
Lewitt says very beaten down stocks and assets that you can afford to hold for a long time are also good bets. If you're a long-term investor, this is an excellent time to buy shares of companies with strong fundamentals that will profit from the eventual rebound.
Stay informed on what's going on in the markets by following us on Twitter @moneymorning or liking us on Facebook.
The Essential Guide to Buying Gold and Silver: Precious metal investing is widely regarded as the best "crisis insurance" for your portfolio. This guide gives you everything you need to know about the best stores of value in history, gold and silver. Read more…
Related Articles: