The price of silver today is mostly flat – but the real story is what we see coming this week…
Silver prices went mostly sideways last week. That should come as no surprise as the precious metal is still up 12% after reaching a 14.5% gain in 2016. Stocks, oil, and the U.S. dollar all saw mild recoveries last week, which usually means a drop in the silver price.
But as I'm about to show you, that's only likely to be a temporary scenario as conditions continue to set precious metals up for a strong performance.
Let's take a look at what's moving the price of silver now…
What's Moving the Price of Silver Today
Silver prices opened last week with some weakness at $15.30 as world markets experienced strength along with oil and the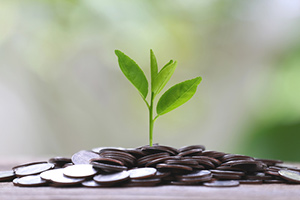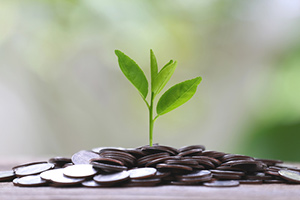 U.S. dollar. Silver closed Monday almost even at $15.33.
On Tuesday, Feb. 16, the price of silver opened in NY trading around $15.35, but weakened to $15.22 as stocks crept higher. Wednesday witnessed much of the same consolidating action. By late afternoon spot silver was at $15.27.
But Thursday, Feb. 18, the silver price saw renewed vigor. That's when the major U.S. indices weakened, which followed through to Friday. After two days of 220-plus point gains, the Dow Jones Industrial Average fell 61 points over Thursday and Friday; the S&P 500 slipped nine. The price of silver ended the week around $15.30.
The price of silver today is down slightly, about $0.16 to $15.16.
Now let's explore some of the other action in the silver market that can help give us a clue on its future direction.
What to Expect from the Price of Silver Now (and When to Buy)
One signal of a rising silver price soon is sales of American Silver Eagle bullion coins, which continue to record a breakneck pace.
The U.S. Mint allocated 1 million ounces of the coins last week, with 926,500 units claimed by Wednesday, just two days into the trading week thanks to the Presidents Day closure on Monday.
So far this year the 1 oz Silver Eagle sales have reached 8,926,500 pieces. If this sales rate continues, the Mint is on pace to sell about 66 million pieces compared to last year's 47 million. That's a whopping 40% increase!
Some analysts have been suggesting that silver output may have already peaked for some time, thanks to low base metals prices. Fully two-thirds of mined silver comes as a byproduct of other metals. So low spot prices for copper, lead, zinc, and even gold are weighing on silver output.   
There have been annual supply deficits in silver for most of the past 10 years, and it's expected that this year's deficit could get even wider.
Canadian and U.S. mints and refiners are feeling the shortage, and that helps explain much higher premiums coupled with frustrating delivery delays.
A report by Steve St. Angelo of SRSrocco Report produced the following chart which contrasts sales of silver coins with shrinking silver production in Canada and the United States: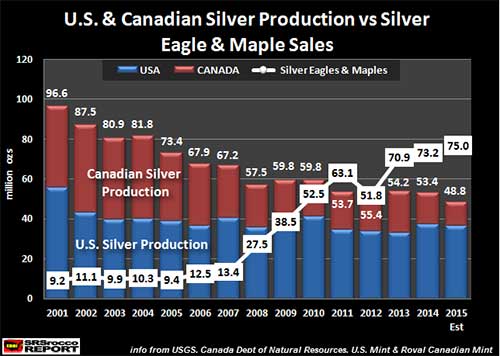 St. Angelo highlights how back "in 2001 U.S. and Canadian silver production totaled 96.6 million oz (Moz)… That year, Silver Eagle and Maple Leaf sales totaled 9.2 Moz." That left a massive surplus of 87.4 Moz.
More recently there was a "net deficit of 26.2 Moz in 2015 as total Silver Eagle and Maple Leaf sales reach a record 75 Moz versus combined mine supply of 48.8 Moz."
So demand just from investment, without even counting other sources, is way ahead of supply. While it may not be for tomorrow, that's a recipe for much higher silver prices.
On the technical front, silver's been behaving well, as I expected.
I told you last week we could see silver back off to at least the 200-day moving average near $15.09, which it has now done.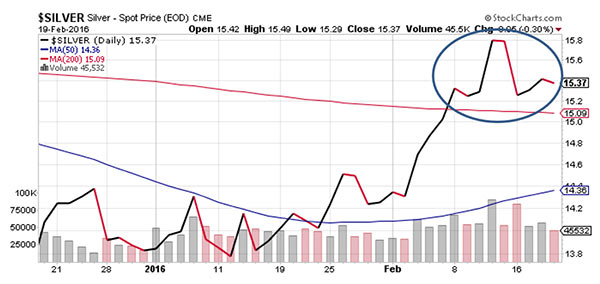 Now we've seen a head and shoulders pattern develop (see circled area on chart). This happens to be a bearish pattern, which could bring the silver price down to a target level near the 50-day moving average around $14.36.
Still, I'd expect this to act as new support, and that could make for a great new buying opportunity in silver.
Stay informed on what's going on with the price of silver today and all days by following us on Twitter @moneymorning or liking us on Facebook.
The Essential Guide to Buying Gold and Silver: Precious metal investing is widely regarded as the best "crisis insurance" for your portfolio. This guide gives you everything you need to know about the best stores of value in history, gold and silver. Read more…
Join the conversation. Click here to jump to comments…
About the Author
Peter Krauth is the Resource Specialist for Money Map Press and has contributed some of the most popular and highly regarded investing articles on Money Morning. Peter is headquartered in resource-rich Canada, but he travels around the world to dig up the very best profit opportunity, whether it's in gold, silver, oil, coal, or even potash.