With several global central banks cutting interest rates in 2016, one question we keep hearing is, "What are negative interest rates?"
A negative-interest-rate policy (NIRP) is a monetary policy tool where nominal target interest rates are set with a negative value somewhere below zero. In short, the policy means banks and customers are essentially paying to park their money at financial institutions.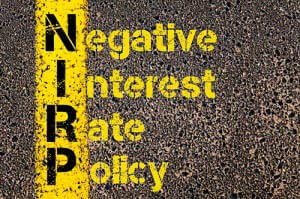 Negative interest rates have become much more popular in 2016, and Money Morning experts say the ramifications are huge for global stock markets.
Before we get to the global implications, here's how popular they have become...
On June 5, 2014, the European Central Bank cut the rate on bank deposits to below zero for the first time in its history. Officials at the time were grappling with how to keep ultralow inflation from gaining traction and derailing the Eurozone's fragile recovery.
A negative deposit rate is supposed to encourage banks to lend some of their excess cash to other banks. The hope is the money ultimately finds its way to the anemic Eurozone economy, which relies heavily on bank lending to fund investment and hiring.
The Frankfurt-based central bank dropped the rate on bank deposits parked overnight with the central bank to -0.1%. The move means the central bank is actually charging commercial banks for keeping their money at the ECB. It was an unprecedented move for a central bank of its size.
Over the next year-and-a-half, the ECB dropped rates further into negative territory. The last reduction came on Dec. 3, when the central bank trimmed the rate to -0.3%.
Sweden, Switzerland, and Denmark all are experimenting with negative interest rates too. So far, the results are mixed.
Denmark went negative in 2012, and further below zero in 2015 to -0.75%. The goal in the Nordic nation is protecting its currency's peg to the euro.
Switzerland cut rates below zero in 2014 amid lackluster economic growth and low inflation that has plagued the Alpine country since the 2008 financial crisis.
On Feb. 11, Sweden's central bank lowered its key interest rate even further below zero. At the same time it said it would take further actions to revive inflation and keep its currency from appreciating. The repo rate was reduced to -0.50% from -0.35%.
On Jan. 29, the Bank of Japan stunned markets by adopting a negative-interest-rate strategy. The BOJ explained the move by pointing to the slowdown in China, plunging oil prices, and worries about the ripple effects from struggling emerging countries.
The U.S. Federal Reserve spooked investors earlier this month when it said it has discussed the idea of a fed funds rate below zero.
But Money Morning Global Credit Strategist Michael E. Lewitt says the decision to turn to negative interest rates should not be taken lightly.
"Negative-interest-rate policy (NIRP) is not merely some technical monetary policy tool; it is a tactic with profound political and moral consequences that must be exposed as a betrayal of the social compact between governments and citizens," Lewitt said.
Lewitt adds that seven years of zero interest rates have already severely punished savers.
"Negative interest rates will finish the job by confiscating their capital for the mere privilege of depositing it in a federally licensed banking institution," he said.
"Negative rates do not spur growth," Lewitt said. "In fact, a common response among individuals in counties with negative rates is to stockpile cash. A number of countries across Europe are reporting hot demand for large denominated notes, which are easier to bulk store."
Negative rates "destroy growth because they destroy capital. We are already seeing this across Europe; it will be a sad day if similar policies wash up on American shores," he continued.
If rates do go negative in the United States, Lewitt warns, the stock market is not going up and any knee-jerk rally will come tumbling down.
But there is a way to protect your money from negative interest rates. Here's Lewitt's advice for protecting your hard-earned money from the policies of central banks...
How to Protect Your Money from Negative Interest Rates in 2016
Investors can take cover from negative interest rates by investing in precious metals.
Gold and silver are strong stores of value when stock markets dip. Just look at the performance of precious metals in 2016 compared to the markets.
The Dow, S&P 500, and the Nasdaq are down 5.66%, 5.87%, and 9.81%, respectively. Gold and silver, meanwhile, are both up more 15% year to date.
Physical gold and silver are the purest plays. But they are not always the most convenient way to invest in precious metals. Exchange-traded funds (ETFs) are the easiest way to own gold and silver.
Money Morning Resource Investing Specialist Peter Krauth is a fan the Sprott Physical Gold Trust (NYSE Arca: PHYS). It stores gold bullion in a secure vault in Canada. PHYS has climbed up 15.17% this year, moving almost in lockstep with the yellow metal.
An added benefit for U.S. investors is a unique tax advantage. U.S. investors holding this ETF for 12 months are subject to an estimated 15% capital gains tax versus the normal 28% rate of most precious metal ETFs.
For silver, Krauth recommends the Sprott Physical Silver Trust ETF (NYSE Arca: PSLV). It holds silver bullion in a protected third-party location. The tax advantages for this ETF are similar to PHYS. Shares are up 14% this year.
Krauth recommends not waiting much longer to protect yourself from negative interest rates.
"Just remember, if you wait to buy this form of insurance when everyone else realizes its true value," Krauth said, "odds are it's going to cost you a whole lot more."
Stay informed on what's going on in the markets by following us on Twitter @moneymorning or liking us on Facebook.
The Essential Guide to Buying Gold and Silver: Precious metal investing is widely regarded as the best "crisis insurance" for your portfolio. This guide gives you everything you need to know about the best stores of value in history, gold and silver. Read more...
Related Articles: