All of the key benchmarks are down sharply since the start of the year, and many companies with strong fundamentals have seen their stocks suffer.
That's why Money Morning Defense & Tech Specialist Michael A. Robinson has pinpointed three of the best stocks to buy now that they're trading at a discount.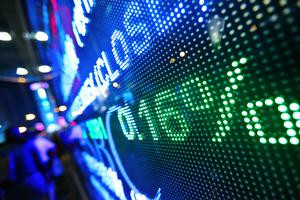 The stocks to buy Robinson found are all in the life sciences sector.
"Despite the recent slump, that sector - which includes biotech - offers investors some of the best long-term opportunities for building wealth," Robinson explains. "And that means you definitely want biotech stocks in your portfolio, especially now."
These three stocks to buy have all been pulled down by the broader market sell-off, and they could continue lower in the short term as the markets remain volatile. The Dow, the S&P 500, and the Nasdaq are down 7.1%, 7.38%, and 11.48%, respectively, in 2016. That's made investors nervous around the world.
But if you're a long-term investor with time to wait, these stocks are all trading at a discount.
"It bears noting that the Dow Jones U.S. Biotechnology Index bottomed out on Feb. 12, barely a week after Martin Shkreli testified before Congress about the infamous drug increase by 'taking the fifth,'" Robinson said. "It's gained more than 6% since then."
"That's great news for us because biotech and other life sciences firms offer investors excellent long-term potential," he continued. "These are companies that are coming up with the blockbuster treatments that will save millions of lives and bring in billions of dollars in new sales."
That's left many investors tempted to head for the exits or simply sit on the sidelines. But such moves mean they will likely miss out on some smart buys.
And according to Robinson, these three stocks to buy now are poised to reward investors with an average return of 69% in the next year. Here are his picks...
Stocks to Buy Now No 1: Celgene Corp. (Nasdaq: CELG)
Celgene Corp. (Nasdaq: CELG) is a New Jersey-based global biotech company that discovers and develops therapies for cancers and anti-inflammatory diseases.
CELG shares have recently slumped due to concerns about slowing sales of its breakout cancer drug Revlimid. Still, sales are expected to be at least 15% higher this year than in 2015. Year over year, CELG's overall sales grew 24% to $2.53 billion, and earnings per share grew 17% to $1.18.
The company also plans to release several new drugs by the end of the decade, reducing its reliance on Revlimid. Abraxane, a compound for pancreatic, breast, and lung cancers, saw sales grow 14% for the fourth quarter. Celgene management expects an even bigger sales increase this year.
On Feb. 18, Celgene announced successful results from phase 2 trials of RADIANCE, used to treat patients with relapsing multiple sclerosis. Reductions in brain lesions at 24 weeks were maintained, while relapses were further reduced at week 72 with continuous RADIANCE treatment. No new safety or tolerability issues were identified during this blinded extension.
"Celgene has a PEG ratio of 0.70, meaning it's priced 30% below fair value," Robinson writes. "It has a forward P/E of 14.5, about a 9% discount from the overall market."
Wall Street's median consensus estimate on Celgene is $144. One analyst has a $163 price target. Shares currently trade at $100.50.
"So, we're looking at one-year gains between 38% and 56%," Robinson said.
Stocks to Buy Now No 2: Mylan NV (Nasdaq: MYL)
Mylan NV (Nasdaq: MYL) is a global leader in the generic drug market. The company boasts some 1,400 generic and branded products.
Robinson has pinpointed this stock because of the smart-money investors who have recently piled in. Storied investor John Paulson's healthcare fund owns some 22.9 million shares of Mylan, with an estimated value of $1.2 billion.
"Ordinarily, I don't pay a lot of attention to stocks favored by hedge fund managers," Robinson said. "But this time I think it pays to do so."
On Feb. 19, Mylan announced its new drug application for fluticasone propionate has been accepted for filing by the Food and Drug Administration. Fluticasone propionate is a generic version of GlaxoSmithKline's Advair Diskus inhalation powder used to treat asthma and airflow obstruction in patients with chronic obstructive pulmonary disease. If all goes well, it should be on the market in March 2017.
Shares trade at $45.39, giving it a market cap of $22.87 billion.
"It's priced about one-third below fair value with a PEG ratio of 0.67," Robinson said. "The stock also has a forward P/E of just 8.5, an 85% discount from the S&P 500. Analysts have a high-water price of $76 on the stock, which would mean a 63% pop in one year. I think that's probably conservative."
Stocks to Buy Now No. 3: Jazz Pharmaceuticals (Nasdaq: JAZZ)
Jazz Pharmaceuticals Plc. (Nasdaq: JAZZ) is an Ireland-based biopharmaceutical company that identifies, develops, and commercializes pharmaceutical products for various medical needs.
Its products include Xyrem, an oral solution for the treatment of excessive daytime sleepiness (EDS) in patients with narcolepsy; Erwinaze to treat acute lymphoblastic leukemia (ALL); and Defitelio for the treatment and prevention of severe hepatic veno-occlusive disease.
The company is running multiple phase 3 trials for JZP-110 to treat patients with excessive daytime sleepiness due to a form of sleep apnea that covers about 85% of the 12 million Americans who have the condition.
The stock trades at $118.39, giving it a market cap of $7.46 billion.
"It has a PEG ratio of 0.43, meaning it trades at a more than 55% discount from fair value," Robinson shares. "It also has a forward P/E of 11, a 43% discount from the S&P 500."
Analysts have a median price target of $178 and a high price target of $230 on the stock. "That means one-year profits between 45% and 88%," Robinson said.
Stay informed on what's going on in the markets by following us on Twitter @moneymorning or liking us on Facebook.
Six Weeks from Now Is Crucial for Tech: Tech stocks have been hit harder than most in 2016, but tech's critical role in our everyday lives ensures the sector won't stay down indefinitely. And just six weeks from now, a big market event could be just the catalyst needed to send tech stocks on a rebound...