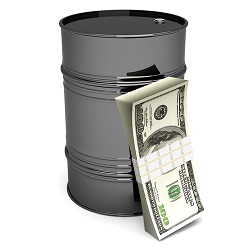 Yes, oil stocks appear unattractive right now due to the continuing oil price decline and constant barrage of bearish news. The WTI crude oil price is down 3.4% over the last two days alone. And the Saudi oil minister's statements this week that the kingdom is prepared to let prices slip to $20 a barrel reinforced fears that there's no bottom in sight.
But Money Morning Global Energy Strategist Dr. Kent Moors - a 30-year veteran of the oil industry who has advised some of the largest oil-producing nations in the world - says you can still find profitable oil stocks in this low price environment.
But not every oil stock is a strong investment. Here are the ones you should stay away from this year, followed by the best types of oil stocks to buy now...
Avoid the "Big Oil" Stocks in 2016
Oil prices have already fallen 17.8% so far this year. As of Feb. 24, the WTI crude oil price hovers near $32 a barrel.
When oil prices are near these 12-year lows, it's best to avoid oil majors like Exxon Mobil Corp. (NYSE: XOM) and Chevron Corp. (NYSE: CVX). That's because the price of oil has a major impact on the bottom lines of these companies.
And they'll need time to recover from their abysmal fourth-quarter earnings reports.
Last quarter, Exxon earned $0.67 per share, down 49% from $1.32 per share a year ago. Chevron posted a loss of $588 million, or $0.31 per share - a massive decline from a profit of $3.5 billion, or $1.85 per share, in the year-ago quarter. It was the company's first quarterly loss since Q3 2002.
While many energy pundits see these losses as buying opportunities, Moors says don't be fooled. These multinational oil giants will continue to hemorrhage money as they pay high operations expenses and other overhead costs.
"These oil majors have massive overhead costs, and in times like these, that is a huge problem," Moors told Oil & Energy Investor subscribers earlier this month. "It'll be some time before they hit bottom, even as oil prices start climbing."
So instead of investing in big oil, Moors says you'll want to invest in these other oil stocks instead - one of which is up nearly 30% in the last month alone...
Buy Oil Stocks Involved in Cost-Efficient Drilling
The best oil stocks to buy in 2016 are the companies engaged in VSF drilling. That's because they save money by drilling wells that are 88% cheaper than a standard fracked well.
You see, "VSF" stands for vertical, shallow, formula drilling. This is when a firm creates a cost-efficient well that's only a few thousand feet deep in order to produce large volumes of oil in a short time period. VSF drilling is profitable when oil costs $30 since the wells only cost $600,000 or less to maintain throughout the production process.
Since deep fracking projects can cost more than eight times that amount, they drown companies in debt when oil prices are low. The high volume doesn't make up for the high operating costs when oil prices are at 12-year lows.
"The extension of vertical, shallow pattern drilling emphasizing known basins and low-cost operations will actually be encouraged in this kind of climate," Moors explained last year. "This is always the way money is made when oil and gas come under pressure."
One prominent VSF driller is Crescent Point Energy Corp. (NYSE: CPG). Earlier this year, the Canadian energy firm announced plans to start a large VSF drilling project in Canada's oil-rich Saskatchewan province. The CPG stock price is up 29.6% over the last month.
The Bottom Line: Volatile oil prices are driving investors far away from oil stocks this year. While investing in oil stocks seems daunting, it can be quite a lucrative endeavor if you know where to look. We recommend buying shares of smaller VSF drillers instead of big-name oil companies. Cost-efficient VSF drillers will profit through the short-term price volatility, while the sheer size of supermajors will drown them in overhead debt.
Alex McGuire is an associate editor for Money Morning who writes about energy. Follow him on Twitter for the biggest oil and gas updates.
Like us on Facebook: Money Morning
There's Something Weird Happening Between Oil and the Stock Market... Right now, the correlation between Brent and the S&P 500 is 0.97. That means oil and stock prices are moving almost perfectly in tandem. And there's one international factor that's making this phenomenon happen...