GOP front-runner Donald Trump has been consistently tough on China since he launched his campaign back in June 2015.
The real estate mogul has accused China of currency manipulation and of promoting one-sided trade policies. He's called for changes in the U.S.-China relationship – suggesting that new tariffs be imposed on the country.
Furthermore, Trump has vowed to bring back jobs from China that rightfully belong to Americans. Just this week he once again made such a promise to rally attendees in Las Vegas, Nevada.
And voters there heard his message loud and clear. Trump received 46% of the vote in yesterday's Nevada primary – the highest share won by any Republican in the race so far. Florida Sen. Marco Rubio placed a distant second with 24% of the vote, and Texas Sen. Ted Cruz finished in third with 21%.
One reason Trump's message resonates with Nevadans is because, just five years ago, the state had the highest unemployment rate in the United States. Ten years ago, it suffered the worst foreclosure rates in the country.
But Nevada has also experienced the 10th strongest recovery, according to the Bloomberg Economic Evaluation of States on Feb. 9, 2016.
Of course, no one wants to see that recovery rate stifled.
Which is what makes Trump's "tough on China" stance a touchy subject…
You see, China is Nevada's second-largest trading partner. Exports to China increased 61% from 2008 and 2013 to $599 million, reported Bloomberg on Tuesday.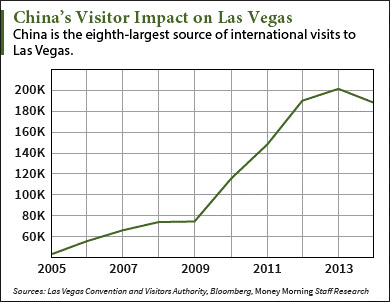 China also ranks as the eighth-largest source of visitors to the gambling hub. Almost 200,000 Chinese travelers came to Las Vegas in 2014, according to the Las Vegas Visitors and Convention Authority. That's a 153% increase from 2009.
Trump's "tough on China" stance could stand at odds with three massive, Red Dragon-backed projects currently set to give Nevada's economy a shot in the arm by adding thousands of jobs and increased spending activity.
Here's how China is pouring billions into the Silver State…
3 Massive China-Backed Projects Underway in Nevada
The XpressWest High-Speed Rail Line: XpressWest is a 230-mile high-speed rail project slated to stretch along the Interstate 15 corridor, connecting southern California to Las Vegas. Already XpressWest has invested $50 million in the project, and additional financing is being arranged through a joint venture with another Chinese high-speed railway company. Altogether, the project is expected to cost upwards of $100 million – all financed by the Chinese.
"The project will be a landmark in overseas investment for the Chinese railway sector and serve as a model of international cooperation," said Yang Zhongmin, chairman of China Railway International, according to Xinhua on Sept. 22, 2015.
The rail line is expected to significantly boost both the southern Nevada and Las Vegas economies.
But this is small change compared to two more China-backed investments that would pour a combined $5 billion into the Silver State…
Faraday Future Manufacturing Plant: Faraday Future, an electric car company backed by a Chinese entrepreneur, said it would invest $1 billion to build a 900-acre factory in a suburb of Las Vegas.
The company, which intends to compete with Tesla Motors Inc. (Nasdaq: TSLA), said on Dec. 10, 2015, that the plant in north Las Vegas would bring 4,500 jobs to the state, reported The New York Times.
Construction of the Resorts World Las Vegas: This sprawling Chinese-themed resort on the Las Vegas Strip is expected to open by mid-2018, reported The Seattle Times on May 6, 2016.
Plans for Resorts World Las Vegas include 3,500 rooms, an outdoor amphitheater, and a possible panda habitat.
Genting Group, the Malaysia-based company that is creating Resorts World, will be investing a grand total of $4 billion into the project.
And according to Resorts World's website on May 5, 2015, the "resort [will] create thousands of jobs and billions of dollars in economic activity while growing Las Vegas' domestic and international tourism market."
Follow us on Twitter @moneymorning, or like us on Facebook
Fly to Your Room. You're Grounded: If Donald Trump becomes president, then this major U.S. corporation's plant in China won't be opening its doors anytime soon. Or maybe not ever…
Related Articles: