The price of gold climbed today (Thursday) as a sharp sell-off in China's stock market sent investors to the safe-haven asset. While China's stock market has led to a gold price rally throughout 2016, we see an even bigger reason why prices will keep soaring.
First, here's why gold prices are up today...
Just after noon today, spot gold prices were trading up $10.90, or 0.89%, at $1,240.40 an ounce.
The price of gold ended yesterday's session up $16.40, or 1.34%, at $1,238.70 an ounce. Coupled with today's gains, the precious metal is now up 17.5% so far this year.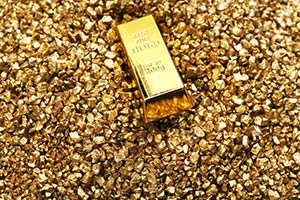 Investors piled into gold following today's steep 6.4% decline in the Chinese stock market. A slowdown in the Asian nation and the worldwide ripple effects are at the core of this year's extreme stock market volatility and recent bear market.
The MSCI All-Country World Index, a broad benchmark of global stocks, slipped into a bear market on Feb. 11 when it closed 20% below its April 2015 high. That has investors worrying about a potential stock market crash.
The price of gold has continued to climb in 2016, while stocks keep dropping. The Dow, S&P 500, and Nasdaq are down 5.38%, 5.58%, and 6.2%, respectively, in 2016.
Fears of a potential currency crisis in China, falling oil prices, a systemic banking crisis, fears of a full-scale economic recession, and negative interest rates have all driven the price of gold this year.
But there's an even bigger issue that will have the greatest impact on gold prices throughout 2016...
Where the Price of Gold Is Headed Now
When the U.S. Federal Reserve hiked interest rates in December for the first time in nearly a decade, the central bank penciled in four rate increases for 2016.
Yet amid heightened global financial woes, many investors now believe near-zero interest rates will be the new Fed theme for 2016. Minutes from the Fed's January meeting, released earlier this month, show policymakers are growing increasingly concerned about global conditions, U.S. growth, and inflation.
The consensus now is that there is almost no chance the Fed will raise rates in March. In fact, many doubt we will see another hike this year.
And those low rates are bullish for the price of gold in 2016.
Fed inaction is also likely to temper gains in the U.S. dollar. The Wall Street Journal Dollar Index, which gauges the U.S. dollar against a basket of 16 currencies, is down almost 1% in 2016 after two consecutive years of advances.
A weaker dollar is also good for gold prices. Gold is priced in U.S. dollars, so when the greenback declines, gold becomes more affordable for foreign buyers.
Interest in gold has spiked and demand is expected to stay strong for the remainder of the year.
Exchange-traded funds (ETFs) that buy gold have started accumulating the shiny metal after a prolonged stretch of selling, reflecting active investor inflows. Holdings at the SPDR Gold Trust (NYSE Arca: GLD), the world's largest gold ETF, rose 11% from the end of 2015 through Feb. 18 to sit at 713.63 tons.
And it's not just the copious amount of sensitive issues plaguing global markets that's attracting investors to gold.
Money Morning Resource Investing Specialist Peter Krauth says strong technical signals also suggest the price of gold will climb higher in 2016.
"The dramatic surge of the last two months could well be the strongest signal yet that the gold bull is stampeding back," Krauth said.
Stay informed on what's going on in the markets by following us on Twitter @moneymorning or liking us on Facebook.
The Essential Guide to Buying Gold and Silver: Precious metal investing is widely regarded as the best "crisis insurance" for your portfolio. This guide gives you everything you need to know about the best stores of value in history, gold and silver. Read more...
Related Articles: