As the U.S. markets have moved sideways in the past week, gold has been in consolidation mode. Today the gold spot price is around $1,223.20 – down $9.50.
Gold traders have done some profit-taking as the gold price has bounced in a range between roughly $1,205 and $1,235 over the past trading week. But the gold spot price has stayed above the $1,200 level, which has helped to paint an increasingly bullish picture.
Technically, we're getting an emerging pennant pattern that will have to resolve itself before long. Will that be to the upside or downside?
Let's look at what will determine that direction.
What's Moving the Gold Spot Price
The gold price started this week dropping to $1,203 on ounce, but rose through the day to peak at $1,212 and to close at $1,208.
Interestingly, despite the weak start, gold climbed the next day, closing at $1,225. Wednesday turned out to have a strong start, with the gold price spiking to peak at $1,248, but then it gave up all those gains to end NY trading at $1,228.
On Thursday, Feb. 25, gold ended the day at $1,234.
As this week of trading went on, I couldn't help but gauge how gold's behavior seemed to be the opposite of the broad stock market movement. Here's a chart to show just how contrary these two asset classes behaved in the past week.
Of course it's not a perfect relationship, but the opposing direction of the gold price and the markets is stunning: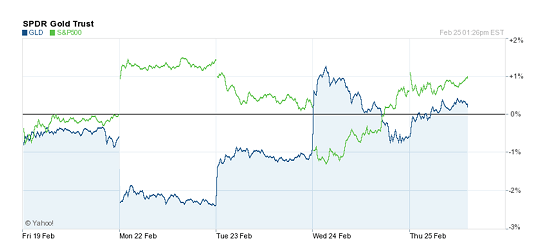 And that same relationship is also quite impressive over the past three months: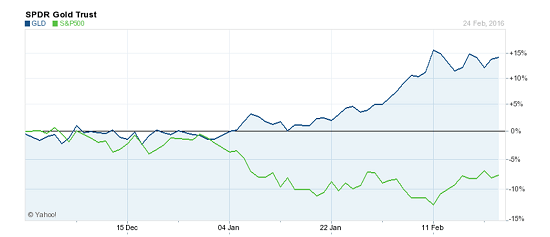 Now let's see what's been happening behind the scenes to help gauge where we may be headed next, starting with a remarkable new report…
What's Moving Gold Prices Next
In a recent report the World Gold Council (WGC) highlighted that rolling four-quarter mine production fell in Q4 last year. It amounted to a 3% decline year over year, but what's remarkable is that this was the first of its kind in over seven years.
According to the WGC, "Declines were geographically widespread and due to a range of factors including lower mine grades, mine closures, and mechanical failures." That's a bullish fundamental sign.
Gold Chart: Rolling Four-Quarter Mine Production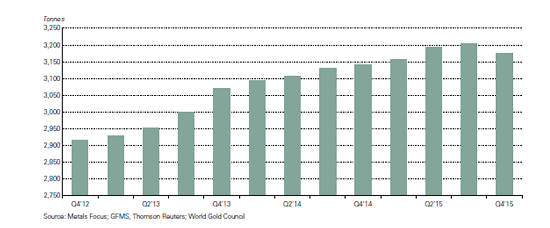 Commerzbank reported that the gold exchange-traded fund (ETF) inflow ending on Monday, Feb. 22, reached nearly 50 tonnes over just two days. That was the strongest two-day inflow since May 2010, when the Greek crisis hit.
And on Feb. 25, Commerzbank also reported that gold ETF holdings had risen for 10 straight days. As well they pointed out that since the start of 2016, Bloomberg-tracked gold ETFs have bulked up to the tune of 215 tonnes, or 14.7%, and a massive 160 tonnes just since February.
Looking at the technical picture of the gold price, we see a pennant formation emerging over the last couple of weeks.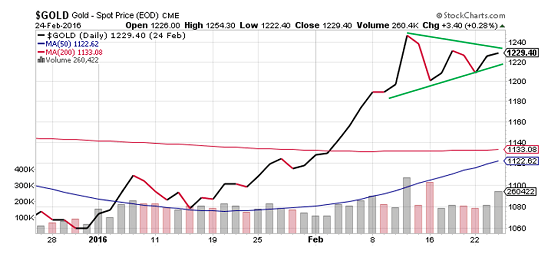 This is a continuation pattern that I've highlighted with green lines. As we reach the apex of this triangle, we'll have a clearer idea of whether the gold spot price decides to break out to the upside or downside.
At this point, I think it's still too early to say. While there is plenty of momentum on gold's side, its recent gains may need to be digested first. And that could mean some weakness before the bullish action returns. Perhaps the biggest determinant will be the direction of stocks.
I'll be sure to watch this closely for clues on near-term direction.
Stay informed on what's going on with the price of gold today and all days by following us on Twitter @moneymorning or liking us on Facebook.
The Essential Guide to Buying Gold and Silver: Precious metal investing is widely regarded as the best "crisis insurance" for your portfolio. This guide gives you everything you need to know about the best stores of value in history, gold and silver. Read more…
Join the conversation. Click here to jump to comments…
About the Author
Peter Krauth is the Resource Specialist for Money Map Press and has contributed some of the most popular and highly regarded investing articles on Money Morning. Peter is headquartered in resource-rich Canada, but he travels around the world to dig up the very best profit opportunity, whether it's in gold, silver, oil, coal, or even potash.