Yes, the Republican establishment is uncomfortable with the idea that front-runner Donald Trump has an excellent chance of securing the nomination.
But it wasn't until recently that a few of the party's well-off elite have ponied up cash to slow down Trump's campaign momentum...
In January, Marlene Ricketts, wife of billionaire TD Ameritrade Holding Corp. (Nasdaq: AMTD) founder J. Joe Ricketts, contributed $3 million to Our Principles super PAC. Our Principles then plastered New Hampshire and South Carolina with anti-Trump ads, voter guides, and mailers ahead of the states' big voting days.
But to no avail - the real estate mogul took New Hampshire with 35.9% of the vote and South Carolina with 32.5% of the vote.
Then four days ago, Katie Packer, former senior adviser to 2012 Republican nominee Mitt Romney and president of Our Principles super PAC, issued a memo imploring GOP pundits, leaders, and donors to band together to defeat Trump.
"No one has stopped [Trump] because no one has really tried," Packer wrote. She pointed out that only about 9% of the $215 million spent on ads and voter contacts in the White House contest so far has targeted the real estate magnate.
Mitt Romney adhered to Packer's plan. He took to Twitter and bashed Trump throughout last night's seventh GOP debate: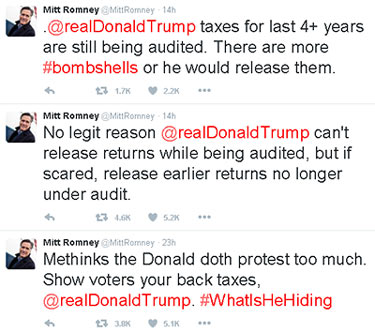 Meanwhile, Packer is again taking Our Principles' message to the airwaves. The super PAC launched a new series of ads ahead of Super Tuesday (March 1), USA Today revealed yesterday. The commercials will run nationally on FOX News and CNN but can also be seen on YouTube.
The first volume in its series highlights Trump's "liberal history" with government-run healthcare and abortion.
Our Principles super PAC is joined by the anti-tax super PAC Club for Growth in its attempt to take down Trump...
Club for Growth likewise released an anti-Trump ad highlighting the billionaire businessman's questionable financial record. In an interview with CNN on Tuesday, David McIntosh, Club for Growth's president, stressed the importance of exposing Trump's bankruptcy issues. McIntosh said that though Trump may have survived such fiscal turmoil, others were left "holding the bags" and out of work.
Tell us how you feel about these latest Republican attempts to take down Donald Trump on Twitter
@moneymorning
, or like us on
Facebook
.
China Warns the U.S.: China warned the United States not to adopt punitive currency policies that could disrupt U.S.-China relations. The Red Dragon's cautionary advice came after GOP favorite Donald Trump won Nevada's caucus with a landslide 45.9% of the vote and 14 of its 30 delegates. Here's what the Red Dragon had to say...
Related Articles: