One of Wall Street's cardinal sins is a "set it and forget it" mentality. What I mean by that is there's often a flurry of interest in specific stocks and then... nothing.
That's too bad because the devil, as they say, is always in the details.
As we have discussed many times at Total Wealth, you've got to check in on what you own periodically to ensure a given stock, bond, or ETF: a) still meets your objectives and risk tolerance, and b) that the reasons you bought it are still valid.
I call this the "ultimate trailing stop" simply because you want to make sure you're on track not just when you buy something, but every day you own it.
So, in that spirit, let's check in on two of our favorite Unstoppable Trend recommendations today.
Both, I'm excited to report, remain compelling buys.
A New CEO Means New Business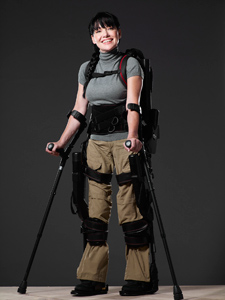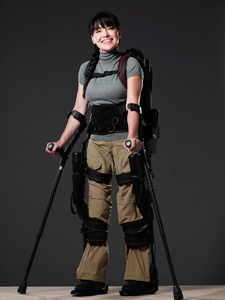 Let's start with Ekso Bionics Holdings Inc. (OTCMKTS: EKSO), our favorite Unstoppable Technology Trend play.
The company announced yesterday that CEO Nathan Harding is stepping down after almost 13 years at the helm and that he is being replaced effective immediately by Ekso's former president and chief commercialization officer Thomas Looby.
That's a great move and one I'm happy to see.
Let me explain.
CEOs come and go for a variety of reasons. Sometimes it's not under great circumstances, as was the case with former McDonald's CEO Don Thompson, who left the then-struggling fast-food giant under pressure in 2015.
But most of the time, particularly in young companies like Ekso, it's a good thing because a changing of the guard means that the business is preparing itself for still greater things.
Apple, for example, has changed CEOs five times since 1977, not counting interim appointments due to Steve Jobs' declining health. Each time, the shift has been to achieve still greater potential.
Case in point, CEO John Sculley took over from Mike Markula at a time when marketing was critical to Apple's survival and the company just couldn't achieve the traction it needed. He took sales from $800 million to more than $8 billion using experience drawn from his tenure at PepsiCo, another great company known for its marketing prowess.
Despite the fact that Ekso is a fraction of the size, that's exactly the kind of move Ekso needs.
Harding has been a fabulous startup leader. He's done the impossible and made some very powerful inroads with regard to key markets, contracts and technology development. But now it's time to leapfrog that experience as the company transitions to more of an operating - as opposed to startup - mentality.
[mmpazkzone name="in-story" network="9794" site="307044" id="137008" type="4"]
I spoke with Looby earlier this week and there's no doubt in my mind he's got the chops. Before joining Ekso in 2014, Looby served as chief marketing officer of Given Imaging, a company that's since been acquired by Covidien for $1 billion.
The other thing to keep in mind about a transition like this is that small startup companies often make these moves in preparation for major capital market events like additional offerings, key partnerships, or even strategic acquisitions. Obviously I have no idea what the specifics are here but my experience tells me that we're in for some very exciting developments in the months ahead if I'm correct.
Speaking of which, Ekso announced last week that the Defense Advanced Research Projects Agency (DARPA) awarded it another exoskeleton contract - the company's fourth. Like earlier contracts, this one focuses on the agency's Web Warrior program with the intention of producing a flexible exoskeleton designed to help the wearer carry loads while expending minimal energy, potentially saving lives in combat.
It's worth noting that DARPA has a $2.97 billion budget, or more than 1,000 times the revenue Ekso reported in Q3 last year. If Ekso continues winning DARPA contracts the way it has to date, I could see the company building up relationships that will be hard for its competitors to replicate... and even larger contracts down the line.
Meanwhile, another respected institution with deep pockets has turned to Ekso.  The Kessler Foundation, which awarded $2.24 million in grants last year in its mission to transform the lives of people with disabilities, has announced it's putting $1 million towards studying Ekso's GT exoskeleton, which was built for the purpose of helping stroke patients. Kessler is a global leader in rehabilitation research, so a positive conclusion in its study of how the GT helps stroke victims will carry real weight - and perhaps trigger the medical market penetration Ekso wants and I think is possible.
The company's trifecta of focus - military, industrial, and medical markets - gives it far more profit potential than alternatives I've evaluated. As does the company's 37% gross profit margin.
Buying a Key Supplier to Tap New Markets
Now let's turn our attention to Consolidated Water Co. Ltd. (Nasdaq: CWCO).
The seawater desalination plant and water distribution company continues to broaden operations as expected.
The big news here is that CWCO has acquired 51% of Aerex Industries, an OEM supplier for municipal and industrial water treatment, for $7.7 million in cash. This not only gives the company more control over a key supplier, but also a platform from which to broaden marketing relationships inside the United States.
I fully expect the company to leverage this by selling membrane separation equipment, filtration equipment, and piping to U.S. municipalities and industrial facilities, many of whom regard U.S. origin as part of the Request for Proposal (RFP) and bidding process. I'm certain the company's American Society of Mechanical Engineers (ASME) accreditation will come in helpful, too.
The company reports earnings in mid-March, and I'm keen to see what they've got on tap - pun absolutely intended.
In closing, keep in mind both of these companies are speculative recommendations intended to compliment a properly disciplined and structured investment program like what I advocate as part of the Money Map Report.
A 1,000% gain won't mean much if you can't stay in the game.
Follow Money Morning on Facebook and Twitter.
For a full breakdown of the profit potential Keith sees in Ekso, including calculations for a $21 stock price in just a few years, sign up for Total Wealth here - it's free!
About the Author
Keith is a seasoned market analyst and professional trader with more than 37 years of global experience. He is one of very few experts to correctly see both the dot.bomb crisis and the ongoing financial crisis coming ahead of time - and one of even fewer to help millions of investors around the world successfully navigate them both. Forbes hailed him as a "Market Visionary." He is a regular on FOX Business News and Yahoo! Finance, and his observations have been featured in Bloomberg, The Wall Street Journal, WIRED, and MarketWatch. Keith previously led The Money Map Report, Money Map's flagship newsletter, as Chief Investment Strategist, from 20007 to 2020. Keith holds a BS in management and finance from Skidmore College and an MS in international finance (with a focus on Japanese business science) from Chaminade University. He regularly travels the world in search of investment opportunities others don't yet see or understand.