The Weight Watchers stock price crashed nearly 30% to $11.07 Friday morning after the company reported disappointing Q4 2015 results and provided uninspiring guidance.
And while earnings are driving the WTW stock price lower today, there's an even bigger number that will move Weight Watchers stock in 2016. But first, here's the earnings rundown…
After Thursday's close, Weight Watchers International Inc. (NYSE: WTW) posted a loss of $0.03 per share, missing consensus estimates by $0.01. Net revenue was $259.2 million. That was slightly better than the expected $257.7 million, but was still a 21% year-over-year (YOY) decline.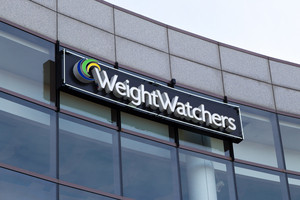 In October, the struggling company hired Oprah Winfrey as its public face. The aim was to boost member count via her vast popularity and counter its three-year sales slump.
When Winfrey took a $43.2 million investment in the company four months ago, the Weight Watchers stock price more than doubled on the news to $13.92. Yet even with that gain, the stock was still down 44% for the year.
Winfrey's endorsement and investment came at a critical time for the 52-year-old business.
Revenue has now fallen for six consecutive quarters. The company also announced at the time it would cut $100 million in costs and expand efforts to reach the millennial generation, which increasingly turns to apps.
The U.S. weight-loss market is a massive $64 billion industry, so there is room for growth. More than 68.8% of adults are considered to be overweight or obese, according to the National Institutes of Health. The percentage of overweight children in the United States is growing at an alarming rate, with one out of three kids now considered overweight or obese.
Those should be massive catalysts for the Weight Watchers stock price, but so far the company hasn't capitalized. In fact, the WTW stock price is down more than 81% in the last five years.
Inserting Winfrey into the company's business plan underscored a major transition for the company.
And for investors wondering if the Weight Watchers stock price can recover in 2016, the answer comes down to one number in the earnings report…
The Biggest Number for the Weight Watchers Stock Price in 2016
Hopes ran high that Winfrey would draw in new Weight Watchers subscribers. She is one of the most powerful celebrities for influencing consumers' purchase behavior, according to data from the Marketing Arm. She ranks No. 4 out of 3,786 celebrities for influence, behind only Kate Middleton, Bill Gates, and Taylor Swift.
Still, the 61-year-old personality seems like an odd choice for a company trying to lure a younger, more connected customer base.
Active subscribers in the last quarter slipped 4.8% YOY to 2.4 million. The quarterly report also included a one-time cost of $13.6 million, pertaining to Winfrey's partnership.
Active subscribers will be the most important number for investors to watch in 2016.
For the current year, the company forecasts EPS to be in the $0.70 to $1.00 range. That is somewhere in the forecast range of $0.81.
And Weight Watchers appears committed to keeping Ms. Winfrey as a spokesperson.
"The partnership with Oprah Winfrey is off to a strong start," the company said in a statement. "Our transformation momentum is building, with positive recruitments this winter season setting a solid foundation for revenue growth and increased profitability."
It's too early to tell if the TV talk-show star, who holds a 10% stake in Weight Watchers and a board seat, can drive sales in the future.
And if her endorsement power can't drive active subscriber growth, the Weight Watchers stock price will continue to drop in 2016.
Friday's Weight Watchers stock price plunge shaved about $24 million off the $75 million Winfrey earned since collaborating with Weight Watchers.
Stay informed on what's going on in the markets by following us on Twitter @moneymorning or liking us on Facebook.
The Essential Guide to Buying Gold and Silver: Precious metal investing is widely regarded as the best "crisis insurance" for your portfolio. This guide gives you everything you need to know about the best stores of value in history, gold and silver. Read more…
Related Articles: