When we talked last Tuesday, I showed you how the market's retreat has produced several great bargains in the biotech sector.
I also said I had my eye on other market segments where tech shares are selling at steep discounts.
Today I want to continue our "bargain hunting" by telling you about three great software stocks that have fallen in value because they've fallen victim to Wall Street's hair-trigger herd mentality - what I'm calling the Great Software Sell-Off of 2016.
You see, as a group, the software sector fell 12% - or 33% more than the S&P 500 - starting Jan. 4, before bottoming out Feb. 11.
As bad as that sounds, it understates the carnage. Indeed, over the last few weeks several software companies found their stocks down by more than 12% in a single session.
But here's what you won't hear from the mainstream financial media: Some of these stocks are down for no good reason.
That's excellent news, because we can turn this overreaction to our advantage by investing in market leaders at discount prices.
In fact, we can grab a handful of software stocks that I expect will double your money before the decade is out.
Here's how...
Throwing Off Cash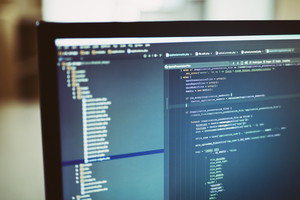 Having served as a senior advisor to small-cap Silicon Valley firm Callidus Software Inc. (Nasdaq: CALD) - in fact, working directly with the former CEO - I've seen the software industry operate from the inside.
And one of the things I learned from my time at Callidus is just how pervasive software is throughout the entire global economic ecosystem.
You need it to run everything from your smartphone and PC to your video-game console, your favorite social networks, all your apps, and your web surfing and online transactions.
I've also seen the way that key players in this sector throw off cash, thanks to their high profit margins and low overhead. Remember, software firms don't have to invest billions in plant and equipment the way hardware companies do.
That fact explains why IDG says four of the top five tech areas with the biggest spending increases last year involved needed software to operate. IDG didn't provide dollar figures but did say that...
Security was up 46%...
Cloud computing gained 42%...
Business analytics added 38%...
And mobile boosted spending 35%.
All in all, what I've seen has made me a lifelong advocate of investing in software.
And right now you have a unique opportunity to leverage a number of great software plays to add to your long-term gains and really beef up the value of your portfolio.
In other words, the long-term trend for software-related technology remains very bright indeed. And here are three companies with recent sell-offs that you can turn to your advantage.
Take a look...
Oversold Software Stock No. 1: Tableau Software
Want proof that Wall Street overreacts to even the slightest sign of weakness? Just look at Tableau Software Inc. (NYSE: DATA).
The hard-charging, Seattle-based firm lost half its market value in a single trading session after it cut back guidance for the year by less than 2% from the midpoint of its earlier forecast.
That happened even though the company has posted a string of impressive sales increases. Last year, revenue rose 58% to $654 million. Since 2012, sales have increased 410%.
It's hard to exaggerate how badly Wall Street is missing the big picture here.
This is a company with great technology. Tableau specializes in the broad field of Big Data with a special emphasis on visually oriented analytics that can be shared via the cloud.
Co-founder and chief scientist Pat Hanrahan is a computer expert who taught at Princeton and Stanford universities. A co-founder of Pixar Studios, he's won three Academy Awards for his breakthroughs in computer graphics.
This is a quintessential growth firm with huge sales gains and weak profit margins. But I believe it still has plenty of room for a solid rebound.
The stock opened today at $44.57, giving it a market cap of $3.43 billion.
Analysts have a high-water target of $110 on Tableau - a gain of from 147% from Friday's close of $44.41.
I think that's a likely scenario. After all, even if the stock reached $64.37 - or just half of its July 22 closing high of $128.74 - we'd see gains of almost 50%.
Oversold Software Stock No. 2: Salesforce.com
This company specializes in customer relationship management (CRM). These sophisticated software tools help sales execs manage every aspect of how they interact with clients.
What sets this software winner apart is the way it has made an amazing transition to the cloud.
In fact, Salesforce.com Inc. (NYSE: CRM) is a bona fide trailblazer. Its first cloud-based offering debuted way back in 2000. Today, subscriptions - as distinct from products purchased outright or via license - account for 93% of revenue.
That's important because hosting and delivering applications over the web is much more efficient than sending out products on CDs.
Salesforce says that 97 of its top 100 clients now use more than one cloud service.
This is a very well-run firm. In 2014, Fortune ranked the company first in software among the "world's most admired companies." Forbes has listed the firm as one of the "world's most innovative companies" for four years in a row.
But, just like with Tableau, 2016 hasn't been kind to the stock so far. Beginning Jan. 4, it fell some 25% before bottoming out Feb. 9. Wall Street clearly got it wrong on this one - and I can prove it.
On Wednesday, the company announced a 25% increase in fiscal fourth-quarter sales to $1.8 billion and also raised guidance for the year. That sent shares up 11% yesterday.
But I still see plenty of upside. I'm looking at this stock to move about 47% in the next 12 to 18 months.
And that could be conservative. After all, over the past three years, sales have increased by an average 31%.
And fourth-quarter, non-GAAP earnings jumped 36%. If earnings grew at even half that rate going forward, profits would double in four years.
Oversold Software Stock No. 3: Adobe Systems
Founded in 1982, Adobe Systems Inc. (Nasdaq: ADBE) ranks as the world leader in software used by photographers, designers, artists, and illustrators. Adobe products are used all around the world every single day to create sales brochures, newsletters, magazines, and websites, as well as to edit and manage photos.
In fact, it's virtually impossible to use the web for long without putting to use Adobe's iconic Personal Document Format, or 'PDF.'
As the Silicon Valley firm executed a smooth and profitable transition to a cloud-based sales model, it saw subscription revenue climb to more than $2.5 billion for fiscal 2015. That's a 10-fold increase in just four years.
And while we're mainly attracted to Adobe as an investment because of its software, don't forget that the company also offers investors a solid play on the mobile revolution.
Roughly 65% of people today use a smartphone as a primary camera, and nearly half of all creative professionals use mobile devices to capture and create content.
Beginning on Feb. 2, the company fell victim to the "Great Software Sell-Off."
The stock lost 16% of its value in a week based on no "news," just a lot of "noise."
Ironically, in December, Adobe reported record fiscal fourth-quarter sales of $1.3 billion, a 22% annual gain. Diluted earnings per share climbed 159% to $0.44.
The stock opened today at $86.01, giving it a market cap of $42.71 billion. Analysts are projecting earnings growth of 33% this year. If Adobe just maintained half that rate going forward, earnings would double in the next four-and-a-half years.
I believe the data shows that all three of these stocks could double by the end of the decade - that's a 100% return in less than four years.
Now you know why I'm so excited about the buying opportunities the market's retreat is handing us.
Follow Money Morning on Facebook and Twitter.
The Best Way to Play Biotech's Comeback: The market sell-off has beaten down drug firms, but that opens great buying opportunities at steep discounts in this multibillion-dollar sector. These three firms will lead the way - and potentially hand investors their biggest gains of 2016...
Join the conversation. Click here to jump to comments…
About the Author
Michael A. Robinson is a 36-year Silicon Valley veteran and one of the top tech and biotech financial analysts working today. That's because, as a consultant, senior adviser, and board member for Silicon Valley venture capital firms, Michael enjoys privileged access to pioneering CEOs, scientists, and high-profile players. And he brings this entire world of Silicon Valley "insiders" right to you...
He was one of five people involved in early meetings for the $160 billion "cloud" computing phenomenon.
He was there as Lee Iacocca and Roger Smith, the CEOs of Chrysler and GM, led the robotics revolution that saved the U.S. automotive industry.
As cyber-security was becoming a focus of national security, Michael was with Dave DeWalt, the CEO of McAfee, right before Intel acquired his company for $7.8 billion.
This all means the entire world is constantly seeking Michael's insight.
In addition to being a regular guest and panelist on CNBC and Fox Business, he is also a Pulitzer Prize-nominated writer and reporter. His first book Overdrawn: The Bailout of American Savings warned people about the coming financial collapse - years before the word "bailout" became a household word.
Silicon Valley defense publications vie for his analysis. He's worked for Defense Media Network and Signal Magazine, as well as The New York Times, American Enterprise, and The Wall Street Journal.
And even with decades of experience, Michael believes there has never been a moment in time quite like this.
Right now, medical breakthroughs that once took years to develop are moving at a record speed. And that means we are going to see highly lucrative biotech investment opportunities come in fast and furious.
To help you navigate the historic opportunity in biotech, Michael launched the Bio-Tech Profit Alliance.
His other publications include: Strategic Tech Investor, The Nova-X Report, Bio-Technology Profit Alliance and Nexus-9 Network.