Earlier today at a Donald Trump rally, Secret Service had a violent scuffle with a photographer who was snapping pictures of Black Lives Matter protestors marching through.
There's a hot debate as to how this incident went down, as different clips have surfaced that tell a disjointed story.
We'll piece it together from the beginning…
First the photojournalist gets handled to the ground by Secret Service — pay attention to the bottom of the screen:
Then the photographer kicks back and appears to go after the Secret Service agent. The photojournalist appears to have left a designated area.
"I stepped 18 inches outside of the pen and he grabbed me by the neck and started choking me and slammed me to the ground," Christopher Morris, a photographer for Time magazine, told reporters after he was ejected from the rally on Monday.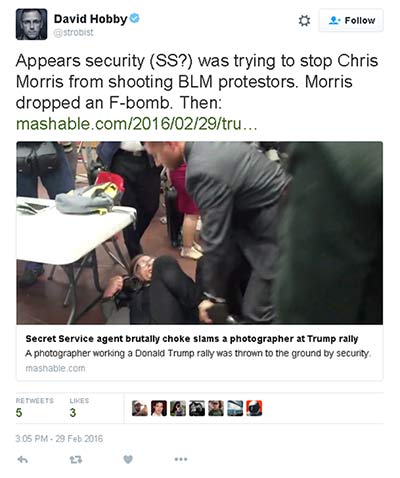 Was this the case of a misbehaving photographer who needed to be stopped, or a First Amendment violation?
Tune into this Twitter feed as this story unfolds:
Follow us on Twitter
@moneymorning
, or like us on
Facebook
.
Controversies Abound: Yes, billionaire businessman Donald Trump and former Secretary of State Hillary Clinton look to be the expected party nominees come this fall's presidential election. But as we head into March 1, the two top pollsters find themselves embroiled in controversy…