The Chinese yuan tumbled to a three-week low against the U.S. dollar today (Monday), and that's having a ripple effect throughout global markets.
China's central bank cut reserve requirements for most major banks today in a move aimed at boosting growth in the world's second-largest economy.
Onshore and offshore rates for the yuan declined to 6.5539 and 6.5555 per dollar, respectively. Those were the weakest levels for the Chinese yuan since the middle of the Lunar New Year holiday in early February.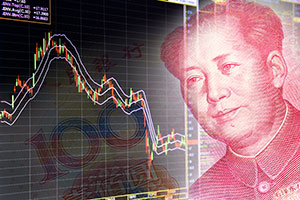 The People's Bank of China (PBOC) has been consistently guiding the currency lower. Monday's 0.2% weakening versus the dollar was the fifth consecutive time the PBOC guided its currency lower this year.
China's yuan, which can trade in a 2% up or down limit of the central bank's daily fixing onshore, has now dropped nearly 1% in value against the dollar since mid-February.
The Chinese currency's weakness came even as Chinese Premier Li Keqiang and central bank chief Zhou Xiaochuan attempted to dismiss fears that their economic strategy is dependent on weakening the yuan's exchange rate. At a weekend Group of 20 meeting in Shanghai, Zhou said there is no basis for a persistent depreciation in the Chinese yuan.
However, Scotiabank analysts said "the yuan is very likely to decline modestly further versus the dollar until we see a meaningful recovery in China's economy."
Today's yuan weakening is "reflective of further capital outflow and further risks coming in the economy," according to Frank Benzimra, head of Asian equity strategy at Société Générale.
Worries of a slowdown in China have been accelerating since last month, when country officials reported 2015's annual growth rate was 6.9%. That was the slowest pace in 25 years. Many economists said the actual rate was probably closer to a range of 4% to 6%.
Forecasts for full-year 2016 are even lower at 6.5%. And that figure will only be obtainable via more government intervention, like today's further yuan devaluation.
Today's announcement sent global stock markets down as well. And the situation in China will continue to have a major impact on U.S. investors in 2016...
What Chinese Yuan Devaluation Means for Your Money
China's stock markets fell sharply as the PBOC guided the Chinese yuan lower yet again.
The Shanghai Composite Index closed down 2.9% at 2,687.98. That was the benchmark's lowest level in three weeks. The smaller Shenzhen Composite Index closed with a 5.4% loss. The Nasdaq-style ChiNext benchmark, meanwhile, plummeted nearly 7%.
Retail investors, the catalyst driving Chinese stocks to a peak last summer, continue to flee the stock market.
Margin loans, the money investors borrow from brokers to buy stocks, totaled 869.7 billion yuan as of Feb. 26. That was the lowest level since Dec. 4, 2014, according to China's leading financial data service Wind Information.
In June 2015, the Shanghai Composite had skyrocketed more than 135% year over year. Yet in the second half of last year, deleveraging moves by Chinese regulators alarmed investors and speculators, effectively putting the breaks on China's bull market run.
The crashing Chinese stock market continues to have a major impact on U.S. stock markets. So far this year, the Dow Jones, S&P 500, and Nasdaq are all down 4.4%, 4.5%, and 8.1%, respectively. And China's slowing economy has played a major role in those declines...
China has been the largest consumer of most commodities for years. Over the last decade, commodity demand growth in China represented between 50% and 100% of global consumption increases across most major commodity markets.
That means a slowing economy in China has a major impact on all commodity prices, which in turn adds more fear to the stock markets.
Because of this, Money Morning experts warn that U.S. stock markets could continue lower in 2016. That's why they've developed an investing strategy during these down markets. It will help you protect your hard-earned money, and even profit, when the markets are falling. Here's the full guide...
Stay informed on what's going on in the markets by following us on Twitter @moneymorning or liking us on Facebook.
Related Articles: