Friday was a nightmare.
At least that's what the mainstream media would have you think.
After the wild swings we saw through the first six weeks of the year, Friday's 0.2% decline in the S&P 500 may have seemed like little more than a bump in the road. But according to what I've been hearing and reading, that small decline highlighted the stock market's fragility.
Friday's dip was a signal that "the market has yet to shake worries about corporate profits, economic growth, and the trajectory of interest rates," according to one article in The Wall Street Journal.
Wrong.
In fact, the S&P 500's small loss for the day confirmed an uptrend that began Feb. 11.
Further, yesterday's action was another confirmation that the bull market is back on.
So, today I'm going to literally show you why I'm so optimistic about a stock market rebound. And I'll show you why - despite what the mainstream financial press wants you to believe - now is no time to be sitting on the sidelines.
And this chart proves it...
Technically Speaking
When I look at technology stocks, one of the tools I use is technical analysis. And that means I look at a lot of charts.
It's an important skill that not only improves the timing of your trades but also helps make sense of key market trends. And it's been extremely valuable over the last several months as I've sought to help you navigate your way through this turbulent market.
And it's one reason why I've been so optimistic in tone lately - I'm seeing solid fundamentals backed up by strong technicals.
To see what I'm talking about, take a look at this chart. To keep things simple, we'll walk through it in chronological order.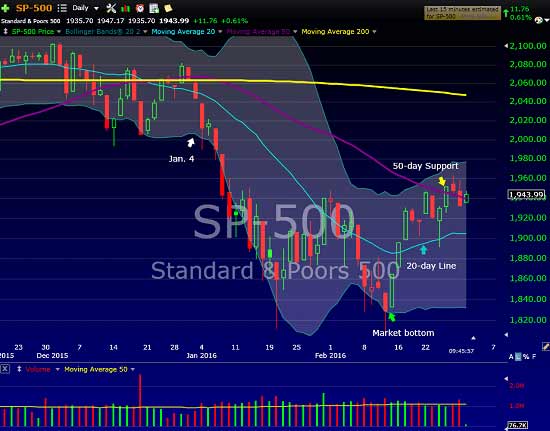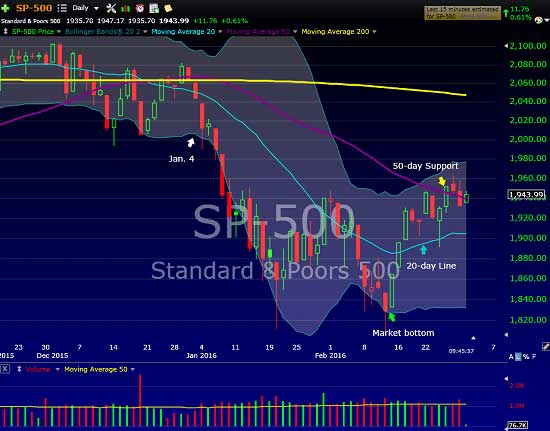 Let's start at the beginning of the year. The white arrow labeled "Jan. 4" denotes the first day of trading for 2016.
In a sign of distress, the market closed that day well below all the key simple moving averages that market professionals watch: 20, 50, and 200 days of trading.
Now, turn your attention to the green arrow at the lower right side of the chart. It signals what looks to be a "market bottom" on Feb. 11 and is marked as such.
Simply stated, the light gray "envelope" shows that stock prices had fallen too far below the key moving averages, indicating the market really was oversold. That's why you see the candlesticks denoting price move quickly back inside the envelope and head up again.
Notice the yellow arrow higher up and to the right. It shows a significant change in the market that occurred on Thursday. It was the first time all year that the S&P 500 closed above its 50-day moving average.
This is important because the line shows more than two months of trading, which is a lot of money changing hands.
All of which brings us back around to Friday, the trading session that caused the Journal to doubt the market's rebound.
[mmpazkzone name="in-story" network="9794" site="307044" id="137008" type="4"]
Even though the market had a "losing" session, that was actually a sign of health - known as a "follow-through day."
It doesn't matter that the S&P 500 was off slightly. What's important is that the market closed above the 50-day moving average for the second time this year.
Yesterday, the S&P 500 lost steam at the end and closed down 0.85%. But it still showed a lot of strength.
To see what I'm talking about, we need to cover one more technical detail - the 20-day line. Think of this as baseline support.
This was the 10th day in a row the S&P 500 stayed above the 20-day moving average, its longest stretch this year by far.
In other words, the market is starting to trade in a healthy range because more bulls are convinced we have upside steam after bargain hunting. By buying stocks at discounts, traders and investors have pushed the market back into what appears to be a solid rebound.
Of course, if we get some horrible news - the price of oil falling steeply and suddenly, a terrorist attack, etc. - that could change.
But I don't see that happening.
A Clean Bill of (Economic) Health
The U.S. Commerce Department had earlier reported preliminary GDP growth of 0.7% for the fourth quarter.
The moment I read that I thought we'd see an upward revision because housing and auto sales remain so strong. However, most economists expected Commerce officials to reveal the economy shrank by 0.4% in the period.
Instead, on Friday the feds revised GDP upward to show the economy expanded by 1%.
While I'd prefer more robust growth, the higher GDP figure shows that we're not on the verge of a recession - defined as two consecutive quarters of GDP declines.
And this isn't the only news economists got wrong recently. The University of Michigan's Index of Consumer Sentiment hit 91.7 in February. That was 0.7 points better than what economists had forecast.
Here is what the university's analysts had to say: "Although consumers are not as optimistic as at the start of last year, the Sentiment Index is just 6.5% below the cyclical peak of 98.1 set in January 2015. Such a small decline is hardly consistent with the onset of a downturn in consumer spending."
Meantime, the National Association of Realtors said last week that existing home sales rose to 5.47 million units, beating forecasts. That sales level was just shy of tying the highest level since early 2007.
Car sales continue to do well. In January, the last month for full data as of deadline, they hit their fastest sales pace since 2000. Autodata said sales hit a seasonally adjusted annual rate of 17.58 million new cars and light-duty trucks.
In other words, the chart I shared with you today proves that the market is rebounding based on overall good economic news.
As I've been telling investors all year, if you sit on the sidelines you just may miss the market's rebound - and its best days... the days when you'll make the most money.
Even more important for us, tech is again leading the market higher. Since hitting bottom Feb. 11, the Nasdaq Composite Index has gained 7.82%. That's 17.5% better than the S&P 500 over the same period.
If you want to find market-beating gains, high tech is now the place to be.
And I'll be back later this week to keep showing you exactly where to find those profits.
Follow Money Morning on Facebook and Twitter.
Double Your Money on the "Great Software Sell-Off": Software stocks fell 12% to start 2016, but some of these stocks are down for no good reason. Now these three sector leaders are trading a steep discounts, making now the perfect time to turn this overreaction to our advantage...
About the Author
Michael A. Robinson is a 36-year Silicon Valley veteran and one of the top tech and biotech financial analysts working today. That's because, as a consultant, senior adviser, and board member for Silicon Valley venture capital firms, Michael enjoys privileged access to pioneering CEOs, scientists, and high-profile players. And he brings this entire world of Silicon Valley "insiders" right to you...
He was one of five people involved in early meetings for the $160 billion "cloud" computing phenomenon.
He was there as Lee Iacocca and Roger Smith, the CEOs of Chrysler and GM, led the robotics revolution that saved the U.S. automotive industry.
As cyber-security was becoming a focus of national security, Michael was with Dave DeWalt, the CEO of McAfee, right before Intel acquired his company for $7.8 billion.
This all means the entire world is constantly seeking Michael's insight.
In addition to being a regular guest and panelist on CNBC and Fox Business, he is also a Pulitzer Prize-nominated writer and reporter. His first book Overdrawn: The Bailout of American Savings warned people about the coming financial collapse - years before the word "bailout" became a household word.
Silicon Valley defense publications vie for his analysis. He's worked for Defense Media Network and Signal Magazine, as well as The New York Times, American Enterprise, and The Wall Street Journal.
And even with decades of experience, Michael believes there has never been a moment in time quite like this.
Right now, medical breakthroughs that once took years to develop are moving at a record speed. And that means we are going to see highly lucrative biotech investment opportunities come in fast and furious.
To help you navigate the historic opportunity in biotech, Michael launched the Bio-Tech Profit Alliance.
His other publications include: Strategic Tech Investor, The Nova-X Report, Bio-Technology Profit Alliance and Nexus-9 Network.