One of our top recommendations at Money Morning this year is that investors should buy gold in 2016. While gold prices have climbed already in 2016, there are two "flashing" signals that show the price of gold will climb even higher this year.
Before we get to those signals, here's how gold prices have trended in 2016…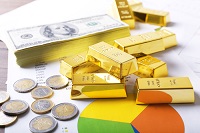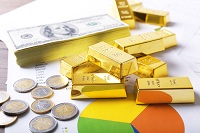 Gold prices are enjoying the best start to a year since 1980. The price of gold is up 16.06% so far this year, easily outpacing stocks and other commodities. The gold price gained 10.5% last month. That marked the metal's best monthly gain in four years as benchmarks moved out of correction and bear market territory.
Gold prices are off to positive start in March as well. The gold price was up $5.90, or 0.48%, at $1,238.60 an ounce in early trading this morning (Wednesday).
There have been numerous reasons to buy gold in 2016, including: slowing growth in China, negative interest rates, a possible British exit from the Eurozone, uneven economic data in the United States, reports that banks are bracing for a wave of defaults from the energy sector, and a loss of confidence in global central banks.
The confluence of troubling developments this year has fueled worries of a global recession and stock market crash in 2016. Many are drawing comparisons to 2008. The 2008 financial crisis prompted investors to dump stocks and head into gold. During the worldwide meltdown, gold prices more than doubled to a record high of $1,917.90 an ounce.
Should the economy start sliding toward another recession, the U.S. Federal Reserve's interest rate hikes will come to a halt. That would hurt the U.S. dollar versus other currencies. And since gold is priced in dollars, that would be another bullish catalyst for gold in 2016.
Gold is the go-to safe-haven asset. It's a reliable store a value, inflation hedge, and insurance policy against geopolitical risk.
"There are rising stresses in the global financial system; in particular, the rising risk of a U.S. corporate default cycle and the risk of a sharp one-off renminbi devaluation due to the sharp increase in China's capital outflows," Deutsche Bank said last week. "Buying some gold as 'insurance' is warranted."
And according to Money Morning Global Credit Strategist Michael Lewitt, there are two flashing signals in the market that show why investors should buy gold now. Gold may be climbing in 2016 for a variety of reasons, but these two signals are the most important now…
 Two Flashing Signals Say Buy Gold in 2016
"The current rise in the price of gold is another indicator that investors and citizens are questioning the integrity of paper money and the policies of the central bankers destroying it," Lewitt said. "I've said before that I expect gold prices to go up as panic sets in to the markets, and this is already happening."
Lewitt continued, "Whenever I want to see what's really going on in the markets, I look for a flattening yield curve and spiking gold prices. I see those two signals lighting up right now, and that means things aren't good. We are still in a long-term, potentially multiyear bear market."
That's the biggest reason investors should buy gold in 2016. And we've already seen demand skyrocket…
Individual and institutional investors, as well as money managers, are piling into gold-backed exchanged-traded funds (ETFs). Holdings in these funds are at their highest in a year, according to Commerzbank.
Morningstar data shows inflows into the SPDR Gold ETF (NYSE Arca: GLD), the biggest gold ETF, were the third largest ever last month. Holdings in GLD increased 16% in February.
CME Group reported Monday that metals volume averaged 487,000 contracts per day in February. That was up 48% from 329,000 in the same period a year ago. That also marked the fourth-highest monthly average for daily volume and was up 20% month over month. The three-month average was 381,000 in February, up from 359,000 in January and 326,000 in December.
All this robust gold activity shows investors are scared. And when investors are scared, the price of gold continues to climb.
The Essential Guide to Buying Gold and Silver: Precious metal investing is widely regarded as the best "crisis insurance" for your portfolio. This guide gives you everything you need to know about the best stores of value in history, gold and silver. Read more…
Stay informed on what's going on in the markets by following us on Twitter @moneymorning or liking us on Facebook.
Related Articles: