This is an exciting time for gold.
After another annual loss in 2015, its fourth year in a row, the precious metal has plotted a new course, one that has ferried it to the lead position among all other major asset classes in 2016.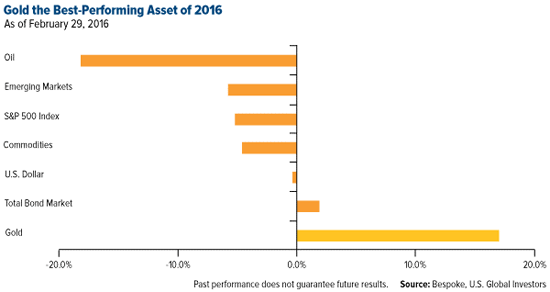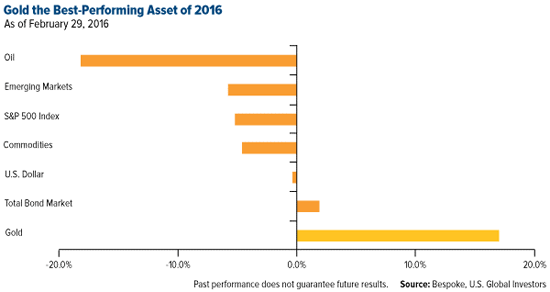 On Friday, gold signaled a "golden cross," a bullish indicator that occurs when the 50-day moving average crosses above the 200-day moving average. As of Feb. 29, just a day after gold Oscar statuettes were handed out in Hollywood, gold bullion had gained close to a phenomenal 17% year to date.
What's more, this past month was its most impressive February performance since futures trading data began in 1975.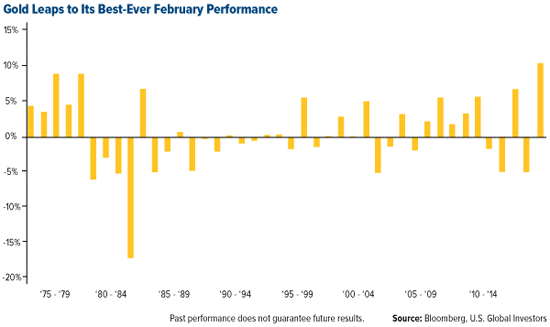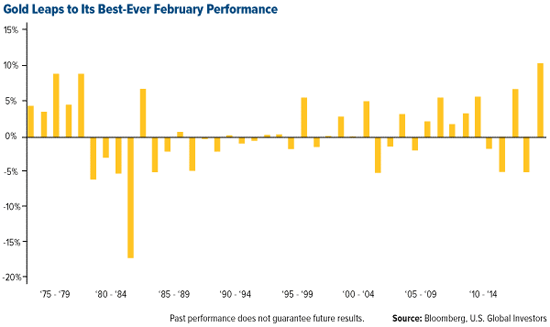 Many analysts now believe we've seen the final days of the gold bear market, which began after the metal touched its all-time high of $1,900 per ounce in 2011, with one analyst saying that "buying gold today may be comparable to buying stocks in April 2009." (Between then and November 2015, the S&P 500 Index rose 145%.)
The metal's surge is largely reflective of investors' lack of faith in G20 central bankers and finance ministers' ability to jumpstart global growth. The meeting held this past weekend in Shanghai was considered a major disappointment, with no clear resolution reached on how to address slow growth. But this is to be expected. As I've said before, G20 bankers seem more interested today in synchronizing global taxation and regulation than in balancing monetary and fiscal policies.
Ironically, though, one of the latest monetary tools has been a boon to gold prices.
I'm taking about negative interest rates. As rates have dropped below zero in Japan, Sweden, Switzerland, and elsewhere, and with speculation they could be introduced here in the United States, many investors have moved into, or increased their exposure to, gold.
As I told investors Friday, gold didn't have negative interest rates on its side in early 2015. The metal has historically done well when real rates turned negative (because then you essentially end up paying the government to hold on to your money) as it has served as a dependable store of value.
To get the real rate, you subtract the consumer price index (CPI), or inflation, from the five-year Treasury yield. If it's positive, investors will be more likely to put their money in Treasuries, and if it's negative, they'll seek out other stores of value – including gold.
In January 2015, the five-year Treasury yield averaged 1.37%, while inflation, less food and energy, posted a tepid 0.2%. This resulted in an overall real rate of 1.35% – a headwind for gold.
But here we are a year later, and real rates have gone subzero. With the five-year yield at 1.51% and inflation at a healthy 2.2% – its strongest reading since June 2012 – real rates have dropped to negative 0.69%. This has helped make gold much more attractive to investors.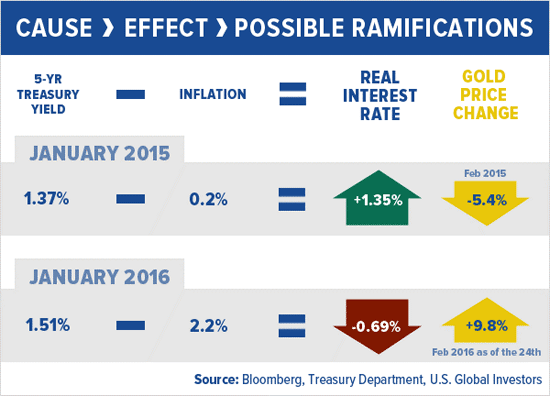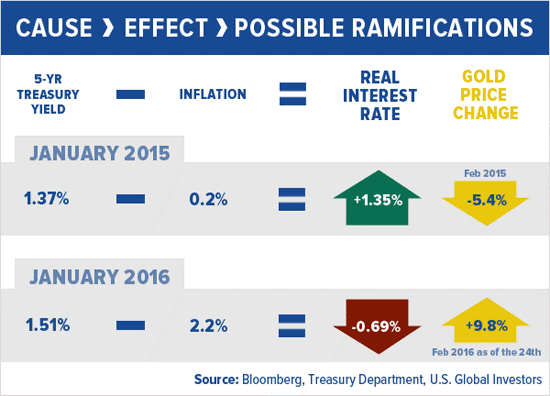 Another driver of prices is the weak economic data that was released this Tuesday. China's purchasing manager's index (PMI) contracted even further in February, falling from 49.4 to 49.0. Meanwhile, the global PMI had a dramatic pullback, dropping to a neutral 50.0, which is its lowest possible reading before manufacturing begins to stagnate. We haven't seen this level since 2012.
I'll get into more detail on gold and PMIs in future alerts, which you can subscribe to below. Until then, best wishes!
[Editor's Note: Frank Holmes is chief executive officer and chief investment officer of U.S. Global Investors Inc., which manages a diversified family of mutual funds and hedge funds specializing in natural resources, emerging markets, and infrastructure. He has been profiled by Fortune, Barron's, Financial Times, and other publications. If you want commentary and analysis from Holmes and the rest of the U.S. Global Investors team delivered to your inbox every Friday, sign up to receive the weekly Investor Alert at www.usfunds.com.
Here's more about U.S. Global Investors Inc.:
U.S. Global Investors Inc. is an investment adviser registered with the Securities and Exchange Commission ("SEC"). This does not mean that we are sponsored, recommended, or approved by the SEC, or that our abilities or qualifications in any respect have been passed upon by the SEC or any officer of the SEC.
This commentary should not be considered a solicitation or offering of any investment product.
Certain materials in this commentary may contain dated information. The information provided was current at the time of publication.
All opinions expressed and data provided are subject to change without notice. Some of these opinions may not be appropriate to every investor. By clicking the link(s) above, you will be directed to a third-party website(s). U.S. Global Investors does not endorse all information supplied by this/these website(s) and is not responsible for its/their content.]
Follow Money Morning on Facebook and Twitter.