After last month's silver price volatility, investors are asking the same question – is silver a good investment this year?
During the first two weeks of February, silver prices rocketed 10.8% to $15.81 – the highest close since Oct. 28. But futures for May delivery fell 5.6% to $14.92 from Feb. 11 to the end of the month. The dizzying price fluctuations have investors worried that silver will remain risky and unpredictable throughout the year.
But Money Morning Resource Investing Specialist Peter Krauth – a 20-year veteran of the metals and commodities market – says there's a $940 million trend that makes silver a solid investment in 2016.
First, here's why silver prices have seen market-beating gains this year…
Market Volatility Has Made Silver a Good Investment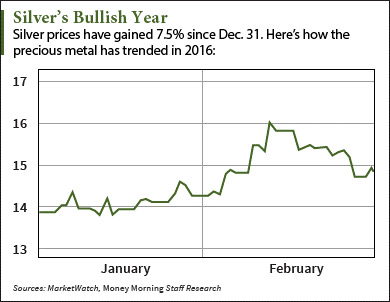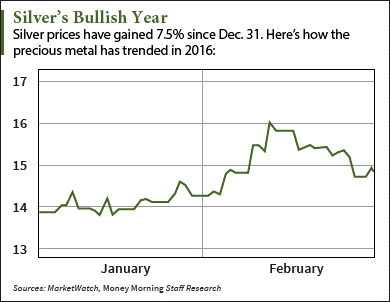 At 9:45 a.m. today (Wednesday, March 2), the silver price was up 0.8% and trading at $14.87 per 5,000 troy ounces – the amount traded on each futures contract. Prices are now up 7.5% on the year, while other commodities like oil and natural gas are down 12.1% and 27.2%, respectively.
The reason for the rally in silver prices has been volatility in the broader market. During the first two months of 2016, the Dow Jones Industrial Average and S&P 500 dropped 6.2% and 6.4%, respectively. The plunge in the major U.S. indexes resulted from the declining value of the dollar and fears of slowing growth in the global economy.
This fear-induced sell-off makes silver more attractive because of its use as a "safe haven" investment. Safe havens are assets that will either increase in value or hold their value when the stock market falls. Because silver prices can tolerate dangerous market conditions, investors use the metal as insurance.
"I will not sell my physical silver," Money Morning Defense & Tech Specialist Michael A. Robinson told readers last year. "Just like I have insurance on my car, I have insurance in case of disaster."
But is silver a good investment in 2016? The short answer is absolutely.
That's because physical silver demand is set to skyrocket thanks to this growing $940 million market…
Is Silver a Good Investment? Bullion Sales Say Yes
Consumer demand for bullion coins will be one of the primary boons for silver prices in 2016.
You see, demand for American Silver Eagle coins has grown significantly in the last 10 years. From its debut year in 1986 to 2007, annual sales were only in the 3 million to 10 million range. Since 2007, coin sales have exploded 370%.
The U.S. Mint reported that sales of 1 oz American Silver Eagle coins hit a record 47 million last year – an increase from about 44 million in 2014. At an average price of $20 per coin, total 2015 sales came out to roughly $940 million. The Mint stated that 10.7 million 2016 edition coins were already sold in January and February.
And silver coin demand stretches far beyond the United States. January sales of Australia's Perth Mint bullion coins soared 152% from the same month last year to hit 1.5 million ounces.
"Bullish sentiment for physical silver has been strong and growing, as witnessed by coin and bar sales," Krauth explained. "The effects of robust demand combined with shrinking supply promise to result in a much higher silver price."
According to Krauth, silver prices will approach $18 by the end of 2016. That's 21% above today's price.
The Bottom Line: If you're asking yourself if silver is a good investment, look no further than soaring bullion demand. With U.S. coin sales at a 30-year high and showing no signs of slowing down, silver prices will keep roaring higher throughout 2016 and beyond.
Alex McGuire is an associate editor for Money Morning. Follow him on Twitter at @AlexMcGuire92.
Like us on Facebook: Money Morning
The Essential Guide to Buying Gold and Silver: Precious metal investing is widely regarded as the best "crisis insurance" for your portfolio. This guide gives you everything you need to know about the best stores of value in history, gold and silver. Read more…