It's true that an Uber IPO date has not yet been set, but the company is still aggressively expanding before its eventual initial public offering.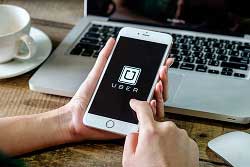 Uber officially launched in Pakistan today (Thursday), which is part of the company's plan to increase its global presence. Uber's head of communication for the region, Shaden Abdellatif, stated that this was part of a $250 million plan to enter central Asia, the Middle East, and North Africa.
Part of this push goes along with Uber's aggressive spending in China. According to Fortune, Uber is spending $1 billion annually.
The expansion into Pakistan is just one of the reasons why the Uber IPO is going to be one of the biggest IPOs in history when it hits the market.
But before we get to that, I wanted to share more details about Uber's expansion into Pakistan...
Uber's business model has traditionally relied on credit cards. But since Forbes states credit cards are rarely used in Pakistan, the company is allowing users to pay in cash. Rides cost 13.7 Pakistani rupees ($0.13) per kilometer (.62 miles), and Abdellatif states that the cost is low enough to attract as many customers as possible.
Safety is one of the top concerns for Abdellatif, as Uber was temporarily banned in nearby India after a driver was accused of rape in 2014. Drivers will undergo sexual harassment training and will be rigorously screened.
Uber first started expanding internationally in 2012 and is now operating in over 60 countries.
The Uber IPO date is highly anticipated. Though no official Uber IPO is set, a public offering is inevitable as Uber has become an unstoppable force with billions of dollars in funding...
Uber IPO Anticipation Builds Behind $62.5 Billion Valuation
At the start of December, Uber was seeking $2.1 billion in funding to expand internationally.
Prior to this round of funding, the company had already raised $7.4 billion. It received $1.6 billion from Goldman Sachs Group Inc. (NYSE: GS) in January 2015, and Uber followed that with a $1 billion investment from Microsoft Corp. (Nasdaq: MSFT) in July 2015.
If Uber receives the full round of funding it was looking for in December, it would reach a valuation of $62.5 billion.
With that type of valuation, Uber would have a higher market cap than Twenty-First Century Fox Inc. (Nasdaq: FOX), Ford Motor Co. (NYSE: F), and Time Warner Inc. (NYSE: TWX).
The large amount of funding is an indication that investors understand how valuable Uber could be...
In Q1 2015, business spending on Uber accounted for 46% of the entire transportation market. That's triple Uber's 15% market share from just one year earlier.
Currently there are only projections for Uber's 2015 revenue, but it should be growing much higher than the $400 million it made in 2014 because of its rapid expansion.
The company's valuation is soaring, too. Uber had a valuation of just $18 billion in May 2014, but Uber's value topped $40 billion by December 2014. Its latest $62.5 billion valuation in December means that Uber's value climbed 56% in roughly a year.
The ballooning valuation will make Uber stock one of the hottest issues of the year when it finally hits the market.
Check back with Money Morning for updates on the Uber IPO date and Uber stock...
The Bottom Line: Uber is expanding its operations internationally, and more funding rounds will help the company grow its presence. And because of the company's growing valuation and user base, there is no doubt that the Uber IPO will be one of the biggest IPO stories in history when the stock eventually hits the markets.
Jack Delaney is an associate editor for Money Morning. You can follow him on Twitter and follow Money Morning on Facebook. 
 Protect Your Money in This Bear Market: It's true that you would have to be a fortune teller to know exactly when a bear market would start and end. But fortune telling isn't Chief Investment Strategist Keith Fitz-Gerald's profession. His goal is to protect your wealth, maximize gains, and help you focus on what's really going on in the market. In his Money Map Report, this financial guru has used his years of experience as a trader in one of Wall Street's leading firms to help his readers find 86 double- and triple-digit winners. You can learn more about Keith's Money Map Report here...