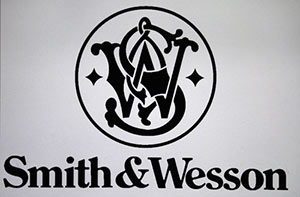 Smith & Wesson Holding Corp. (Nasdaq: SWHC) stock has been immune to 2016's volatile market.
SWHC stock is already up nearly 15% year to date, while the S&P 500 has dropped 2% in the same time.
And there's one major trend that will cause Smith & Wesson to continue its climb.
I'm going to fill you in on that trend today. But first, let's look at Smith & Wesson's third-quarter earnings report, released yesterday, March 3.
The gun maker reported revenue of $210.8 million, topping the Zacks consensus estimate of $182 million. Earnings per share was $0.59, also handily beating the Zacks consensus estimate of $0.41.
SWHC's figures were boosted by a $194.7 million increase in the net sales of its firearms division - a 56.4% increase year over year.
SWHC also raised its fiscal 2016 revenue outlook. It expects revenue between $712 million to $717 million, up from $650 million to $660 million, according to Business Insider.
Analysts from Thomson Reuters give SWHC stock a $31 price target by the end of the year. That's a 19% increase from its current value of $27 per share.
Smith & Wesson stock will continue to thrive this year, and it's not too late to grab shares of SWHC for profits.
The stock's price/earnings ratio of 24.81 is a solid value for a company that's up 90% year over year. SWHC stock may even be undervalued, especially because of one major trend causing huge spikes in the gun maker's sales.
One Major Reason to Buy and Hold SWHC for 2016
With Washington intent on restricting gun and ammunition availability, Smith & Wesson keeps receiving giant boosts to its stock.
The last major boost was on Jan. 4, when President Barack Obama announced new executive actions to enforce tougher background checks.
Nearly every gun stock went up the week following the announcement, with SWHC leading the surge.
SWHC stock jumped nearly 18%. Sturm, Ruger & Co. (NYSE: RGR) went up nearly 10%. Vista Outdoor Inc. (NYSE: VSTO) went up almost 6%.
"Every time he (Obama) goes after guns, sales jump and the profits do too for companies like Smith & Wesson and Sturm, Ruger & Co.," said Money Morning Chief Investment Strategist Keith Fitz-Gerald on "Varney & Co." after President Obama's executive order.
It's been well established that there's a strong link between gun control threats and increasing gun sales. Under the gun-wary Obama administration, gun applications have hit record highs.
There was a consecutive increase in processed firearms-related applications last year from July to December. In December, there were 3.3 million gun applications - the most gun applications ever in a single month since 1999 (the earliest such data was recorded), according to Federal Bureau of Investigation statistics.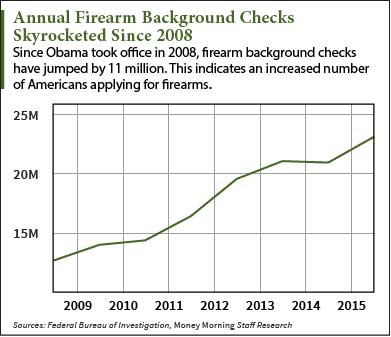 In 2013, New Jersey Gov. Chris Christie proposed legislation for his state that would expand background checks and ban high-powered rifles. In the same year, Maryland imposed one of strictest gun-control measures. Both moves sent gun sales soaring to 15 million by the end of 2013 from seven million in 2002, according to The New York Times.
It's the great irony for gun control proponents: Advocating for restrictive gun laws leads to a spike in gun sales.
Washington's pressure on gun and ammunition accessibility will continue until the end of 2016, and SWHC and other gun stocks will continue to benefit. If another Democrat lands the Oval Office, expect to see even more gun sale sprees, and SWHC reaching new highs.
SWHC stock is currently trading at $27 per share, up nearly 7% as of 2:00 p.m. Its 52-week high closing price is $26.90.
The Bottom Line: SWHC stock is a good buy now as gun stock price catalysts remain in place. The gun stock is about to pass its 52-week high and still has a lot of room for growth. Watch for Washington lawmakers ramping up their efforts to enforce tougher gun restrictions this year. SWHC will stand to gain from any gun-control measures.
Follow Money Morning on Facebook and Twitter.
The Essential Guide to Buying Gold and Silver: Precious metal investing is widely regarded as the best "crisis insurance" for your portfolio. This guide gives you everything you need to know about the best stores of value in history, gold and silver. Read more...