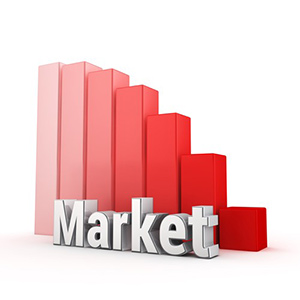 U.S. stocks have rebounded smartly after a crushing start to the year, but this is no time for investors to be complacent. Bear market 2016 isn't going away yet.
First, here is what's behind the recent stock recovery.
A string of better than expected economic data - though still tepid at best - prompted some investors to reassess the health of the U.S. economy. A bounce in oil prices also alleviated some stress on junk bonds and commodities-sensitive companies.
But the gains are not from stronger fundamentals luring investors back to markets. Much of the recent market rally is attributed to short-term investors covering bearish bets.
And while stocks still sit sharply below record highs, valuations remain stretched compared to long-run averages.
Money Morning Technical Trading Specialist D.R. Barton cautions investors about any current market bounces. The smart money sentiment on Wall Street continues to be "sell the bounce" not "buy the dips."
"Rallies and their accompanying pullbacks are likely to be violent - remember, 19 of the 20 single biggest 'up' days in the market over the past 25 years have all come during bear or 'down' markets," Barton explains.
"In fact, for the time being, most rallies in this market should be looked at with a healthy degree of skepticism," he continued. "Like I said, take the gains, but do so with your eyes open. I think we can expect this 'traders' market' to continue until the world goes 'cold turkey' on stimulus and starts to look - like we used to - at strong fundamentals as the reason to buy."
Further rallies, Barton says, will simply be a sign of profound addiction. That's part of the most troubling thing at play right now in 2016's bear market, which we'll get into now...
The Biggest Factor Keeping Bear Market 2016 Alive
The growing global use of quantitative easing is worrisome, indeed.
It used to be that stocks rallied when central banks talked stimulus. But now, that's not the case.
Just look at what happened with European stocks recently after European Central Bank President Mario Draghi hinted that more stimulus could come this month.
What happened next was as predictable as it is troubling.
"Like you'd expect, the euro began to slide against the U.S. dollar just as soon as Draghi left the podium," Barton continued, "That's not surprising; stimulus has a devaluing effect on currency."
And European stocks barely budged.
And the previous numerous rounds of stimulus, including negative interest rates, have failed to drag the Eurozone out of a sustained slump. Many investors and traders have lost confidence in central banks.
Such market reaction is telling, and it's warning us to watch out. Luckily, we know what to do...
How to Profit in Bear Market 2016
Easy money measures are like a drug. And like drug withdrawals, easing off stimulus is difficult and painful.
In the wake of the 2008 financial crisis, central banks around the world liberally injected economies with consecutive rounds of quantitative easing. The results were artificially inflated stock prices and one of the longest running bull markets in history.
Barton says like any drug addict, markets need more and more of the drug to feel the effects of the high for the same length of time. For now, any rally spawned on news of further easing, whether it's in the United States, Japan, or Europe, should be viewed as likely to swiftly snap back.
Still, Barton says it is possible to reap substantial returns in this kind of market.
Here are some resources to check out, if you haven't already:
Plus, as Barton told our readers earlier this week, bear market 2016 is a great opportunity for trading.
"The best approach is to move quickly on confirmation of the short-term momentum of a stock (my Stealth Stock Trading Indicator is a great tool for determining this), with a sound, well-defined exit strategy and trailing stops in place," Barton shared.
Barton expects this trader's market to linger for a while. So, savvy investors will certainly want to check out his Stealth Stock Trading Indicator. Stealth Profits Trader readers have logged five triple-digit gains since the start of 2016. The Dow, S&P 500, and Nasdaq, meanwhile, are down 2.76%, 2.47%, and 5.99%, respectively.
Stay informed on what's going on in the markets by following us on Twitter @moneymorning or liking us on Facebook.