Even though the markets have rebounded in the first week of March, we just received a major new stock market crash warning sign today (Monday).
The Bank for International Settlements warned today that there's a "gathering storm" in the global economy. According to the bank, the storm is the result of global governments exhausting their monetary policy options.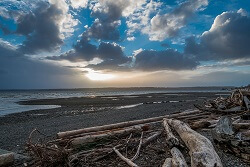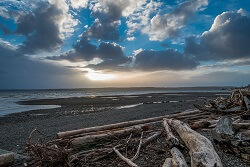 Fortunately, Money Morning experts have developed a plan for investors to protect their money during a stock market crash situation. But before we get to that, let's dig deeper into today's stock market crash warning...
BIS economists highlighted how delicate the global economic environment is right now. The world's oldest international financial organization of 60 member central banks, which together make up about 95% of world GDP, says negative-interest-rate policies could spread to many more countries as banks look for alternate ways to encourage real growth.
"The tension between the markets' tranquility and the underlying economic vulnerabilities had to be resolved at some point," the report said. "In the recent quarter, we may have been witnessing the beginning of its resolution. We may not be seeing isolated bolts from the blue, but the signs of a gathering storm that has been building for a long time."
This year got off to a crushing start for stocks, and central banks around the world are worried.
Running out of options to spur growth, several have resorted to unconventional methods like negative interest rates. These rates are aimed at boosting borrowing, discouraging upward pressure on currencies, and facilitating trade.
But there is a dark side to negative rates...
Money Morning Global Credit Strategist Michael E. Lewitt says the decision to turn to negative interest rates should not be taken lightly.
"Negative-interest-rate policy (NIRP) is not merely some technical monetary policy tool; it is a tactic with profound political and moral consequences that must be exposed as a betrayal of the social compact between governments and citizens," Lewitt said.
With central bank measures near or at their limits, investors around the world are panicking. Many are hoarding cash and piling into safe-haven assets like gold.
And it's likely the markets will continue lower from here...
But panicking about a potential stock market crash in 2016 is one of the worst mistakes to make. Instead, Money Morning experts recommend protecting your money and investing wisely. Here's why the markets could drop lower and how to invest during a down market...
How to Protect Yourself from a Stock Market Crash
 In addition to the BIS's dire warning, dispiriting news emerged from China over the weekend.
Officials in the world's second-largest economy set an economic growth target range of 6.5% to 7% for 2016, as the nation wrestles with an economic slowdown. That range is at the low end of the new growth goal and below last year's rate. Gross domestic product expanded by 6.9% in 2015, the slowest pace in 25 years.
A slowdown in China has been behind many of the markets' declines this year.
"There is nothing on the horizon that would lift stocks out of a bear market - the U.S. economy is not going to suddenly explode into 4% growth and neither China, Europe, nor Japan is going to reverse their economic slides," Lewitt wrote last week. "The global economy is suffocating under too much debt and there is little that central banks can do to stop it. Only a coordinated pro-growth fiscal policy plan would have a chance of making a difference and there is virtually no chance of one materializing."
U.S. markets continue to be driven by events outside the country. They include negative rates, emerging market woes, and inflationary/deflationary concerns.
Roughly 40% of companies in the S&P 500 Index remain in a bear market, according to a USA Today analysis. A bear market is unofficially defined as a decline of 20% or more from the recent high. The fact that so many stocks are still so low, despite the market's notable 9% rally from lows this year, underscores how much pain remains.
All of this doom and gloom has many investors heading for the exits. But Money Morning reminds investors that it is possible to make money in these volatile markets.
Here are some of our best resources for investing during a stock market crash or bear market:
How to Protect Your Wealth from Negative Interest Rates - Central banks could trigger NIRP at any sign of an emergency, putting your portfolio at risk. Here we have two recommendations to hedge against negative rates - and grab some upside, too.
The Worse the Markets Get, the Better This Tactic Performs - Anybody who follows regularly what to buy and sell has had the opportunity to bank a string of double-digit returns that positively crush the markets. We show you a tactic that lets you maximize these profits here.
Now's the Best Time to Buy Gold in Five Years - As central banks continue to destroy the global financial system, gold has given us an incredible buying opportunity. Here are tips on how to stock up.
Stay informed on what's going on in the markets by following us on Twitter @moneymorning or liking us on Facebook.
 Related Articles: