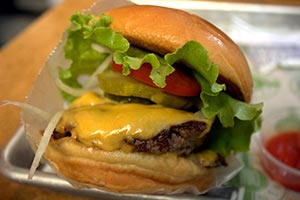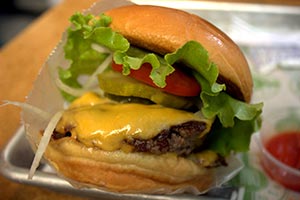 Shake Shack stock handed investors a big profit opportunity today.
Shake Shack Inc. (NYSE: SHAK) released its fourth-quarter earnings report after market close today, March 7. The popular burger chain earned $0.08 per share on revenue of $51 million, beating expectations of $0.07 per share on revenue of $50.4 million for the fourth straight quarter.
The Shake Shack stock price is down 9% to $38.50 in post-market trading despite the earnings beat.
And we recommend shorting Shake Shack stock in 2016. That's because Money Morning Chief Investment Strategist Keith Fitz-Gerald – who has 30 years of market experience and predicted events like the dot-com bubble – says Shake Shack stock is misinterpreted as a valuable stock when it's actually being artificially driven by hype.
"What's happening with Shake Shack is a very serious warning that the markets have become frothy and that investors are chasing hot ideas rather than results," Fitz-Gerald said on July 24, 2015, when SHAK was trading 142% higher than its IPO price six months after its debut.
But the hype isn't the only reason to bet against Shake Shack stock. In fact, there's another $50 million reason why you should "short the Shack" after its Q4 earnings today.
First, here's why shares of SHAK saw big gains in 2015...
Renaissance Capital, a manager of IPO-focused ETFs, reported Shake Shack was the fourth best-performing IPO of 2015. The Shake Shack stock price soared 89% from its $21 IPO price on Jan. 29 to $39.60 by the end of the year.
The strong performance was supported by three earnings beats in a row. For Q1 through Q3, Shake Shack earned $0.04, $0.09, and $0.12 per share in each consecutive quarter. Those obliterated projections of $0.03, $0.03, and $0.07 for the respective quarters.
But Shake Shack stock has run out of steam lately. In fact, it has fallen 5.6% since December, and Fitz-Gerald believes shares will remain under pressure thanks to this $50 million problem that isn't going away anytime soon…
Why Shake Shack Stock Is Worth Shorting After Q4 Earnings
Shake Shack's unrealistically high valuation metrics will drag the stock lower this year.
You see, SHAK stock trades at a discount to big-name burger competitors like Jack in the Box Inc. (Nasdaq: JACK) and McDonald's Corp. (NYSE: MCD). But Shake Shack's estimated 2016 price/earnings (P/E) ratio – a measurement of a company's share price relative to its earnings – is 110.50. That's more than five times higher than Jack in the Box's ratio and McDonald's ratio.
And those metrics conclude one shocking thing – each Shake Shack location is valued at about $50 million as of last September. That's an absurd valuation considering the company only has 84 stores right now.
"The deal breaker for Shake Shack is that it's always carried an insanely high and unjustifiable valuation," Fitz-Gerald said in November 2015. "As much as I love the food, I think Shake Shack stock still has more room to the downside."
It's only a matter of time before the hype runs out and investors sell their shares, which makes Shake Shack one of the best stocks to short this year. Investors who shorted it last May after Fitz-Gerald's initial recommendation are enjoying a 55% return.
In fact, "shorting the Shack" has soared in popularity recently. According to the Nasdaq website, short interest in SHAK has more than doubled from 1.8 million shares in March 2015 to 3.97 million in February 2016.
The Bottom Line: Shake Shack stock is coming off a strong year thanks to a gratuitous amount of hype and superb earnings reports. But with an extremely high P/E ratio compared to its peers, the fledgling burger chain is overvalued right now. That's why we recommend shorting SHAK in 2016. Shares will continue to decline as the hype that shot them to meteoric highs fades over the long term.
Alex McGuire is an associate editor for Money Morning. Follow him on Twitter at @AlexMcGuire92 for important Shake Shack stock updates.
Like us on Facebook: Money Morning
How to Play Another Short Candidate on Fitz-Gerald's List… Keith's recommended shorts of Shake Shack, GoPro, and Zoey's Kitchen have yielded members a string of double-digit profits in just a few months. Now there's another stock on his radar that he sees having a rough year in 2016 – but don't short it. In fact, here's how you can profit from what he refers to as the tech equivalent of Enron…