Thanks to very bullish action in gold, silver prices have been able to gather the same kind of momentum over the past week.
While gold surged early on Friday, March 4, to $1,280, a nearly $55 gain in the past five trading days, the silver price has also mustered a similar 5% gain at its peak of $15.80 the same day.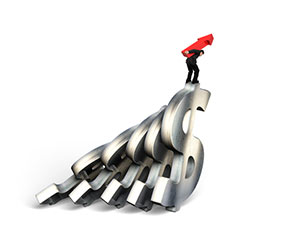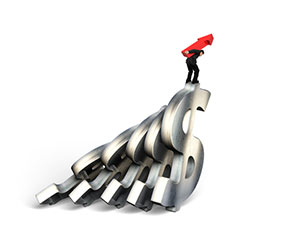 But over the past three months, gold prices have outpaced silver prices by an astonishing 12%, leaving some to wonder about silver's viability in this renewed precious metals bull.
In order to address that very question, we'll look at the relationship between these two precious metals to determine what just might be in store for the price of silver over the coming months and even years.
Here's what I see ahead for silver…
What's Driving Silver Prices Now
First, let's take a look at what the silver price has done in the past week.
Silver started out on Monday, Feb. 29, at $14.75 and gradually worked its way higher through the day to end at $14.90.
Tuesday ended up being the only exception to the week, which saw silver end every trading day higher than where it started. On Mar. 1, silver opened strong at $15.00 but then soon dropped, closing at $14.80.
Wednesday, Mar. 2, silver started NY trading at $14.84 and climbed steadily to peak at $14.99 before settling back to close a bit lower at $14.93. Thursday's action was similar, with silver prices closing at $15.22.
But the next day held the real action for the week.
Friday saw silver open at $15.31, followed by a quick drop to $15.21, then a quick reversal to touch as high as $15.73 in sympathy with gold, which rallied on strong U.S. jobs numbers.
Here's what stuck out to me in last week's silver price action…
An Important Silver Price Pattern
In last week's update I looked at how silver had dropped below the $15.00 level, breaching the 200-day moving average in the process.
Because of that action, I said there was new risk silver would look to test the 50-day moving average around $14.50 from above.
As you can see from the bar chart below, silver did approach that level, touching as low as $14.60 intraday on Feb. 29, but put in a strong reversal from the previous trading day: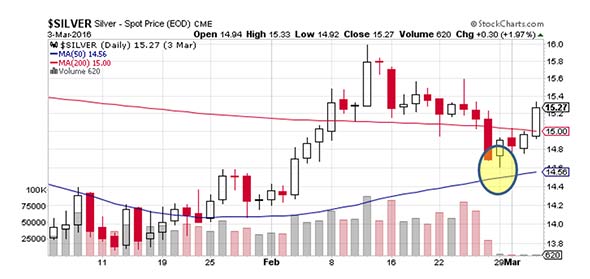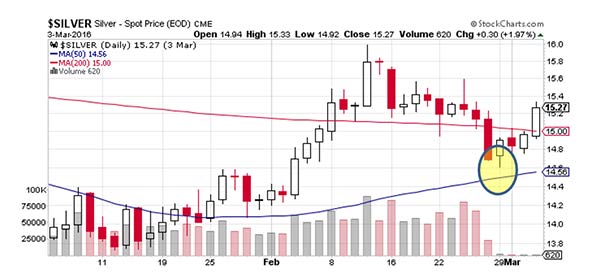 Now if you look at the following chart, there is an interesting pattern emerging: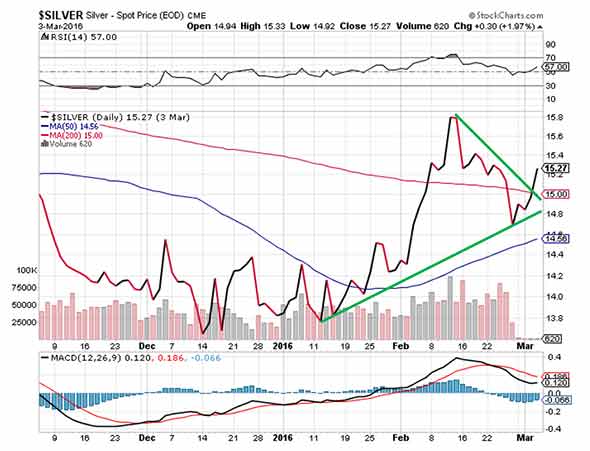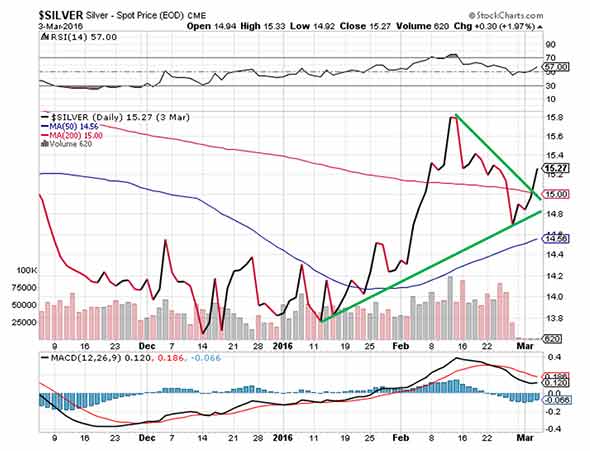 Like gold, we've also had a pennant formation develop, and silver prices have just broken that triangle to the upside, another bullish sign to be sure.
Likewise, both the RSI and MACD indicators have turned upward, helping to confirm higher price momentum.
Does that mean silver's bear is done? Again, I think it's still a bit early to make that declaration, but the odds certainly are moving in silver's favor.
Plus, there's another metric I'd like to explore to help divine silver's future direction: the gold-to-silver ratio.
How the Gold-to-Silver Ratio Will Affect Silver Prices
The gold-to-silver ratio is a tool used to simply determine how many ounces of silver one ounce of gold will buy. Over time though, we can tell if one metal is cheap or expensive relative to the other.
Almost five years ago when silver spiked to $49, that ratio had dropped down to 30. Since then, it has been on a nearly constant trajectory higher.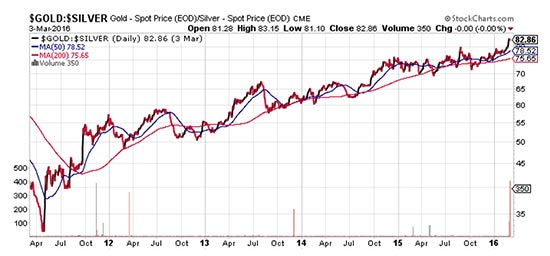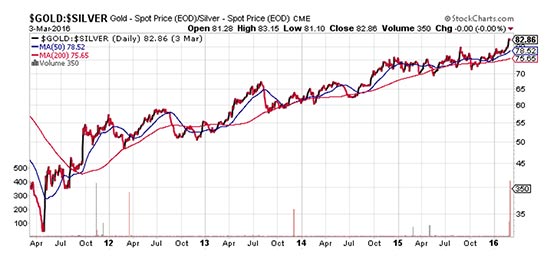 Just recently, the ratio popped above 80 to reach 82.86. In the past 20 years, the ratio has only poked above the 80 level four times. If we go back to 1990, this ratio has traded on average at 66.
Let me be clear: none of this means the ratio has to head back down right now. But the probability of that happening soon is high, thanks to the concept of reversion to the mean.
On that basis, I do expect silver to start making strong gains relative to gold. If this ratio were to reverse from here and head back to 66, then at a current gold price of $1,270, we'd have silver at $19.25. That's almost 24% higher than silver's current $15.55 price.
But it's more likely that gold will continue to head higher, even if not in a straight line. So a higher gold price coupled with a lower ratio could mean silver north of $20.
You can only benefit if you own some. And right now there's a compelling case to own silver.
Stay informed on what's going on with silver prices today and all days by following us on Twitter @moneymorning or liking us on Facebook. 
The Essential Guide to Buying Gold and Silver: Precious metal investing is widely regarded as the best "crisis insurance" for your portfolio. This guide gives you everything you need to know about the best stores of value in history, gold and silver. Read more…
Join the conversation. Click here to jump to comments…
About the Author
Peter Krauth is the Resource Specialist for Money Map Press and has contributed some of the most popular and highly regarded investing articles on Money Morning. Peter is headquartered in resource-rich Canada, but he travels around the world to dig up the very best profit opportunity, whether it's in gold, silver, oil, coal, or even potash.