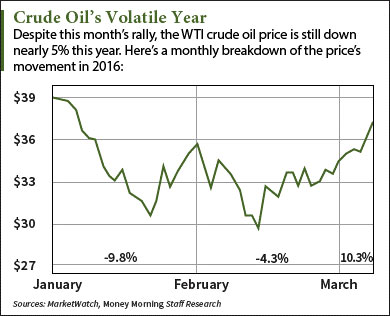 After one of the most volatile starts to a year ever, the WTI crude oil price seems to have finally stabilized.
The U.S. benchmark is on track for its highest settlement of 2016 today (Monday) as futures for April delivery gained 3.6% to $37.22 a barrel. WTI crude oil prices are now up a whopping 10.3% over the last five trading sessions.
The Brent crude oil price is also set to close at its highest level since December. Futures for the global benchmark - priced in London - jumped 3.3% to trade at $39.98 a barrel. They're now up 9.3% in March and 1.5% in 2016.
Here's why crude oil prices are climbing today...
Why the WTI Crude Oil Price Topped $37 Today
The rally in the WTI crude oil price today comes after the United Arab Emirates' energy minister optimistically said prices will see a correction by the end of 2016. This will happen as more and more producers are forced to freeze output.
"I believe the current prices are forcing everyone to freeze. It's happening as we speak," UAE Energy Minister Suhail bin Mohammed al-Mazrouei said at a conference in Abu Dhabi this morning. "This is all good news for balancing the market. We just need to be patient."
Last month, Saudi Arabia, Russia, Venezuela, and Qatar agreed to freeze production at the January level of more than 21 million barrels a day. The WTI crude oil price is up 20.2% since the accord was reached.
Oil prices are also being bolstered by signs of declining U.S. output. On March 4, oil field services firm Baker Hughes Inc. (NYSE: BHI) reported the number of active oil rigs fell to a seven-year low of 392. It had reached a peak of 1,421 in the first week of 2015.
These two forces will work together to lower supply and send prices on a long-term rebound in 2016.
According to Money Morning Global Energy Strategist Dr. Kent Moors - a 40-year veteran of the oil industry who has served as an advisor to U.S. and Russian energy agencies - there are three types of oil stocks that will offer big returns as prices maintain upward momentum this year. That's because they're using oil that's already been drilled.
And they're not the type of oil stocks you might expect...
"Unlike earlier cycles, your returns won't be coming from a rise in aggregate oil production," Moors explained on Feb. 29. "Rather, you're going to profit (at least initially) from the usage of supply already out of the ground. All of which points toward companies I am tracking for early indications of a bounce."
Here are the three types of oil companies that will yield profits from the "Great Oil Turnaround" of 2016...
Alex McGuire is an associate editor for Money Morning. You can follow him on Twitter at @AlexMcGuire92.
Like us on Facebook: Money Morning
The Shocking Forecast for Oil Prices in 2016... It's no surprise that oil prices took a nosedive last year. In fact, WTI crude fell nearly 40% in 2015. But there are a number of forces working together right now that will make prices more than double their current value. Here's our precise reading for oil prices in Q3, Q4, and beyond...