The U.S. dollar remains the most important financial instrument in the world. The dollar rally has been the single most decisive factor in determining economic growth (or weakness) and market direction since early 2014.
And - right now - that's not a good thing.
Don't listen to Alan Ruskin, the macro strategist from Deutsche Bank (need I say more?) who posits that the strengthening dollar is largely a positive, since it's paired with an "improving labor market" and a "lower misery index."
He's looking for misery in all the wrong places.
When the value of the dollar changes significantly against other currencies, it causes the value of these assets to change as well (which is what started to happen in June 2014). Right now we are in a period in which the U.S. Federal Reserve and other major central banks in Europe, Japan, and China are not coordinating their actions, which has enormous consequences for the dollar.
And in turn, what happens to the value of the dollar has enormous consequences for other financial assets.
A stronger dollar has a far-reaching, negative domino effect that pressures global markets in all directions.
And right now, that pressure is nearing the breaking point...
The Strong U.S. Dollar Spells Trouble for the Global Economy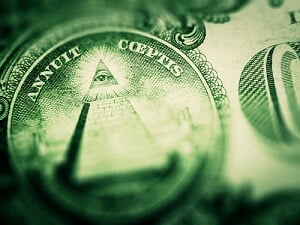 The U.S. Dollar Index (DXY) traded at just above 80 through most of 2013 before starting to rise sharply in early 2014, hitting 100 in late 2014 before settling down into a range between the low 90s and 100 for most of the period since then. This rally was caused by the divergence in monetary policy between the Federal Reserve and other major central banks, primarily the European Central Bank (ECB) and the Bank of Japan (BOJ).
The Fed made it known in early 2014 that it would terminate its ill-begotten quantitative easing (QE) program in October 2014 while the other two central banks were intensifying (Japan) or initiating (Europe) QE in desperate attempts to prop up their weak economies.
That sent the dollar straight up.
And the consequences are sobering.
First, the stronger dollar disarticulated global commodity markets. (The correlation between a strong dollar and lower commodity prices is extremely strong.)
But dollar strength also placed pressure on emerging market economies that borrowed trillions of dollar-denominated debt after the financial crisis that is increasingly expensive to repay in local currency terms.
The stronger dollar also added pressure on an over-leveraged global economy still struggling to recover from the financial crisis. Central banks decided to address a debt crisis by creating more debt, a solution doomed to fail.
In every respect, dollar strength spelled trouble for the global economy, and trouble is what it delivered.
As long as the dollar remains strong, there is little prospect that the global economy can resume robust growth. The DXY is currently trading above 97, at the upper end of its 52-week range of 92.62-100.51. A strong dollar will cap oil and other commodity prices, pressure S&P 500 earnings, make it difficult for emerging markets to service and repay their dollar-denominated debts, and act as a deflationary wet-blanket on the global economy.
Unfortunately, the most likely direction of the DXY is still up, not down. The two largest components of the DXY are the euro (57.6% weight) and the Japanese yen (13.6%), with British sterling (11.9%), the Canadian dollar (9.1%), Swedish krona (4.2%), and Swiss franc (3.6%) taking up the balance.
Source: zerohedge.com
With Japanese and Swedish central banks adopting negative interest rates, and Mario Draghi puffing out his chest about doing "whatever is necessary" to destroy the euro, there is little likelihood that foreign central banks will defend their currencies. Europe's economy and currency are particularly at risk since Germany's economy is slowing down sharply.
The only shot the dollar has of weakening is if the feckless Fed reverses its mealy-mouthed 25-basis point December hike and adopts another round of QE, which is unlikely.
Accordingly, a strong dollar remains a clear and present danger to the global economy and markets. Anyone who takes his or her eye off this ball is making a serious mistake.
Recovery Is Unlikely Unless the U.S. Dollar Weakens
Investors are desperately looking for signals of a market bottom. Despite the recent rally, I believe we are still in a bear market and maintain my S&P 500 target range of 1,650 to 1,750. Investors should either exit equity positions or hedge them. I think the following data points need to materialize to signal recovery:
The dollar needs to weaken significantly.
Commodity prices must rise materially. Staying where they are or dropping further would be problematic.
Credit market conditions need to improve materially.
GAAP corporate earnings must begin to improve materially. Earnings have dropped three quarters in a row to their lowest level since the Great Recession.
Central bankers have to end their destructive policies like QE and negative interest rates.
These changes would require a radical shift in the global monetary policy regime and an end to diverging policies in Europe, Japan, and China vis-a-vis the United States. As noted above, the single biggest factor affecting the global economy since early 2014 has been U.S. dollar strength, a trend that will not reverse unless the Fed changes course and starts easing again.
But even if the Fed falters again, central banks have limited tools left to stimulate growth after burying the world in debt over the last seven years. Those who argue otherwise have yet to explain why the trillions of dollars of QE and years of zero rates haven't done the trick, which is why their arguments should carry little weight.
I've provided some recommendations for investors to profit from the strong dollar here - but please remember, this is not an overall positive for the markets, no matter what "experts" may tell you.
Follow Money Morning on Facebook and Twitter.
Editor's Note: The strong dollar is just one of the factors pushing the markets toward a $200 trillion "Super Crash." This year, your most valuable asset may be Michael Lewitt's free Sure Money service. In Sure Money, Michael helps you see what's going up, what's going down, and how to profit. Sign up now by clicking here, and you'll get instant access to all of Michael's investing tips, recommendations, and specific instructions, including his exclusive "Super Crash Report."
Here Are 10 "One-Click" Ways to Earn 10% or Better on Your Money Every Quarter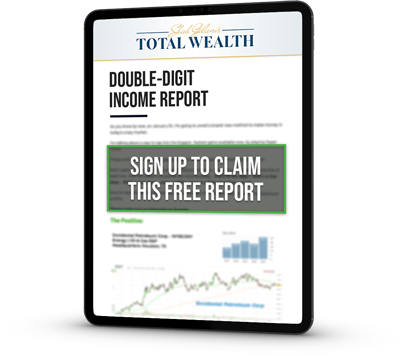 Appreciation is great, but it's possible to get even more out of the shares you own. A lot more: you can easily beat inflation and collect regular income to spare. There are no complicated trades to put on, no high-level options clearances necessary. In fact, you can do this with a couple of mouse clicks – passive income redefined. Click here for the report…
About the Author
Prominent money manager. Has built  top-ranked credit and hedge funds, managed billions for institutional and high-net-worth clients. 29-year career.