The SunEdison stock price soared 41% to $2.68 in pre-market trading today (Tuesday) after its $2.2 billion cash and stock merger for Vivint Solar Inc. (NYSE: VSLR) fell through.
The SunEdison stock price has now climbed more than 45% in the last five trading sessions.
Rooftop solar panel installer Vivint said Tuesday it has terminated the deal to be taken over by SunEdison after SunEdison failed to "consummate" the merger. The Vivint deal was set to expire on March 18. Vivint shares were flat at $5.51.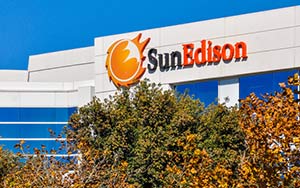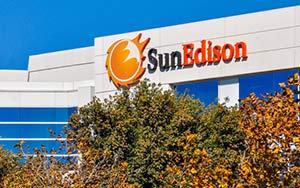 SunEdison Inc. (NYSE: SUNE) could be liable for much more than the $34 million breakup fee, and a sizable settlement is expected.
While the news has the SunEdison stock price soaring, the transaction has been in jeopardy for months.
Hedge funds and other investors had criticized the deal as the SunEdison stock price fell in 2015. The SUNE stock price was down almost 94% since the Vivint deal was announced. Vivint's stock price had fallen 52%.
Like other solar companies, the Vivint and SunEdison stock prices suffered because of crashing oil prices. When oil prices are lower, demand for solar power decreases. That can cause major drops in solar stocks. But SUNE stock had also been under pressure as the company tried to grow quickly through acquisitions.
SunEdison had a market cap of $600 million before Tuesday's gains, as well as long-term debt of $9.77 billion as of Sept. 30. That huge debt figure had investors and analysts questioning whether SunEdison should be purchasing Vivint.
As part of the Vivint deal, SunEdison yieldco (a company formed to own assets that produce cash flow) TerraForm Power agreed to buy Vivint's rooftop solar portfolio for $799 million. That was down from the original purchase price of $922 million. Still, many activist investors criticized the deal.
Hedge fund Appaloosa's Chief Executive David Tepper had called on TerraForm to "resist" the deal. The influential investor said it was a departure from TerraForm's business model and would put shareholders at risk.
And Tepper wasn't the only activist investor with a heavy hand in thwarting this deal.
In January, David Einhorn's Greenlight Capital said it was in talks with SunEdison regarding a board seat. The firm was pressing for asset sales or an outright sale of the company itself.
Now that the deal has been called off, many on Wall Street are happy with the prospects for the Vivint and SunEdison stock prices moving forward.
"We believe both companies will be better off on their own," Cowen and Co. analysts wrote in a note to clients Tuesday.
Plus, the solar industry is still growing at a huge rate. And one country just pledged a $100 billion investment in the industry over the next six years. That's having a major impact on solar stocks like SUNE...
Solar Industry Will Have Major Impact on SunEdison Stock Price
Solar stocks received a major catalyst in December when Congress passed a bill extending solar credits for another five years.
The credit extension will add an extra 20 gigawatts of solar power to the U.S. grid. That amount of power is more than every other panel previously installed in the United States prior to 2015 can provide, according to Bloomberg.  
The United States is already one of the world's biggest clean-energy investors, but the extension is a major boost to the industry and solar stocks like SUNE stock.
Roughly $73 billion in new solar investments is expected by 2020. That will provide eight million more American households with access to clean, renewable, affordable energy.
Money Morning Global Energy Strategist Dr. Kent Moors says 2016 will be a very important year for solar stocks and for the industry as a whole.
"Solar is here to stay," Moors said. "There's now a confluence of technology and economy that assures these new energy sources will continue to be adopted and improved upon - at ever-increasing rates."
You see, countries around the world are ramping up solar production. China is projected to spend $83 billion on solar energy projects in 2016 thanks to the government's new panel installation quota. The Indian government is investing $100 billion to install 100 gigawatts of solar capacity through 2022 - up from the nation's current capacity of 4 gigawatts.
Ramped up solar spending and extended solar tax credits will bring new life into the industry in 2016 and beyond.
Continue to check back with Money Morning for updates on the SunEdison stock price and solar stocks in 2016...
Stay informed on what's going on in the markets by following us on Twitter @moneymorning or liking us on Facebook.
Solar Power Will Boom in 2016: Solar outperformed the rest of the energy market in 2015, and that trend shows no sign of slowing down. In fact, there's one incredible factor that will drive solar stocks to new highs in 2016. Here's the best way to play this skyrocketing industry...
Related Articles: