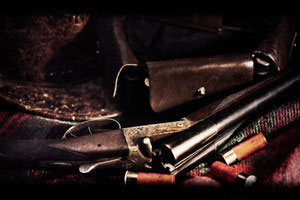 While most sectors are still recovering after the market downturn in January, gun stocks have been thriving.
The three biggest gun stocks are beating the S&P 500 by an average of nearly 18%. That's Sturm, Ruger & Co. (NYSE: RGR), up 24% this year; Smith & Wesson Holding Corp. (Nasdaq: SWHC), up 23%; and Vista Outdoor Inc. (NYSE: VSTO), up 14%.
One of these gun stocks stands out as the best to buy now. It's poised to finish 2016 up 19% from its Monday close, according to analysts from Thomson Reuters.
But before we talk about this gun stock, let's look at why the firearms sector is doing so well this year.
Gun stocks are highly sensitive to the news cycle. Whenever Congress or the president starts talking about gun control, gun stocks typically rise.
The last example of this was on Jan. 4. That was when President Barack Obama announced a new executive action to enforce tougher background checks for gun owners.
Nearly every major gun stock went up the week following the announcement.
Smith & Wesson stock jumped nearly 18%. Sturm, Ruger & Co. stock went up nearly 10%. Vista Outdoor Inc. stock went up almost 6%.
Gun-related crime - like the shooting in San Bernardino - also boosts these stocks by triggering a surge in gun sales.
"Gun sales increase every time there's another mass shooting or terrorist event because people want to protect themselves," said Money Morning Chief Investment Strategist Keith Fitz-Gerald.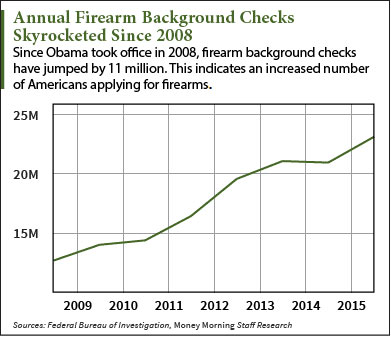 There was a consecutive increase in processed firearms applications last year from July to December - the month of the San Bernardino shooting. There were 3.3 million gun applications in December - the most ever in a single month since 1999 (the earliest such data was recorded), according to Federal Bureau of Investigation statistics.
The average number of monthly gun applications in 2015 was 1.9 million. So far in 2016, monthly firearm applications are averaging 2.5 million, according to the FBI.
With average gun applications per month rising by 600,000 so far this year, let's look at the one stock that will benefit most from the surge.
This Gun Stock Is Poised for a 19% Gain from Here
Smith & Wesson is one of the best gun stocks to buy this year. Headquartered in Springfield, Massachusetts, the company manufactures handguns, rifles, and all types of law-enforcement equipment.
Unlike its competitors Vista Outdoor and Sturm, Ruger, & Co., Smith & Wesson sells its products both domestically and internationally. Because of this, SWHC offers stockholders a broader sales base than most other U.S. gun makers, even if the majority of its sales are in the United States.
SWHC stock just also smashed revenue and earnings-per-share estimates in its Q3 earnings report on March 3.
The gun maker reported revenue of $210.8 million, beating the Zacks consensus estimate by $28 million. Its EPS was also $0.59, beating the Zacks consensus estimate handily by $0.18.
SWHC's figures were boosted by its 56.4% increase in firearm sales year over year. This would suggest it's meeting a bulk of the increase in demand for guns in the United States.
SWHC also raised its revenue projections for fiscal 2016. It expects revenue between $712 million to $717 million, up from $650 million to $660 million.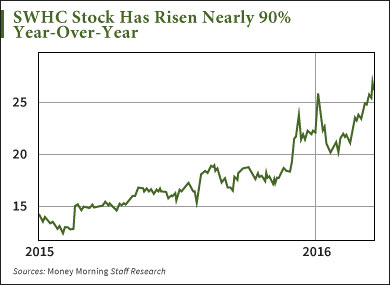 SWHC stock's price/earnings growth (PEG) ratio of 1.09 is a solid value for a company that's up 90% year over year - the highest gain compared to its competitors, VSTO stock and RGR stock.
At $25.94 per share, SWHC stock is up nearly 18% this year as of Monday's closing price. That's just a dollar shy of its 52-week high.
But it's not too late to grab shares of SWHC stock and add more returns to your portfolio.
"SWHC stock is perennially underestimated," said Fitz-Gerald in November 2015. "Socially it's the financial equivalent of a stray dog that you begrudgingly welcome to the family picnic. That sets up a contrarian opportunity based on nothing more than sentiment."
Analysts from Thomson Reuters give SWHC stock a $31 price target by the end of the year, a 19% gain from its Monday close.
The Bottom Line: It's not too late to pick up SWHC stock this year, even though it's already close to its 52-week high. The gun maker also has exceptional long-term growth prospects because of its broad customer base and ability to capitalize on increasing firearm demand in the United States.
Follow Money Morning on Facebook and Twitter.
The Essential Guide to Buying Gold and Silver: Precious metal investing is widely regarded as the best "crisis insurance" for your portfolio. This guide gives you everything you need to know about the best stores of value in history, gold and silver. Read more...