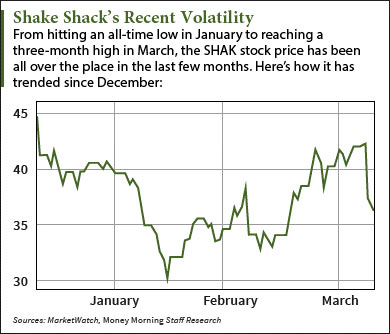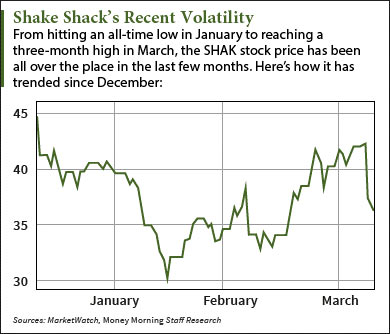 The Shake Shack stock price is getting burned today - again.
At 10 a.m. today (Wednesday, March 9), SHAK stock was down another 3.8% and trading at $35.84 a share. That's its lowest level in three weeks and marks the Shake Shack stock price's second straight day of losses. Shares cratered nearly 12% yesterday.
And there's no end in sight. In fact, we found one reason why SHAK stock will continue to decline over the long term.
But first, here's why shares have been tumbling this week...
Why the Shake Shack Stock Price Is Down 13.8% This Week
The reason for Shake Shack Inc.'s (NYSE: SHAK) sharp decline this week is Monday's Q4 earnings report.
On the surface, the fourth-quarter financials were strong. The company posted $0.08 per share on revenue of $51 million, which beat analyst estimates of $0.07 per share on revenue of $50.4 million.
Same-store sales - or, as the company calls, it "same-shack sales" - were another strong metric. They increased 11% quarter over quarter and 13.3% year over year. One factor behind Q4's surging sales was the launch of the Chick'n Shack, the chain's first chicken sandwich released to compete with Chick-fil-A.
But the sell-off in SHAK stock came from the disappointing 2016 guidance. In the earnings report, the company said it expects annual same-shack sales growth at locations open for at least two years to slow to a range of 2.5% to 3%. This fell short of Wall Street's expectation of 3.1%.
A number of banks cut their Shake Shack stock price targets in response. Yesterday, Barclays Plc. (NYSE ADR: BCS) cut its 2016 price forecast from $48 to $40 a share. JPMorgan Chase & Co. (NYSE: JPM) went even lower by slashing it from $50 to $35 - roughly 2.3% below its current trading price.
These downgrades show the initial hype that drove SHAK stock up 89% last year is finally starting to fade.
According to Money Morning Chief Investment Strategist Keith Fitz-Gerald - a seasoned market analyst and trader with more than 30 years of global experience - the company is extremely overvalued.
Its estimated 2016 price/earnings ratio is 111.13. That's totally illogical considering it's more than five times the ratio of more established competitors like McDonald's Corp. (NYSE: MCD).
"If the Shack is going to achieve a McDonald's-like valuation, the company would have to open approximately 864 restaurants representing a 929% expansion from the 84 locations they operate today," Fitz-Gerald explained. "The deal breaker for Shake Shack - at least in my book anyway - is that it's always carried an insanely high and unjustifiable valuation."
This clear evidence of overvaluation makes Shake Shack stock one to avoid in 2016.
Alex McGuire is an associate editor for Money Morning. Follow him on Twitter at @AlexMcGuire92 for all of the biggest Shake Shack news.
Like us on Facebook: Money Morning
Forget the Shack - These Are the Stocks You Want to Buy Today... Every week, our investing gurus choose the best stocks to buy to profit from current market conditions. One of this week's picks is a "triple play" set to explode from the pharmaceutical sector's major comeback. All of our picks - and more - are here in our latest list of the best stocks to buy now...