The WMT stock price is down 18.11% in the last year, and we just found another major bearish warning for the stock.
You see, Wal-Mart Stores Inc. (NYSE: WMT) is falling behind rivals in the explosive e-commerce marketplace despite heavy spending.
Over the past two years, Wal-Mart's e-commerce growth has steadily dropped. The company posted e-commerce growth of just 8% in its most recent quarter, down from 22% in last year's fourth quarter and 30% two years ago.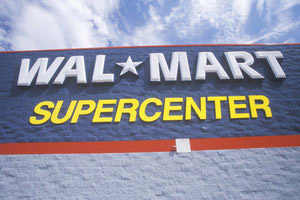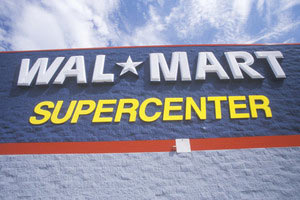 The decline came even as Wal-Mart began aggressive spending to improve customers' online shopping experience. The company has also been spending on developing ways to integrate online and in-store shopping for a seamless shopping experience. Its mobile app has been another key area of focus.
In October, Wal-Mart announced it would invest $2 billion into e-commerce over the next two years to help it better compete.
So far, the ambitious plans haven't paid off, and investors are getting impatient.
The WMT stock price tumbled more than 12% on news of the e-commerce push in October. The drop was the sharpest decline for WMT stock in 25 years, wiping out $21.5 billion of WMT's market cap in a single day.
And although the WMT stock price has recovered slightly from that drop, we are still very bearish on Wal-Mart stock for this one reason…
Why We're Still Bearish on the WMT Stock Price
Not only is Wal-Mart's e-commerce growth slowing, but it also lags far behind its competitors. And that's the biggest reason to remain bearish on the WMT stock price.
Wal-Mart currently gets just 3% of sales from its website. In comparison, Macy's Inc. (NYSE: M) gets 8%, Nordstrom Inc. (NYSE: JWN) gets 19%, and Neiman Marcus gets 26%.
Then there's e-commerce titan Amazon.com Inc. (Nasdaq: AMZN). According to eMarketer data, Wal-Mart's online sales in 2015 were $13.18 billion. Amazon's tally was $71.4 billion.
Amazon officially became more valuable than Wal-Mart last summer. On Aug. 28, Amazon had a market cap of $246.54 billion compared to Wal-Mart's $230.53 billion cap. The divide has grown wider. Amazon's market cap is now at $259.19 billion versus Wal-Mart's shrinking $217.92 billion.
And now Walmart is even falling behind rival Target Corp. (NYSE: TGT).
Target grew its e-commerce business 34% in its most recent quarter. The company's growth has been steady in the past few years, with digital sales growth of 20% or more quarterly for the past year.
Target aims to spend $1.8 billion this year and $2.5 billion next year on improving its e-commerce supply chain and technology.
Both Wal-Mart and Target are in the middle of turnarounds after prolonged stretches of weak traffic and anemic sales in U.S. markets. But Target appears to have the edge for now.
In addition to a strong e-commerce push, Target is improving as it refocuses on stylish categories like fashion and apparel. In some instances, that means selling items that are higher quality, more expensive, and more appealing to a shopper who's generally better off than Wal-Mart's core customer. According to data from the consultancy Kantar Retail, 42% of Target's shoppers make more than $75,000 a year, versus 28% at Wal-Mart.
Meanwhile, Wal-Mart is back to reinforcing that its prices are always low. Yet it isn't seeing much improvement.
While Wal-Mart drew in more shoppers in the latest quarter, their spending per trip was flat. Consumers continue to use savings from lower gas prices to pay down debt, not shop.
When Walmart reported a 7.9% decline in earnings last month, it lowered estimates for sales growth in fiscal year 2017. The company said it expects "relatively flat" growth. Just a few months earlier, Wal-Mart was projecting sales growth of 3% to 4%.
Cautious consumers, poor earnings, and a dismal outlook are reasons alone to avoid Wal-Mart stock in 2016. The e-commerce issues make the decision even easier. The WMT stock price is down 18% in the last 12 months and should continue to trend lower.
Stay informed on what's going on in the markets by following us on Twitter @moneymorning or liking us on Facebook.
Solar Power Will Boom in 2016: Solar outperformed the rest of the energy market in 2015, and that trend shows no sign of slowing down. In fact, there's one incredible factor that will drive solar stocks to new highs in 2016. Here's the best way to play this skyrocketing industry…
Related Articles: