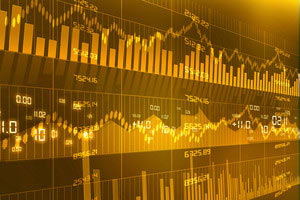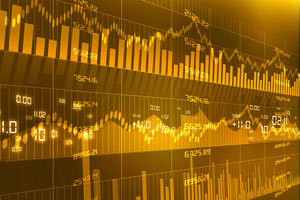 The U.S. economy isn't in a recession yet. But you can easily prepare your portfolio for what's ahead by picking up the best recession-proof stock to buy now.
Investors usually favor the "sin" stocks - companies involved with alcohol, tobacco, and gambling - during economic downturns. The thinking goes: when the times are bad, people will more willingly give in to their vices.
But here's the thing - even the best "sin" stock doesn't compare to our stocks to buy to withstand a 2016 recession.
Today's recession-proof stock is a pick from Money Morning Chief Investment Strategist Keith Fitz-Gerald. Fitz-Gerald was one of the few analysts to predict the financial crisis leading up to the Great Recession.
Before we look at Fitz-Gerald's pick, let's look at what a recession is and why we're due for one soon...
Gauging the Chances of Recession 2016
A recession is as at least two quarters of negative gross domestic product growth. The last U.S. recession was in 2008-2009 and lasted four quarters, as the following chart shows: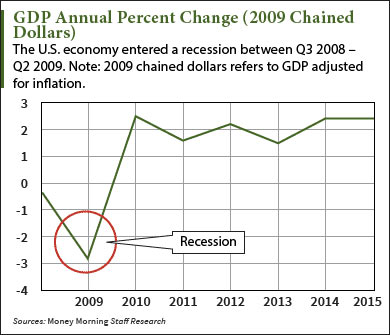 Although unpleasant, a recession is a natural part of the business cycle and economic activity.
The average period between recessions in the United States have lasted about 60 months since 1945, according to the National Bureau of Economic Research. We've been in an economic expansion for nearly 100 months.
That means we're overdue for an economic contraction.
Slowing economic growth can drive investors out of the markets. But for those looking to continue to grow their wealth over many years, it's important to not completely disinvest when the next recession hits. Not all investments will crumble during a recession - and some of the best stocks to buy will see double-digit gains during a recovery, which you don't want to miss.
Fitz-Gerald's stock pick did just that after the Great Recession. And it's got just as much recession-fighting potential now as it had back then...
One of the Best Stocks to Buy Before a Recession Hits
When Fitz-Gerald looks for recession-proof stocks to buy, he likes to target "must-haves."
"'Must-have' investments are companies making products that are tapped into trillions of dollars in spending that make them as recession-proof as possible," said Fitz-Gerald. "What's more, because they provide services that draw their demand from human nature's roots themselves, there will be a market for them, in good times and bad, for as long as civilization itself is around."
That's why now he likes the massive defense contractor Lockheed Martin Corp. (NYSE: LMT) as recession insurance for 2016.
Created from a merger between two aerospace companies in 1995, Lockheed Martin is one of the world's leading corporations in the aerospace, defense, security, and technology industry.
Lockheed only dipped an average of 30% entering the Great Recession, beating the average losses of the S&P 500 by 10% during the same period.
Since 2008, Lockheed has gained over 250% to where it sits today, at $216 per share. That's over 100 points higher than the price it was averaging right before the Great Recession.
Lockheed benefits from the $580 billion annual U.S. defense budget that our politicians hate to cut, according to Fitz-Gerald.
Unlike most other companies, Lockheed's extensive work with the U.S. and foreign governments means that its profit margins are "baked in" at 7.8%, according to Fitz-Gerald. In other words, by working with governments, Lockheed has an almost guaranteed demand for its services. That assures it maintains a strong profit margin, even when times get tough.
As the world gets more dangerous, Lockheed profits. And - sad but true - it looks like times are only getting worse as tensions in the Middle East and terrorist threats escalate. In fact, Lockheed just extended a huge $60 million contract with the U.S. Navy on Feb. 25, which sent its stock up 2% the following day.
And we expect Lockheed to land plenty more deals like this in the coming months, as the United States ramps up its military efforts in the Middle East.
Another reason to consider Lockheed as recession insurance is because of its dividend, which it has raised every year since 2003. The $0.12 quarterly dividend it had in 2003 is now $1.65. That's an increase of $1,275% in 13 years.
"Management has a history of dramatically increasing payouts," Fitz-Gerald said in support of Lockheed Martin stock. "Plus, the company is tapped into what I like to call an Unstoppable Trend - War, Terrorism, and Ugliness. That's one of the biggest Unstoppable Trends of all."
Stay informed on what's going on in the markets and on the best stocks to buy now by following us on Twitter @moneymorning or liking us on Facebook.
Protect Your Money in This Bear Market: It's true that you would have to be a fortune teller to know exactly when a bear market would start and end. But fortune telling isn't Keith Fitz-Gerald's profession. His goal is to protect your wealth, maximize gains, and help you focus on what's really going on in the market. In his Money Map Report, this financial guru has used his years of experience as a trader in one of Wall Street's leading firms to help his readers find 86 double- and triple-digit winners. You can learn more about Keith's Money Map Report here...