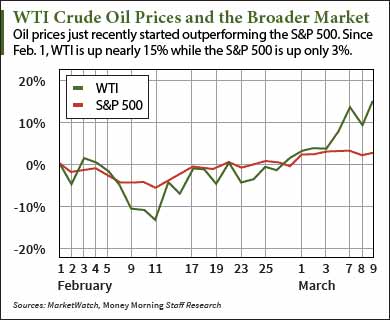 A meeting of the world's largest oil producers may fall apart, and West Texas Intermediate (WTI) crude oil prices are feeling the pressure.
At 11:45 a.m. today (Thursday), WTI crude oil prices tumbled 2.6% to $37.30 a barrel on bearish news concerning a meeting of the leading oil nations. The losses come just one day after the U.S. benchmark topped the $38 mark for the first time in 2016. Futures for April delivery are now up 10.5% this month. Oil futures remain down 4.7% on the year, however.
Brent crude oil prices were even more volatile this morning. The global benchmark - priced in London - fell 3% to $39.84 a barrel. Despite today's drop, futures for May delivery are up 8.9% in March and 1.1% in 2016.
Now, here's why this global oil summit is dragging prices lower today...
Why WTI Crude Oil Prices Fell from 2016 Highs Today
Today's decline in WTI crude oil prices began after Reuters reported the much-anticipated meeting between major OPEC and non-OPEC countries over production freezes is unlikely to happen. The gathering of officials from Saudi Arabia, Russia, Qatar, and Venezuela was set to occur on March 20.
The oil producers' hesitation stems from Iran's reluctance to join the effort. After its economic sanctions were lifted in January, Iran is expected to significantly boost output this year. Global news agency AFP reported the country already exported 1.75 million barrels per day from Jan. 21 to Feb. 19.
"They are not agreeing on the meeting. Why would the ministers meet again now? Iran says they will not do anything," an OPEC source told Reuters. "Only if Iran agrees, things will change."
But today's losses are just a knee-jerk reaction, and oil prices will continue to rise in the long term. That's because demand will considerably outpace supply this year, regardless of an OPEC and non-OPEC meeting.
The Baker Hughes Inc. (NYSE: BHI) oil rig count fell to a seven-year low of 392 last week, which means supply should fall. At the same time, the U.S. Energy Information Administration (EIA) expects annual global consumption to increase by 1.2%.
And Money Morning Global Energy Strategist Dr. Kent Moors - an internationally recognized energy expert with more than 40 years of government advising under his belt - says there are several ways to profit from the "Great Oil Turnaround" of 2016.
All you have to do is focus on these four categories of oil stocks...
Alex McGuire is an associate editor for Money Morning. You can follow him on Twitter at @AlexMcGuire92.
Like us on Facebook: Money Morning