The Tesla stock price has surged more than 40% in the last month alone, making it one of the hottest stocks on the market. During the same time, the Dow Jones Industrial Average, S&P 500, and Nasdaq have posted gains of just 7%, 8%, and 10%, respectively.
And we see those types of market-beating gains from the Tesla Motors Inc. (Nasdaq: TSLA) stock price continuing from here.
But before we get to the long-term outlook for Tesla stock, here's why it has soared this month...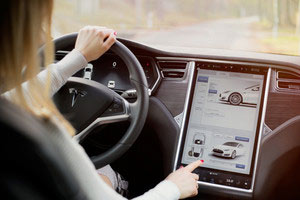 The Tesla stock price has gotten a boost along with the sharp recovery in the overall market from February lows. Momentum stocks like Tesla were hit especially hard as investors fled markets at the beginning of 2016.
But the market recovery isn't the only reason for the TSLA stock price's 40% pop. The company has demonstrated that not only can it design and manufacture cutting-edge cars, it can also meet demand and deliver them.
In the past, inventory was a key concern for Tesla shareholders. Tesla has been infamous for making customers wait a long time for their car, and most customers were content to wait. But that did hurt profits. Over the last several quarters, Tesla has ramped up production and quickened delivery times.
And despite the steep decline in oil prices, which tends to weigh on electric car sales, demand for Tesla's vehicles remains strong.
The company delivered 17,400 Model S sedans to customers in the last three months of 2015, setting an all-time quarterly record. Model S deliveries in Q4 2015 represented a 75% increase year over year. It was also a 50% quarter-over-quarter increase.
Tesla estimated it would sell 55,000 cars globally in 2015. That number is expected to climb as high as 500,000 in 2020. By 2025, it expects to sell more than two million. The company appears likely to meet those goals thanks to its new Model X vehicle and the upcoming lower-priced Model 3.
The Model X is the newest addition to Tesla's offerings and follows up on the Model S sedan.
Tesla touts the $80,000 Model X as the "safest, fastest, and most capable sport utility vehicle in history." It has all-wheel drive and a 90 kWh battery providing 257 miles of range.
Reviews of the Model X have sent the TSLA stock price higher in recent weeks, yet there's an even bigger reason why we remain bullish on Tesla stock.
You see, the company is about to begin tapping into a $488 billion market. And that will be a catalyst for the stock for years to come...
Why Tesla Stock Has Room to Run
Later this month, Tesla will unveil a new Model 3. Not much is known about the much-hyped car except that it has been dubbed "the everyman car."
"The first pictures of the Model 3 will be at the end of March," CEO Elon Musk said. "I am being a little coy here, we are not gonna show everything about the Model 3 until a lot closer to production time."
Model 3 production is due to start in 2017. That means an unrestricted look at the Tesla Model 3 is still months away. But with a price tag of just $35,000, interest is expected to be high.
The introduction of a $35,000 vehicle is huge for Tesla. Right now, its Model S sedan and Model X SUV retail for $70,000 and $80,000, respectively.
With worldwide revenue from electric vehicles forecast to bring in $488.54 billion by 2030, Tesla stock needs an affordable vehicle to appeal to the masses.
Money Morning Technical Trading Specialist D.R. Barton is bullish on TSLA stock and says it is "head and shoulders ahead in the electric car front."
Still, with the kind of volatility Tesla and global markets have experienced this year, TSLA stock is not for short-term investors. But for long-term investors looking to buy and hold a stock for five to 10 years, TSLA is an excellent choice.
Musk's unparalleled vision and ability to create innovative products have propelled Tesla to the forefront of the electric vehicle market.
"I think Musk is the most innovative CEO on the planet and that he sees value others don't yet recognize," Money Morning Chief Investment Strategist Keith Fitz-Gerald said in 2015. "Cars, batteries, innovative business models - nobody knows where it will go but ultimately if you're along for the ride, I think it'd be very hard to go wrong over time."
Stay informed on what's going on in the markets by following us on Twitter @moneymorning or liking us on Facebook.
The Essential Guide to Buying Gold and Silver: Precious metal investing is widely regarded as the best "crisis insurance" for your portfolio. This guide gives you everything you need to know about the best stores of value in history, gold and silver. Read more...
Related Articles: