The Internet of Things (IoT) market is experiencing explosive growth and is expected to top $14.4 trillion in sales by 2022. That's why we've found the three best stocks to buy now in this emerging industry.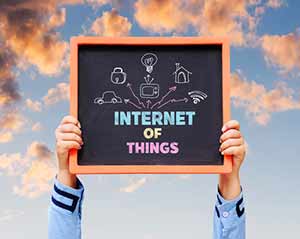 The IoT market is still in its infancy, but there are companies already building an early foothold in this growing market. Three of these companies made our list of best stocks to buy now.
And Money Morning readers have the opportunity to get in at the ground floor of this $14.4 trillion market...
You see, there are early devices you can buy now in the IoT sector. But the biggest innovations are yet to come.
By 2020, research site Statista projects 50.1 billion devices will be connected to the IoT sector. That's a 118% increase from the 22.9 billion devices that are expected to be connected in 2016.
All of this growth will mean more and more spent on the IoT sector...
Statista estimated that roughly $612 billion was spent on IoT technology in 2015 just by individual consumers. But by 2020, that number is going to skyrocket to $911 billion. That's a 48% increase in just five years from individual consumers.
And according to research from Cisco Systems Inc. (Nasdaq: CSCO), sales for the entire industry will top $14.4 trillion by 2022.
First, the IoT market will integrate itself into your life as cities start utilizing the technology. Imagine roads with sensors that can communicate directly with your car. These sensors will be able to send you data on traffic flow optimization, street conditions, congestion, construction causing delays, and information to re-route your vehicle.
Along with an improved commute, IoT can also provide safety. One major theme in the 2016 presidential race is to improve our nation's infrastructure. New bridges being built could utilize cement with sensors in them. These sensors would be able to monitor stresses and cracks, and would be able alert engineers when a problem first forms.
And the retail opportunities in the IoT market are equally as impressive...
Soon you will be able to control almost everything in your life from one device. Using a smart "connected" device like a phone or watch, you will be able to tell your autonomous car to pick you up. In fact, one company we'll discuss is already doing that.
Here are the three best stocks to buy now before the Internet of Things market reaches its full $14.4 trillion potential. One stock has already climbed more than 40% in the last month alone...
Best Stocks to Buy Now No. 3: Alphabet Inc. (Nasdaq: GOOGL, GOOG)
In 2014, Alphabet Inc. (Nasdaq: GOOGL, GOOG) purchased Nest Labs for $3.2 billion in cash.
Nest is mainly known for its 2011 "Learning Thermostat." After several days of manually setting the thermostat, it learns what type of temperatures you like at different points during the day. Nest can also alert you if your temperatures are so low that pipes could burst, or if your furnace is acting up.
Pundits scoffed at Alphabet paying $3.2 billion for a thermostat, but Alphabet is going to have the last laugh. Alphabet has identified that home automation is going to become much more popular, and the company will already be established in the market.
And Nest has already formed partnerships with LG and Whirlpool. Users can check to see if they've left appliances on, and Nest can even change the color of light bulbs and call emergency services if it detects smoke.
Alphabet's early adaption to the IoT technology makes it one of the best stocks to buy right now.
GOOGL is up 30.77% in the last 12 months, and GOOG is up 28.5%.
Best Stocks to Buy Now No. 2: Tesla Motors Inc. (Nasdaq: TSLA)
Tesla Motors Inc. (Nasdaq: TSLA) is already head and shoulders above every other auto manufacturer in the electric car front.  
Now its smart technology is going to make it a leader in the IoT market for vehicles as well...
In February, Tesla released a new feature called "Summon" that allows drivers to control some of the car's forward and backward movement with a smartphone or smartwatch.
But what's most impressive about this new feature is how it was installed...
You see, Tesla can solve issues through software updates. And a similar software update is how it initially installed "Summon." Instead of taking a car back to a dealer or a mechanic when something is wrong, Tesla is able to essentially have a car fix itself. And that can save the company billions. When you look at General Motors Inc. (NYSE: GM), for instance, the automaker is expected to spend an estimated total of $2.8 billion on repairing cars from a recent recall in February.
Tesla's revolutionary software is part of the reason the company is leading the IoT revolution.
Now, it's true that TSLA stock can be extremely volatile. It has a 52-week average between $141.05 and $286.65 per share, and TSLA is down 14.88% in 2016.
But for long-term investors who are patient, CEO Elon Musk's innovations will pay off. While everyone is playing catch up, he is creating technology that will make Tesla the most dominant car company in the IoT market.
TSLA is up 41.87% in the last month, and Musk's early foothold in the IoT market makes it one of the best stocks to buy now.
Best Stocks to Buy No. 1: Amazon.com Inc. (Nasdaq: AMZN)
Amazon.com Inc. (Nasdaq: AMZN) made a huge announcement at the Consumer Electronics Show (CES) in January that was widely overlooked: Amazon will begin working with Ford Motor Co. (NYSE: F) to integrate its smart-home device, Echo, into vehicles.
Right now, the functions of Echo are basic. It can read books, play music, and tell you the news, among a few other features.
But the future applications of Echo, like the partnership with Ford, are what make Amazon one of the early leaders in the IoT market...
Echo will eventually allow you to start your car from your couch, and it will also be able to set a timer for the exact moment you want your vehicle to start. Ford owners will be able to set internal temperatures through Echo, as well as check the charge levels on electric vehicles and fuel levels on regular vehicles.
When you're almost home, you will be able to turn your porch lights and open your garage door through Amazon's smart-home device.
Ford has yet to announce when Echo will be integrated into its vehicles, but the partnership will be a major catalyst for the stock.
Echo is just in its infancy, but Money Morning Defense & Tech Specialist Michael A. Robinson believes that AMZN stock is a great investment for long-term investors.
Robinson believes that CEO Jeff Bezos accurately identified just how important the Internet of Things and Infrastructure-as-a-Service segments are going to be for tech companies.
You see, creating an infrastructure can cost hundreds of millions of dollars. Bezos knew that companies would rather rent out technology infrastructure than build it. The partnership with Ford is proving that Bezo's bet is paying off.
"Bezos has once again broken ground for another multibillion-dollar web business," Robinson said.
AMZN is up 51.21% over the last 12 months and will continue to climb as it develops an even stronger foothold in the IoT market.
The Bottom Line: The Internet of Things (IoT) market is expected to generate $14.4 trillion in sales by 2022. And because Alphabet, Tesla, and Amazon are leaders in IoT technology, they are the three best stocks to buy now in the industry.
Jack Delaney is an associate editor for Money Morning. You can follow him on Twitter and follow Money Morning on Facebook. 
Protect Your Money in This Bear Market: It's true that you would have to be a fortune teller to know exactly when a bear market would start and end. But fortune telling isn't Chief Investment Strategist Keith Fitz-Gerald's profession. His goal is to protect your wealth, maximize gains, and help you focus on what's really going on in the market. In his Money Map Report, this financial guru has used his years of experience as a trader in one of Wall Street's leading firms to help his readers find 86 double- and triple-digit winners. You can learn more about Keith's Money Map Report here..
Here Are 10 "One-Click" Ways to Earn 10% or Better on Your Money Every Quarter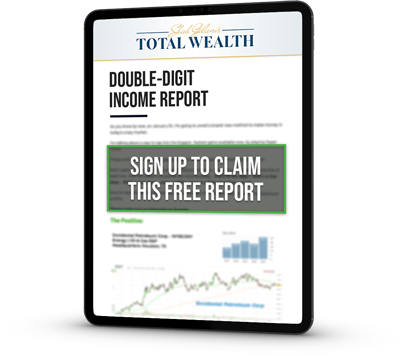 Appreciation is great, but it's possible to get even more out of the shares you own. A lot more: you can easily beat inflation and collect regular income to spare. There are no complicated trades to put on, no high-level options clearances necessary. In fact, you can do this with a couple of mouse clicks – passive income redefined. Click here for the report…