The Amazon stock price has skyrocketed 237.49% in the last five years because of Amazon's dominance as an online retailer.
So when Amazon.com Inc. (Nasdaq: AMZN) announced it was opening its first brick-and-mortar book location in Seattle in November 2015, it seemed counterintuitive to its business model...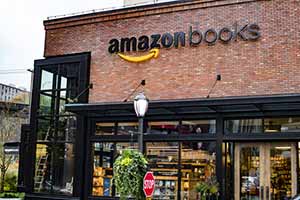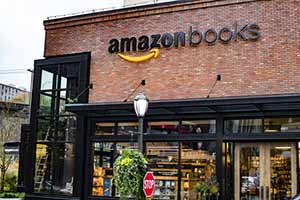 After all, traditional bookstores can suffer from excessive stock and large operation costs. Borders Group Inc. was forced into bankruptcy in 2011. Even Barnes and Noble Inc. (NYSE: BKS) announced that it plans to close eight stores in 2016.
And now, The San Diego Union-Tribune reports that Amazon will open its second physical bookstore in San Diego in the summer of 2016...
This may initially seem like an odd move, but we actually see the brick-and-mortar locations as a very bullish catalyst for the Amazon stock price.
But before I get to that, I want to make sure that our readers know why the AMZN stock price is down 16.3% so far in 2016...
Wall Street had very high expectations for Amazon's Q4 2015 earnings report. Analysts had expected Amazon to report earnings per share (EPS) of $1.58 on $35.9 billion in revenue. Amazon missed on both estimates with $1 in earnings and $35.75 billion in revenue.
Amazon's rising operating costs were another concern for investors. Operating costs totaled $35.6 billion, which was a 24% increase from last year. Shipping costs also jumped 2.5%.
The day after earnings, the Amazon stock price dropped 6%.
Even though AMZN may be down in the short term, we believe the Amazon stock price will continue to rise in the long term. And today's announcement is a big reason why...
New Stores Are Actually Bullish for the Amazon Stock Price
One of the challenges of retail in general is projecting the right amount of inventory to always have on hand. Amazon always had the advantage as an online bookstore because it was operating warehouses instead of stores.
So, many on Wall Street thought Amazon would start experiencing that problem when it opened its first store in Seattle. But Amazon already had a way to counter those issues...
You see, Amazon uses its real-time data to determine what's trending in the book world. It can see the most popular titles being sold, and it can even break down geographic spending habits. This allows the company to tap into specific book signings and appearances that it knows customers will want in different areas.
This also prevents the company from overstocking on items that may not have a high demand.
While sales from a physical store are a bonus, Amazon actually has much bigger motives for its retail locations...
Before opening its physical location in Seattle, Amazon never had a store where customers could test its products. In the physical store, customers can not only test out Amazon Kindles and its new Echo device, but the staff members can answer any questions in person.
Now, it's true that Amazon isn't going to drastically increase revenue just through selling Kindles. In fact,
NPR
reported that Amazon is willing to sell its Kindle for a loss.
The real power of selling a Kindle is that it is an introduction to Amazon's ecosystem. Amazon has a growing foothold as a music, movie, television, and e-book seller.
Just from the sale of e-books in 2014, Forbes reported that Amazon reportedly earned between $256 million to $530 million. The more Kindles that are sold, the bigger the market for Amazon's services will become.
When Amazon does open its second brick-and-mortar store this summer, it will benefit from being strategically placed between tech-friendly businesses. It will be adjacent to a Tesla Motors Inc. (Nasdaq: TSLA) store and across from an Apple Inc. (Nasdaq: AAPL) store.
The Bottom Line: The Amazon stock price is down over 16% in 2016 because Amazon didn't meet Wall Street's expectations in its Q4 2015 earnings report. But Amazon opening a brick-and-mortar store is great news for shareholders. Amazon is creating new outlets to generate even more revenue from the multimillion-dollar e-book business. And showcasing its devices will help the company build a bigger foothold in the music, movie, and television markets.
Jack Delaney is an associate editor for Money Morning. You can follow him on Twitter and follow Money Morning on Facebook. 
Protect Your Money in This Bear Market: It's true that you would have to be a fortune teller to know exactly when a bear market would start and end. But fortune telling isn't Chief Investment Strategist Keith Fitz-Gerald's profession. His goal is to protect your wealth, maximize gains, and help you focus on what's really going on in the market. In his Money Map Report, this financial guru has used his years of experience as a trader in one of Wall Street's leading firms to help his readers find 86 double- and triple-digit winners. You can learn more about Keith's Money Map Report here...