The top penny stocks on the market can bring triple-digit profits in a very short period of time, and that's why we compiled this list of the five top penny stocks to watch this week.
Each of these top penny stocks has posted a double-digit gain this week, with one up almost 100% in just a matter of days…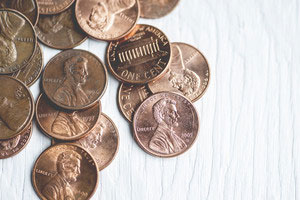 While penny stocks bring huge profits, they can also bring high volatility. That's why Money Morning experts advise that penny stocks should only represent a small percentage of any portfolio. And one stock should never account for more than 2% of your investing capital.
Money Morning Chief Investment Strategist Keith Fitz-Gerald tells readers that the key finding the best penny stocks in 2016 is the same as finding any strong investment. Know what to look for and have the right risk tolerance and perspective.
At Money Morning, we focus primarily on penny stocks listed on major exchanges like the NYSE and the Nasdaq. That's because they are less risky than penny stocks trading on the Over-the-Counter market or the Pink Sheets.
While they don't trade for pennies per share, they still offer the potential for substantial gains over a short time frame – and with less risk.
Here's our list of this week's top five penny stocks to watch, including one penny stock that has already climbed nearly 100%…
The Five Top Penny Stocks to Watch Now
Top Penny Stocks No. 5: China Yida Holding Inc. (Nasdaq: CNYD) engages in the tourism business in China. It develops, operates, and markets tourist destinations including natural, cultural, and historic destinations, as well as theme parks. Shares surged 23.86% to $2.44 Thursday before trading was halted. The company announced it has entered into an agreement to merge with China Yida Holding Acquisition for $3.32 a share.
Top Penny Stocks No. 4: Hercules Offshore Inc. (NYSE: HERO) provides shallow-water drilling and marine services to the oil and natural gas exploration and production industry worldwide. Like other stocks in the sector, HERO shares have tumbled along with the plunge in oil prices. HERO shares surged 45.50% to $2.91 Monday as low-priced, beaten-down energy stocks enjoyed continued momentum with a 3% bounce in oil prices.
Top Penny Stocks No. 3: Code Rebel Corp. (Nasdaq: CDRB) is a Hawaii-based company that develops and licenses its interactive remote application terminal services solution (iRAPP). Code Rebel's iRAPP allows personal computer (PC) users to use applications on a single Mac remote desktop simultaneously via the iRAPP client or any standard compliant remote desktop client. The company's products allow a user to connect from a PC to a Mac remote desktop within the Windows environment. In January, Code Rebel announced it will merge with Aegis Identity. Talks surfaced this week that Code Rebel shareholders aren't getting enough in the deal and the merger may not complete. CDRB share jumped 60.55% to $3.50 Monday on the speculation.
Top Penny Stocks No. 2: EP Energy Corp. (NYSE: EPE) is an independent exploration and production company that acquires and develops unconventional onshore oil and natural gas properties in the United States. Shares have suffered along with other oil stocks. But the company is better positioned than many in the sector this year thanks to hedges (oil contracts that lock in prices, typically at lower rates). EPE shares spiked $3.24 to $7.17 Monday before triggering a circuit-breaker halt. EPE shares ended the session at $6.84, a 74.05% gain.
Penny Stock to Watch No. 1: Peabody Energy Corp. (NYSE: BTU) is a coal-mining company that also offers direct and brokered trading of coal and freight-related contracts. The coal industry, and Peabody, have been hurt by oversupply, competition from natural gas, and weak export demand. Earlier this month, Peabody said it is working to optimize liquidity and reduce leverage. Shares surged 41.30% Monday, climbed 29.74% Wednesday, and were up another 6.45% Thursday at $6.27. That put BTU's five-day gains at 91.98%.
Stay informed on what's going on in the markets by following us on Twitter @moneymorning or liking us on Facebook.
The Essential Guide to Buying Gold and Silver: Precious metal investing is widely regarded as the best "crisis insurance" for your portfolio. This guide gives you everything you need to know about the best stores of value in history, gold and silver. Read more…