U.S. markets have logged four consecutive weeks of gains, but investors shouldn't get too comfortable. In fact, we've spotted three signs a stock market crash could be coming in 2016...
But before we get to the stock market crash warning signs, here's what has been pushing markets higher...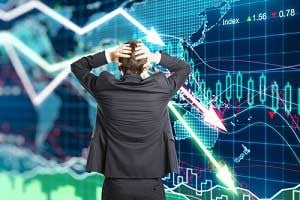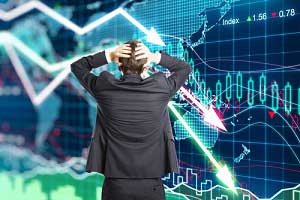 The key driver of stocks has been the sharp rebound in oil prices. Crude oil prices, which have climbed each of the last four weeks, added 7% last week to $38.50 per barrel. The International Energy Agency said it saw signs of a price bottom last week, which sent prices higher. Talks of a production freeze from some oil producers supported the rally.
Stocks and oil prices have moved nearly in lockstep this year, and that continued over the last month.
The second reason stocks have rallied is the various rounds of unconventional monetary measures from global central banks, including negative interest rates. The European Central Bank last week cut its key interest rate to -0.4% from -0.3%. It also expanded its quantitative easing by 20 billion euros to 80 billion euros per month.
While the rally has provided some temporary relief for the markets, Money Morning Global Credit Strategist Michael Lewitt warns that investors should not get too comfortable.
"The fact that investors are willing to celebrate government actions to confiscate their savings through negative interest rates illustrates the short-term mentality driving markets closer to a day of reckoning," Lewitt said.
"You just cannot grow economies by destroying capital, yet that is precisely what negative interest rates accomplish," Lewitt continued.
And negative interest rates aren't the only thing Lewitt says investors need to watch. He's found three more signs that we could be headed for a stock market crash in 2016...
Stock Market Crash Warning Sign No. 1: Oil Defaults
With oil prices still down more than 60% from the $117-a-barrel high in the summer of 2014, all oil companies are presently stressed. Bloomberg reported last week that investors are facing $19 billion in energy defaults in the near future.
The wave of defaults could start within days, according to Lewitt. A number of oil and gas producers have missed interest payments on their debts, the final step before declaring bankruptcy or reaching an out-of-court restructuring agreement with creditors.
Still, the recent rally in oil and stock prices is likely to encourage the U.S. Federal Reserve to move forward with its next interest rate hike. Policymakers paused on lifting rates earlier this year because of extreme global stock market volatility. But with markets stabilizing, the Fed has a reason to move.
Lewitt says that's one reason why the current stock market rally is likely to end soon.
"Markets sold off sharply after the Fed's December rate hike and will likely do so again the next time the Fed hikes," Lewitt shares.
And that's only the first stock market crash warning sign he sees...
Stock Market Crash Sign No. 2: A Stronger Dollar
While the U.S. central bank's interest rate path is upward, a growing number of global central banks are moving in the opposite direction. The European Central Bank, Denmark, Japan, Sweden, and Switzerland all are experimenting with negative interest rates.
"Negative-interest-rate policy (NIRP) is not merely some technical monetary policy tool; it is a tactic with profound political and moral consequences that must be exposed as a betrayal of the social compact between governments and citizens," Lewitt said.
"Keeping the Fed up at night is fear that further rate hikes coupled with moves in the opposite direction by the ECB and Bank of Japan will push the dollar higher," Lewitt explains.
Investors should keep an eye on the dollar in the weeks ahead to gauge what the market is going to do next.
If the dollar starts strengthening again, that would be bad news for oil... and stocks.
Stock Market Crash Sign No. 3: Soft Corporate Earnings
For Q1 2016, the estimated earnings decline for the S&P 500 is -8.3%, according to FactSet. If the index reports a decline in earnings for Q1, it will mark the first time the index has seen four consecutive quarters of year-over-year declines in earnings since Q4 2008 through Q3 2009.
And although more than half of the S&P 500 Index components remain in a bear market -- a decline of 20% or more from a recent peak -- stocks aren't cheap.
"The S&P 500 is now trading at roughly 17x consensus 2016 earnings," Lewitt said. "But when you adjust those earnings to remove all of the non-GAAP adjustments that companies use to disguise what is really going on, the multiple is over 20x."
Investors usually believe those deceptive numbers, and they also typically believe central banks will continue to boost the markets in this slow-growing economy.
But now it seems investors are losing faith in the central banks.
The evidence is in the gold price rally this year. The yellow metal is up nearly 20% year to date.
"Gold is a play on monetary instability, something that central bankers are delivering in droves," Lewitt said. "Gold could hit $1,400/oz. in this rally, but over the long term it will trade at much higher prices than most investors can imagine as central banks complete their mission of destroying the world."
Stay informed on what's going on in the markets by following us on Twitter @moneymorning or liking us on Facebook.
The Essential Guide to Buying Gold and Silver: Precious metal investing is widely regarded as the best "crisis insurance" for your portfolio. This guide gives you everything you need to know about the best stores of value in history, gold and silver. Read more...