Gold prices have trended lower this week as precious metal investors take a guarded stance ahead of this week's FOMC meeting. But despite this week's dip in gold prices, we're still bullish on the price of gold in 2016.
First, here's why gold prices are down this week...
Gold prices were down as much as $12.10 in early trading today (Tuesday), but gold pared those losses and was down just $2.30, or 0.19%, at $1,233.70 an ounce by midmorning. Gold finished Monday's session down $14.30, or 1.14%, at $1,244.40 an ounce.
Now, global central banks will have a big influence on gold prices this week.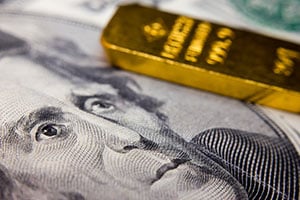 Tuesday, the Bank of Japan disappointed some investors when it left its monetary policy unchanged. However, the BOJ downgraded its expectations for Japanese economic growth, suggesting stimulus is likely in the near future.
The Bank of England will announce its own decision on interest rates on Thursday.
But Wednesday will have the biggest impact on gold prices as the U.S. Federal Reserve Open Market Committee will end its two-day meeting with a statement and press conference.
No changes in U.S. monetary policy are expected at this meeting. But traders and investors will be closely scouring the central bank's statement and Chairwoman Janet Yellen's comments for clues on the Fed's policy moves in the coming weeks and months.
The marketplace's odds are now 50-50 that the Fed will raise interest rates in June.
A hawkish tone from the Fed could send gold prices lower. Yet analysts don't see much downside below $1,200.00 to $1,180.00. That is until there's more certainty about the uneven U.S. recovery and strong signals from the Fed that it's committed to raising rates further.
And according to Money Morning experts, any pullback in gold prices after the FOMC meeting will provide a buying opportunity...
Why We're Still Bullish on Gold Prices in 2016

The increasing use of negative interest rates around the world, growing concerns of a global recession, and geopolitical risks are just a few reasons to own gold in 2016.
Plunging global currencies against the U.S. dollar, which are likely to fall further amid Fed rate hikes, are another.
Demand from emerging markets is particularly strong as currencies in these regions have fallen sharply in the last 12 to 18 months against the U.S. dollar. Consumers in these markets are buying physical gold, which is seen as a safe haven in tumultuous times.
Investors in China are fleeing stocks after a volatile start this year. Now they're piling into gold, according to Hong Kong-based trading firm Finemetal Asia.
The People's Bank of China has also been a robust gold buyer this year. China's central bank expanded its holdings by 0.6% to 57.50 million ounces in February from 57.18 million ounces in January, according to statistics on its website.
The gold price rally of 2016 has also been caused by a reduction in availability. According to the World Gold Council, total supply declined 4% in 2015 to 4,258 tons. That was the lowest level since 2009.
Money Morning Resource Investing Specialist Peter Krauth said that while gold's bull market looks like it's made a convincing return, the recent surge may be about to take a well-deserved breather.
"There's been so much relentless and consistent strength in gold since December, and gold stocks since late January, it's hard not to imagine that we're due to hit a soft patch shortly," Krauth said.
Still, Krauth remains bullish on gold in 2016.
"My view is gold and gold shares will likely give up some ground in the next few weeks before they return to bull mode," Krauth said. "And that may be an attractive opportunity to take a position in this sector."
The gold price is up 17.36% year to date. In comparison, the Dow, S&P 500, and Nasdaq are down 1.28%, 1.70%, and 5.67%, respectively.
Stay informed on what's going on in the markets by following us on Twitter @moneymorning or liking us on Facebook.
Related Articles: