The Chipotle stock price sank another 2% to $491.70 Wednesday, and shares of Chipotle Mexican Grill Inc. (NYSE: CMG) are now down 32.34% over the last six months.
And we've found the one number that will continue to have the biggest impact on the Chipotle stock price throughout the rest of 2016.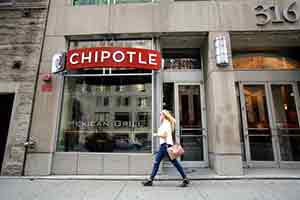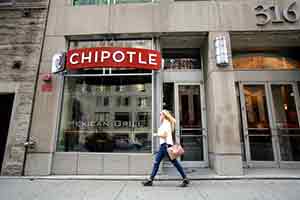 But before we get to that, here's a look at what sent the Chipotle stock price down again today…
The restaurant chain warned late yesterday that it expects to post its first quarterly loss ever as a public company. According to FactSet data, Chipotle hasn't posted a loss in any quarter since it went public in January 2006.
The warning came after Chipotle reported same-store sales fell 26.1% in February. The sales decline logged last month was bigger than the 22% decline Wall Street analysts were expecting. It also followed a punishing 36.4% drop in January.
And sales this month are off to another terrible start. Comparable sales (sales at existing restaurants) fell 21.5% in the first week of March. That rate deepened the following week to 27.3%.
The beleaguered company said it now expects a loss of $1 per share in the current quarter. That's because Chipotle is shelling out a lot more money on additional safety measures and tossing out more food amid rigorous DNA testing.
The company also said it would have to spend more to fully staff stores to serve customers redeeming offers for free burritos. The freebie promotion is part of Chipotle's efforts to lure customers back after a sharp decline in customer traffic. Money Morning cautioned investors earlier this month the burrito giveaways would likely increase traffic at Chipotle chains at the expense of "real sales."
Chipotle also warned it will have to spend money on a federal probe into its food-safety practices. The company was served in December with a grand jury subpoena related to a norovirus incident at a Simi Valley, Calif., restaurant in August. The subpoena is connected to a criminal investigation being conducted by the U.S. attorney general's office in California in conjunction with the U.S. Food and Drug Administration's Office of Criminal Investigations.
Under the subpoena, Chipotle must provide a broad range of documents related to the restaurant that experienced the norovirus incident. Chipotle is cooperating with the investigation. Chipotle has said it cannot yet estimate any penalties it might incur related to this investigation.
Chipotle has been struggling to recover from a series of food scares. Just last week, the company closed down a Boston-area restaurant when several employees fell ill. Last year, various locations dealt with multiple food-borne outbreaks, including several E. coli and norovirus outbreaks.
The food scares, sales declines, and profit warnings are three reasons the Chipotle stock price continues to plummet.
But we've found another major factor that will continue to impact the CMG stock price in 2016…
Why We're Still Bearish on the Chipotle Stock Price in 2016
Chipotle is already contemplating stepping back from some of the food-safety changes it pledged just a month ago.
In February, Chipotle said it was conducting high-resolution DNA-based testing of many ingredients. Now the company is considering eliminating pathogen testing on some ingredients, The Wall Street Journal reported, citing people familiar with the matter.
The company now has its beef cooked prior to arriving at some restaurants in vacuum-sealed bags. It's then marinated and heated on a grill before being served. Pre-cooking beef could help ensure that E. coli is killed, should such contamination occurs again. Chipotle previously touted high-resolution testing as a key component of its food-safety program.
Fresh, healthy, and natural ingredients have been a point of distinction for Chipotle. Chipotle now risks losing some loyal customers who frequented the restaurant for just that reason.
"On the one hand they have clearly created an image of fresh, natural, cooked-on-premise food and that's pretty well cemented in consumers' minds," Bob Goldin, vice chairman of restaurant consulting firm Technomic Inc., told The Journal. "But I think the fact that they use natural and sustainable ingredients is more of a driver of their business than them actually cooking it in store. But if people taste the difference, that will be a problem."
Chipotle suspects the source of the E. coli outbreak was beef imported from Australia, which it believes affected other ingredients through cross-contamination. Federal authorities, meanwhile, say the most likely culprit was produce.
Chipotle has kept the Australian beef supplier, but said it was testing meat for pathogens before it arrived at restaurants. Tuesday, Chipotle hired meat industry expert James Marsden to be its new executive director of food safety. A former Kansas State University meat-science professor, Marsden will oversee food safety across the 2,000-unit chain. Previously, food safety in the company's supply chain and stores was overseen by several individuals.
Chipotle recognizes it has a problem. But fixing it is another matter.
Money Morning has been bearish on Chipotle for several months. Today's news simply reinforces our stance. Until the company solves its food-safety problems and is able to boost its same-store sales, Chipotle stock should be avoided.
Stay informed on what's going on in the markets by following us on Twitter @moneymorning or liking us on Facebook.
Related Articles: