Can you believe this? There isn't even a Snapchat IPO date set yet, and Snapchat already has a $16 billion valuation.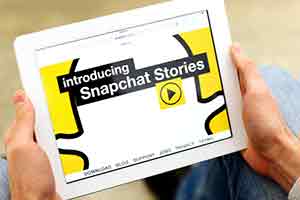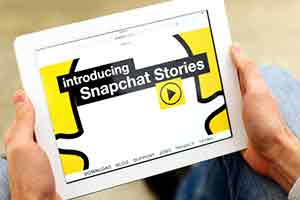 And after seeing the company's revenue increase, the demand for Snapchat stock is going to climb even higher ahead of the eventual IPO...
Re/code reported on March 8 that Snapchat may earn between $300 million to $350 million in revenue for 2016. That's a potential 600% increase from the projected $50 million in revenue Snapchat anticipated for 2015.
But even though the company is building its revenue ahead of the Snapchat IPO date, there is an established company that has its sights set on Snapchat.
Not only is it a big-name tech company, but Money Morning Defense & Tech Specialist Michael A. Robinson sees it climbing another 56% by 2020. You see, this company just made a major purchase that is going to challenge Snapchat's business entirely.
Before I get to that, I want to make sure that Money Morning readers know exactly why investing in IPOs can be so risky...
When retail investors first hear about an exciting tech IPO, they start to develop FOMO (fear of missing out). Investors who have missed out buying an early position in past IPOs often vow to never miss out on the "next big thing" ever again.
But IPOs are not designed to reward retail investors. Only big investors and large institutions make money off of IPOs.
"IPOs are little more than a get-rich-quick scheme that's so heavily stacked against you that it makes the house odds in Vegas seem downright conservative," stated Money Morning Chief Investment Strategist Keith Fitz-Gerald. "I say that because you are literally the last in a long line of people who are going to profit from the IPO process."
A recent example of this was the Square Inc. (NYSE: SQ) IPO. When the Square IPO price was set at $9 per share, it was the big investors and large institutions who were able to buy in at that price. SQ stock opened to the public at $11.20 on Nov. 19, and it closed at $13.07. That was a gain of 16% for retail investors, but a gain of 45.22% for those large institutions.
Of course, the excitement quickly vanished. Square stock opened at $8.27 per share on Feb. 9, which means you would have lost 37% in just three months if you bought SQ at its closing price of $13.07 on Nov. 19.
The Snapchat IPO date could come as early as 2016, and the $16 billion valuation ensures it will be one of the biggest financial stories of the year. Although it isn't a stock you're going to want to invest in, there is a way to profit from a similar product to Snapchat, all without exposing yourself to the same risk...
Buy This Stock Before the Snapchat IPO Hysteria Takes Over
The Snapchat IPO will be completely driven by hype. And the truth is, Snapchat isn't even the best at what it does.
You see, Facebook Inc. (Nasdaq: FB) is the dominant player in social media and is moving in on Snapchat's core business.
Snapchat does have a reputation for being very popular among teens. But in a 2015 study by Piper Jaffray, it wasn't Snapchat that was considered the most important social network to those users. In fact, Snapchat finished in third with only 19% of the votes...
Facebook's Instagram finished as the most important social network with 33% of teen's votes. Facebook itself finished as the fourth most important network, bringing in 15% of votes. But combined, 48% of teens felt some platform owned by Facebook was the most important social network to them.
And because of Facebook's recent purchase, Snapchat could fall farther behind in popularity...
On March 8, Facebook announced that it acquired the app Masquerade (MSQRD). MSQRD allows users to create live filters for selfies and replicates the features of Snapchat.
CEO Mark Zuckerberg was already able to increase Instagram's users from 30 million to over 400 million, and WhatsApp's users from 450 million to over a billion. He could do the exact same thing with Masquerade...
According to Business Insider, the Masquerade app had 1.92 million global downloads in January. In February, MSQRD had 7.6 million downloads and is on track for 13.2 million in March. It's on a fast growth projection, and Zuckerberg has proven he knows how to successfully grow his acquisitions.
Masquerade will now attract more users, which can help Facebook's ad revenue skyrocket. The more users Facebook has, the more money advertisers are willing to spend to try and reach those people.
Exact numbers aren't known, but researchers estimate Instagram could have brought in as much as $750 million in ad revenue in 2015. In terms of total revenue, Facebook brought in $17.93 billion in 2015. That's a 44% increase year over year.
Robinson is so bullish on Facebook stock that he placed a $250 price target on Facebook by 2020.
The Facebook stock price has climbed 189% since its 2012 IPO. And there's three big reasons why FB stock is going to sky rocket by 2020...
"Facebook is nothing short of a mobile juggernaut - the firm is now an advertising and media cash machine," Robinson said. "With upside like that, Facebook is truly a stock that can have a huge impact on your net worth."
The Bottom Line: Even though the Snapchat IPO will stir excitement, remember that Snapchat stock will be extremely volatile when it hits the market. Facebook stock is a safer play, and it still offers a 56% upside right now.
Jack Delaney is an associate editor for Money Morning. You can follow him on Twitter and follow Money Morning on Facebook. 
A Market Crash as Bad as 2008: Governments were desperate for answers back in 2008 when the world's financial system was on the brink of a total meltdown. So they did what they do best - they threw money at it. That saved the day back then, but created a bigger, more insidious problem that is very close to again undermining the global markets. The fuse on this economic dynamite is very close to the ignition point...