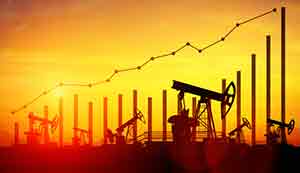 Yes, finding profitable oil stocks to buy now can be difficult in this low price environment. The price of West Texas Intermediate (WTI) - the U.S. benchmark - is down 3.5% this year and currently trades near $37.75 a barrel. After all, that's 42.5% below the 52-week high of $65.71.
But that doesn't mean you can't find oil stocks with market-beating growth potential this year. In fact, there's one oil stock in particular that Money Morning Chief Investment Strategist Keith Fitz-Gerald - a seasoned market analyst and professional trader with more than 30 years of experience - believes will see steady gains in 2016.
Still, identifying profitable oil stocks is just as important as identifying dangerous ones. Here are the companies you should avoid this year, followed by one of our "best oil stocks to buy now" picks for 2016...
Don't Touch These Oil Stocks in 2016
When oil prices are as low as they are now, you want to avoid the "Big Oil" companies like Exxon Mobil Corp. (NYSE: XOM) and Royal Dutch Shell Plc. (NYSE ADR: RDS.A). That's because these firms are racking up huge operating expenses right now.
You see, multinational corporations like Exxon and Shell have countless facilities in nearly every country on the planet. According to Exxon's website, it operates roughly 10,399 gas stations in the United States alone. That doesn't even include its production facilities and refineries.
All of these locations mean high operating costs, which is the last thing oil companies want at a time when oil costs less than the actual barrel it comes in.
"These oil majors have massive overhead costs, and in times like these, that is a huge problem," said Money Morning Global Energy Strategist Dr. Kent Moors - a 40-year oil industry veteran who's served the highest levels of U.S. and Russian energy agencies - to Oil & Energy Investor subscribers on Feb. 6. "It'll be some time before they hit bottom, even as oil prices start climbing."
While these oil stocks boast attractive brand recognition, there are better investment opportunities in the oil sector.
Here's the best oil stock to buy now, which has gained nearly 14% over the last month...
This Is One of the Best Oil Stocks to Buy Now
Phillips 66 (NYSE: PSX) is a Houston-based oil company that processes and refines oil and other petrochemical products. It merged with Conoco to create ConocoPhillips (NYSE: COP) in 2002 before it was spun off into a separate firm more than a decade later.
[mmpazkzone name="in-story" network="9794" site="307044" id="137008" type="4"]
Phillips makes most of its money from "downstream" services. These include refining, chemical production, and marketing. Refining services turn oil into consumable products like gasoline and petroleum, while marketing services sell these refined products to retailers.
Refining sectors are the bread and butter of oil companies when prices are near $30. That's because cheap oil also makes it cheaper for refineries to churn out enough gasoline to meet consistently high demand.
That's one of the reasons why Phillips 66 has outperformed Big Oil stocks recently. Exxon and Chevron Corp. (NYSE: CVX) are down 3% and 8.3% over the last year, while Phillips is up 13.8%.
The company also constantly beats earnings estimates. In fact, Phillips has beaten EPS expectations for the last six quarters. It also made $99 billion in revenue last year despite the 36% crash in oil prices.
Its consistent profitability comes from its insulation from the price volatility. Since the firm makes most of its revenue from refining rather than production, its profit isn't directly influenced by lower demand.
"It doesn't drill for oil or natural gas, which means it's not as vulnerable to sustained low oil and gas prices as other oil companies are," said Fitz-Gerald.
Right now, PSX stock is reasonably valued with a price/earnings ratio of 11.3. The average one-year target estimate for PSX stock is $91.83 - a gain of 6.6% from its last close of $86.18. That's a solid forecast considering the firm's revenue is expected to grow 39% to $130 billion this year.
The Bottom Line: Unstable oil prices are making it difficult to find good oil stocks to buy now. While the oil sector in general seems dangerous, it can actually be a lucrative area of the market if you know where to look. We advise against buying big-name oil majors due to their large overhead costs. Instead, we recommend buying shares of Phillips 66. The company's insulation from oil prices and strong earnings history make it one of the best oil stocks to buy now.
Alex McGuire is an associate editor for Money Morning who writes about energy. Follow him on Twitter for the most important oil stock updates.
Like us on Facebook: Money Morning
The Oil Sector's "Other Shoe" Just Dropped: The "other shoe" is dropping for oil. It looms as an ongoing concern, one likely to have a longer-lasting impact than the price of crude itself - and the ripple effects will extend to much more than just oil and gas...