The price of gold is soaring more than 3% today (Thursday) and is now up more than 20% year to date. But our forecast shows the price of gold climbing even higher in 2016.
Before we get to that, here's why gold prices are skyrocketing this morning...
The dovish tone of U.S. Federal Reserve Chairwoman Janet Yellen following yesterday's FOMC meeting sent spot gold prices up more than 3%, or $37.50, to $1,267.50 an ounce this morning.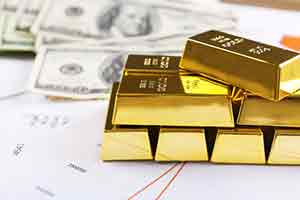 The steep drop in the U.S. Dollar Index to a five-month low overnight was another bullish catalyst for the price of gold.
The price of gold surged 2.3% to $1,260.61 an ounce late Wednesday after the U.S. Federal Reserve statement.
As widely expected, the U.S. central bank held interest rates steady after its two-day meeting.
The Fed also said it is not going to raise its key interest rate as expected. New projections from policymakers showed they expect two more 0.25% rate hikes by the end of the year. When the Fed raised rates for the first time in nearly a decade in December, policymakers penciled four interest rate hikes in for 2016.
The U.S. central bank on Wednesday also cut its forecast for U.S. economic growth and inflation, reflecting a fragile economy.
The Fed stressed that any future rate increases will likely be "gradual" moves. Yellen also emphasized that "policy is not on a pre-set course" and will change because the "economy will surely evolve in unexpected ways."
Additionally, Yellen said that interest rates could be reduced to zero in the event of any shock to the financial system.
Yellen's dovish comments are bullish for the price of gold in the short term. Here are the other reasons we see gold prices climbing even higher throughout 2016...
Why the Price of Gold Will Continue Higher from Here
The increasing use of negative interest rates around the world, growing concerns of a global recession, and geopolitical risks are other reasons to own gold in 2016.
Demand for gold in emerging markets is particularly strong, as currencies in these regions have fallen sharply in the last 12 to 18 months against the U.S. dollar. Consumers in these markets are buying physical gold, which is seen as a safe haven in tumultuous times.
Investors in China are fleeing stocks after a volatile start this year. Now they're piling into gold, according to Hong Kong-based trading firm Finemetal Asia.
The People's Bank of China has also been a robust gold buyer this year. China's central bank expanded its holdings by 0.6% to 57.50 million ounces in February from 57.18 million ounces in January.
The gold price rally of 2016 has also been caused by a reduction in availability. According to the World Gold Council, total supply declined 4% in 2015 to 4,258 tons. That was the lowest level since 2009.
Volatility in equities and oil prices, a spate of mixed economic data, and concerns over global growth have pushed the price of gold up more than 20% this year.
The price of gold should also continue higher as investors continue to lose faith in global central banks. Dovish statements and negative-interest-rate policies will continue to drive investors into safe-haven assets this year.
Money Morning Global Credit Strategist Michael E. Lewitt says the current rise in the price of gold is an indicator that investors and citizens are questioning the integrity of paper money and the policies of the central bankers destroying it.
"Gold prices don't lie," Lewitt said. "And the worse market conditions get, the more investors will flee equity and run to 'safe havens' like gold and silver. The world's paper currencies are being destroyed by the deliberate policies of central banks because they have no other tools to promote growth or inflation and governments have no other way to pay back the trillions of dollars of debt they have created."
Lewitt expects gold prices to continue to rise as panic sets into markets. And this is already happening.
Gold's 20% climb in 2016 compares to losses for all of the broader markets. In comparison, the Dow, S&P 500, and Nasdaq are in negative territory. The three key benchmarks are off 0.69%, 1.03%, and 5.25%, respectively.
Stay informed on what's going on in the markets by following us on Twitter @moneymorning or liking us on Facebook.
Related Articles: