Republican front-runner Donald Trump likes to tout that he doesn't have a super PAC. The real estate mogul isn't beholden to any special interest groups, and he finances his own campaign.
Of course, the "The Donald" has a few tricks up his sleeve that allow him to bypass any need for that extra cash…
Perhaps his best trick — the one that has saved him billions and helped catapult him to the top of the GOP pile — is Trump's penchant for gaining access to the public eye.
This Donald Trump "free media" relationship is undeniable, no matter where your political allegiances lie. Every time you turn on the television, pick up a paper, or browse the Internet, there seems to be something trending about the billionaire businessman.
Between January and November 2015, Trump's campaign was covered for a total of 234 minutes on NBC, CBS, and ABC's evening newscasts combined, according to The Tyndall Report, which tracks nightly news content. By comparison, Democratic front-runner Hillary Clinton got the next-highest amount of coverage at 113 minutes in the same time period, followed by former Florida Gov. Jeb Bush, whose campaign received 56 minutes of coverage.
It's no wonder Trump has spent less on television advertising than any other major candidate, according to an analysis by SMG Delta.
Here's a look at just how successful Trump is when it comes to amassing "free media" — yes, a reliable source has finally put a number to it…
Donald Trump "Free Media": Worth 500% More Than What He's Spent
MediaQuant is a firm that tracks the media coverage of the 2016 presidential candidates in order to assign a dollar value based on advertising rates.
And on Tuesday, The New York Times reported mediaQuant's Trump tracking, which revealed the real estate mogul has earned a "mammoth advantage in free media."
The Portland-based analyst consortium pegged Trump's free media exposure at an astounding $2 billion.
Trump, by the way, has only spent $10 million of his own cash on paid advertisements this election cycle. That means his free media exposure is worth 500% more than what he's coughed up for ads out of pocket.
Check out Trump's rivals' "free media exposure" in comparison: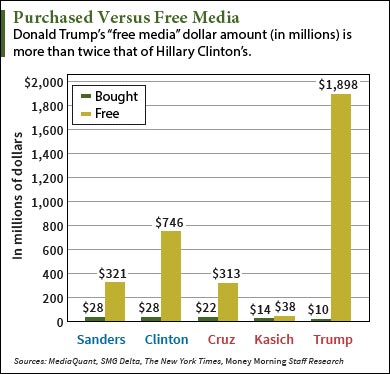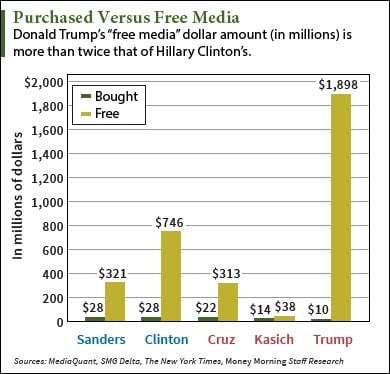 Texas GOP Sen. Ted Cruz and Ohio GOP Gov. John Kasich both spent more money than Trump on ads. The men clocked in at $313 million and $38 million in free media, respectively. That's far less than Trump's whopping $2 billion.
Hillary Clinton – second to Trump in mediaQuant's free media findings – managed to rack up $746 million in free media exposure.
Still, that's 60% less than what Trump got.
Here's how mediaQuant derived its numbers…
The firm tracked Trump's "mentions" in over 20,000 English-language outlets (Twitter, Facebook, Reddit, etc.) for many recognizable names. For example, it looked at what top names like Pope Francis, FOX News, and comedian Russell Brand had to say about Trump's run for the White House.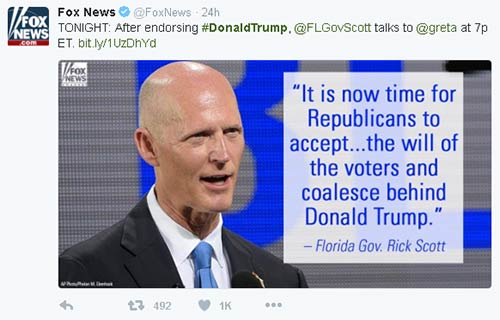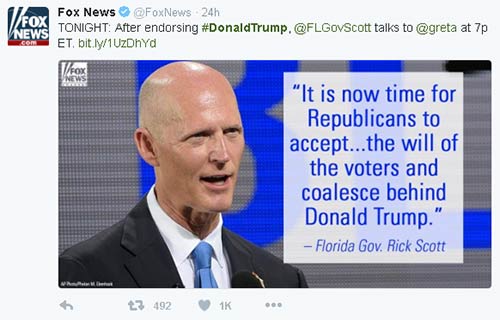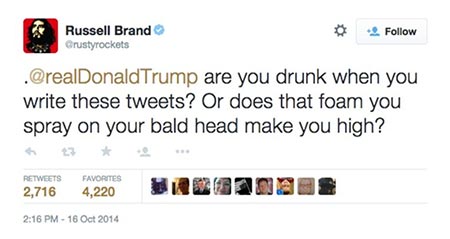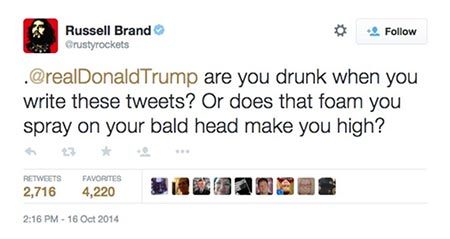 The mentions mediaQuant looked at were "weighted by the reach of the media source, meaning how many people were likely to see it," reported The New York Times.
By running the number of these raw mentions through an algorithm, mediaQuant assessed the tone of Trump's overall coverage — positive, negative, or neutral.
The research group then considered the impact traditional media mentions — print, broadcast, or otherwise – had on Donald Trump.
By assessing all of this data and running it through a separate algorithm, mediaQuant was able to put a dollar value on Trump's "free media" — $2 billion.
Are you surprised that the Donald Trump free media phenomenon is worth $2 billion? Tell us on Twitter @moneymorning, or like us on Facebook.
A Market Crash as Bad as 2008: Governments were desperate for answers back in 2008 when the world's financial system was on the brink of a total meltdown. So they did what they do best – they threw money at it. That saved the day back then, but created a bigger, more insidious problem that is very close to again undermining the global markets. The fuse on this economic dynamite is very close to the ignition point…
Related Articles: