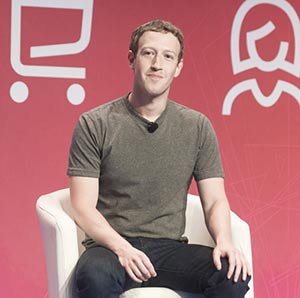 CEO Mark Zuckerberg just made a very strategic move that will be a major catalyst for the Facebook stock price, even though Wall Street isn't appreciating the move right now.
Zuckerberg purchased picture and video app Masquerade on March 9, 2016. While no financial details are known yet, the app was the 33rd most downloaded app on the Android market on March 11.
Facebook Inc. (Nasdaq: FB) has been very busy since 2007, purchasing a total of 56 companies.  While this may seem like just another purchase to add to the collection, this acquisition is a huge growth catalyst for the Facebook stock price. And we're already very bullish on the FB stock price…
In fact, Money Morning Defense & Tech Specialist Michael A. Robinson has a shocking price target for where he sees FB stock heading by 2020.
But before I get to Robinson's price target, I want to make sure Money Morning readers know exactly what Masquerade is and why Facebook purchased it.
Masquerade, also known as MSQRD, is an app that allows users to add filters, text, emojis, stickers, and special effects to photos and videos. One feature of Masquerade known as "face swap" has become particularly popular. It allows you swap the faces of two people in a photo.
And according to Business Insider, Masquerade is on track to see a 587% increase in downloads in just two months…
In January, MSQRD had 1.92 million global downloads. In February, MSQRD downloads skyrocketed to 7.6 million, and BI projects that the app will be downloaded 13.2 million times in March.
This current growth is impressive, but Zuckerberg could help make user growth skyrocket even further…
When Zuckerberg purchased Instagram in 2012, he increased the followers from 30 million to 400 million. When he purchased WhatsApp in 2014, he increased the users from 450 million to over a billion.
Masquerade is already growing at an incredible rate, even before Zuckerberg takes over.
And some Wall Street pundits view this as a move just to counter Snapchat's growing popularity…
It's true that Masquerade replicates the features of Snapchat. It's also true that Facebook tried to buy Snapchat for $3 billion in cash in 2013.
Snapchat is certainly a popular platform, but this wasn't a defensive move by Facebook. In fact, it was an offensive move that provides a new catalyst for the Facebook stock price to reach Robinson's price target.
Here's how high Robinson sees the Facebook stock price climbing…
Our Shocking Facebook Stock Price Target
By 2020, Robinson believes that Facebook stock will trade at $250 per share.
"Trading at $108, Facebook has a market cap of $305.79 billion," Robinson stated in November. "I'm projecting a price of $250 in as little as five years – and in seven years at the outside."
And Masquerade is a major catalyst for the Facebook stock price to reach that projection…
The Facebook stock price has climbed 189% since its 2012 IPO. And there are three big reasons why FB stock is going to skyrocket by 2020…
Piper Jaffray conducted a survey in 2015 to find out which social network was the most important to teens.
Snapchat is viewed as being incredibly popular among teenagers, but the study found surprising results…
You see, teenagers only thought that Snapchat was the third-most important social network. It only received 19% of their votes. But Instagram was voted as the most important and received 33% of the votes.
And if you look at the user base, it's Snapchat that should be fearing Facebook. Not the other way around…
TechCrunch projected that Snapchat was closing in on 200 million monthly active users (MAUs) at the end of 2014. Exact user totals aren't known, but we do know that Instagram surpassed 400 million users in September 2015. We also know that Facebook now has 1.59 billion MAUs as of Dec. 31, 2015.
Snapchat was offering a unique experience that Facebook didn't. Not anymore.
Most importantly, Masquerade will help Facebook attract more advertisers to Facebook. If advertisers were trying to reach a younger demographic, they may have previously gone to Snapchat over Facebook.
But with this new offering, Facebook and Instagram become even more attractive platforms to advertise on.
Analysts estimate that Instagram earned between $650 million and $750 million in 2015. And now, Masquerade can help add even more users and draw in a younger audience.
You see, Masquerade is more than just an app. It's a snapshot into how content is now being consumed, and Zuckerberg is making sure he has a foothold to ensure the success and longevity of his social networks.
And because of acquisitions like Masquerade, Facebook is far from finished posting impressive revenue growth…
In 2015, Facebook posted $17.93 billion in revenue. That's a 44% increase year over year, but revenue can climb even further as Instagram is still in the early stages of monetization.
"Facebook is nothing short of a mobile juggernaut – the firm is now an advertising and media cash machine," Robinson said. "With upside like that, Facebook is truly a stock that can have a huge impact on your net worth."
The Bottom Line: The acquisition of the picture and video app Masquerade is the newest catalyst that will help the Facebook stock price skyrocket. And we're so bullish on FB stock that we have a price prediction of $250 a share by 2020. Masquerade is going to help Facebook gain new users and keep people on the site longer. That means Instagram and Facebook are going to become even more attractive for companies to advertise on.
Jack Delaney is an associate editor for Money Morning. You can follow him on Twitter and follow Money Morning on Facebook. 
A Market Crash as Bad as 2008: Governments were desperate for answers back in 2008 when the world's financial system was on the brink of a total meltdown. So they did what they do best – they threw money at it. That saved the day back then, but created a bigger, more insidious problem that is very close to again undermining the global markets. The fuse on this economic dynamite is very close to the ignition point…