The Valeant stock price has crashed 88% over the last six months, and the stock shows no sign of recovering. And while many investors were crushed by the loss – including famed activist Bill Ackman, who reportedly lost $1 billion on the stock – our readers made a profit of 700%.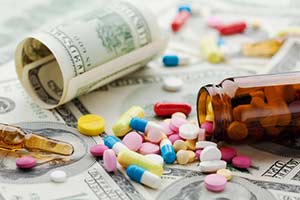 Before we get to that massive profit, here's why Valeant Pharmaceuticals International Inc. (NYSE: VRX) stock crashed 58% this week, and why it's still falling…
The recent rout in the Valeant stock price escalated last week when Valeant lowered its Q4 outlook and guided Q1 fiscal 2016 sales and earnings below Wall Street estimates. Valeant reduced its Q4 earning per share (EPS) guidance to a range of $2.55 to $2.65. The previous range was $4.00 to $4.20.
Sales estimates were lowered to a range of $2.7 billion to $2.8 billion from $3.25 billion to $3.45 billion.
The company said it also lost approximately 20% of its prescriptions in Q4 due to a disruption in its pharmacy relationships. Valeant then lowered its full-year 2016 EBITDA to a range of $6.9 billion to $7.1 billion. It had initially been projected at $7.5 billion.
Following the news, numerous analysts downgraded their Valeant stock price projections…
Nomura Securities, Evercore ISI, Stifel Nicolas, UBS, and Wells Fargo were among the firms to downgrade VRX stock.
Valeant shares first started falling last summer after a scathing report from short seller Citron Research. But many analysts remained bullish on Valeant, even as shares tumbled 74% from August through Monday. That's no longer the case.
The Valeant stock price briefly rallied last week when the company secured a deal to distribute some of its medicines through Walgreens Boots Alliance Inc. (Nasdaq: WBA) pharmacies.
But the good news was short-lived, as this week's news sent the stock crashing again.
Then came worries about debt defaults…
Valeant did most of its growing by being a serial acquirer of other firms. But its shopping spree left the company sitting on a mountain of debt. As of Sept. 30 (latest available data), the amount was $17.4 billion.
The Valeant stock price crash continued today as shares fell 1.62% at $29.20 in early trading.
We've been warning investors about the Valeant stock price for months and remain bearish into 2016. But instead of just watching VRX stock drop, Money Morning Global Credit Strategist Michael Lewitt saw a way for readers to profit. And so far, they've seen a gain of 700%…
How We Banked a 700% Profit on the Valeant Stock Price Crash
Before the Valeant stock drop, VRX was one of the stock market's best performers in 2015.
At its high of $263.81 in August, shares were up more than 83% on the year and 300% over the last five years. Valeant grew rapidly by snapping up smaller companies. With each acquisition, Valeant cut research costs and raised drug prices. It also domiciled in Canada for a lower tax rate.
Lewitt saw the Valeant stock drop coming. Back on Oct. 4, Lewitt described Valeant as a "deeply troubled company" and warned that the company's troubles were just beginning.
Lewitt said the company is "emblematic of just about everything that's corrupt and toxic in today's market."
He cited Valeant's practice of bankrolling acquisitions with junk-bond financing, firing most of its employees, and hiking the prices of the drugs it had just purchased the rights to.
"Valeant's predatory business model places it at a disadvantage with investors because it depends on inflicting harm on people to make money," Lewitt said. "The bottom line is that Valeant is getting what it deserves. This predatory business model has enriched management and a bunch of hedge funds but has left everyone else with whom the company has come into contact severely damaged."
Money Morning Defense & Tech Specialist Michael A. Robinson says Valeant has become an "industry pariah." Investigations into sales and distributions "call the company's core operations into question, along with the steadiness and integrity of its leadership."
As Valeant's woes continued to mount, Lewitt continued to revise his price target downward.
He also shared his strategy to take advantage of the Valeant stock price crash…
Our Trading Strategy for the Valeant Stock Price Crash
On Jan. 13, Lewitt recommended investors buy VRX June $50 puts. At the time, they were changing hands at $2.50.
By March 8, the VRX March 18 $50 puts were trading at $6.10. That meant readers who followed Lewitt's advice more than doubled their money. Lewitt then recommended investors consider selling the puts at $6.10 since they were close to expiring.
At that time, Valeant was trading at around $61.31, down from a 52-week high of $263.81. The share battering persisted, adding to our short-side profits. Still, there were more profits ahead.
On March 15, Valeant announced it wouldn't be able to file its U.S. Securities and Exchange Commission 10-K forms and might default on some debt obligations.
That's when many shareholders threw in the towel. Volume topped 71 million shares as sellers drove the stock down another 51% to just under $33.50.
The VRX June $50 puts traded at $20 as of March 17. Investors who paid up to $2.50 were looking at meteoric gains as high as 700%.
Lewitt is already looking for his next short, so stay tuned to Money Morning for more triple-digit profit opportunities…
Stay informed on what's going on in the markets by following us on Twitter @moneymorning or liking us on Facebook.
The Essential Guide to Buying Gold and Silver: Precious metal investing is widely regarded as the best "crisis insurance" for your portfolio. This guide gives you everything you need to know about the best stores of value in history, gold and silver. Read more…