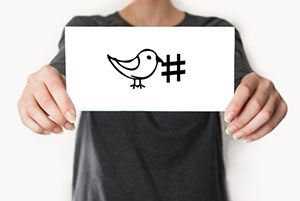 Twitter Inc. (NYSE: TWTR) turned 10 today (Monday), and it's been a long and strange trip for the Twitter stock price.
Since Twitter stock has been so volatile during its trading history, I also want to look at where the Twitter stock price is heading in 2016 and talk about what investors can expect.
But before I do, I wanted to share some of the highs and lows Twitter shareholders have experienced since TWTR debuted on the NYSE on Nov. 7, 2013…
The Full Twitter Stock Price History
Twitter set its IPO price at $26 per share and closed at $44.90 on its first day of trading. That was nearly a 73% gain for the large institutions and big-name investors who were able to get in early.
But when we look back at the Twitter IPO, it seems like a fad that was only popular because investors didn't want to miss out on the hot new IPO…
It's ludicrous that a company that lost $79 million the year before its IPO and had no clear plan for monetization could have its stock price skyrocket nearly 73% in just one day. But that's exactly what happened.
You see, hype and speculation have always had a major impact on Twitter stock…
Just two months after the IPO, the Twitter stock price closed at $73.31 on Dec. 26, 2013. That's an 181% increase from its IPO price and a 72% increase from its closing price on its first day of trading.
Of course, TWTR stock quickly lost its in-vogue status in the investment world. The Twitter stock price opened at $44.29 on April 25, marking the first time it had closed lower than its first-day closing price.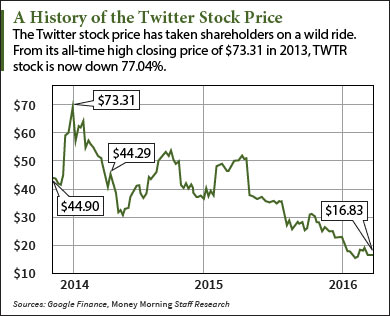 #ILoveTwitter may be trending today, but the Twitter stock price opened at just $16.83. TWTR is now down 65.32% over the last 12 months.
Throughout Twitter's history, it has been plagued by:
Management problems (four CEOs since 2008)
Monetization issues (Twitter recorded a net loss of $521 million for 2015)
Stiff competition from competitors like Facebook Inc. (Nasdaq: FB), Snapchat, and Instagram
In his second stint as permanent CEO, Jack Dorsey has attempted to unlock shareholder value through new features. But if the Twitter stock price is going to climb, it's going to be based on Twitter's performance in 2016 and not just hype…
Can Jack Dorsey Make Twitter Stock a Strong Investment in 2016?
In Twitter's Q4 2015 earnings report, Dorsey somewhat proudly announced that Twitter didn't lose users for the quarter. Analysts expected poor growth in monthly active users (MAUs), but not adding any MAUs is a huge issue. In comparison, Facebook increased MAUs by 2.58% from Q3 to Q4.
So not only does Dorsey have to grow user totals, but he has the additional task of keeping them on Twitter.
And keeping users on Twitter is going to be Dorsey's biggest challenge…
In his letter to shareholders about the results from Q4 2015, Twitter's CEO said he is going to focus on the strengths of his company.
"We're focused now on what Twitter does best: live. Twitter is live: live commentary, live connections, live conversations," Dorsey stated. "Whether it's breaking news, entertainment, sports, or everyday topics, hearing about and watching a live event unfold is the fastest way to understand the power of Twitter."
You see, Twitter no longer has a strangle hold on live commentary and conversations. Facebook, Snapchat, and Instagram have all introduced live features into their platforms that are challenging Twitter.
Although Facebook is mainly working with celebrities to use the feature right now, it is rolling out a livestream option for users to share videos in real time. Snapchat and Instagram have grown in popularity because of real-time video abilities, and Instagram already has 25% more MAUs than Twitter.
Advertisers want to reach as many users as possible. Right now Facebook's and Instagram's massive user bases make them much more appealing to advertise on than Twitter.
Snapchat is also growing in popularity, and it's expected to increase projected revenue of $50 million in 2015 to as much as $350 million for 2016.
So if Dorsey can't even keep users, there's no reason to believe he can grow ad revenue and make Twitter a profitable company.
The Bottom Line: The Twitter stock price has been very volatile and lost 65.38% of its value in the last 12 months. CEO Jack Dorsey has to not only grow user totals, but also keep current users from leaving. The Twitter stock price has a rocky history, and we don't see it becoming any more stable in 2016…
Jack Delaney is an associate editor for Money Morning. You can follow him on Twitter and follow Money Morning on Facebook. 
Opportunity Alert: It's true that you would have to be a fortune teller to know exactly when a bear market would start and end. But fortune telling isn't Chief Investment Strategist Keith Fitz-Gerald's profession. His goal is to protect your wealth, maximize gains, and help you focus on what's really going on in the market. In his Money Map Report, this financial guru has used his years of experience as a trader in one of Wall Street's leading firms to help his readers find 86 double- and triple-digit winners. You can learn more about Keith's Money Map Report here…