The U.S. Federal Reserve's inaction last week was good for gold, but it was even better for silver prices.
Silver prices touched a level they haven't seen since last October – a bullish sign for future gains for the rest of 2016.
But even better, the gold-to-silver ratio – a tool used to determine how many ounces of silver can be bought with one ounce of gold – has dialed back a bit, indicating that silver's gains are just getting started.
Silver prices even broke above a psychologically significant level, and we'll have to watch to see if they can maintain that momentum.
Now, here's a closer look at silver's important week last week…
How Silver Prices Performed Before and After the Fed Announcement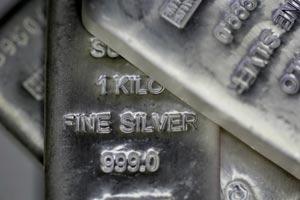 Silver prices declined for two straight days leading up to the Fed's announcement on Wednesday last week. On Monday, March 18, the price of silver opened at $15.58 and fell 1.6% to close at $15.33. It was mostly flat on Tuesday, falling just 0.3% to $15.25.
But things changed entirely on Wednesday when the Fed announced it wouldn't hike interest rates. Silver prices opened at $15.27 and gained 2.2% to settle at $15.60.
After breaching the important $16 mark in midday trading on Thursday, the price of silver eventually lost some of its strength. It dropped 0.9% to $15.81 on Friday but logged a weekly gain of 1.5%.
Here's exactly why silver prices rallied following the Fed announcement last week, and why we see prices climbing ever higher this year…
Why the Fed Announcement Pushed Silver Prices Higher Last Week
The biggest factor was the weaker U.S. dollar. As you can see, the dollar tanked on Wednesday once the Fed decided to keep rates unchanged.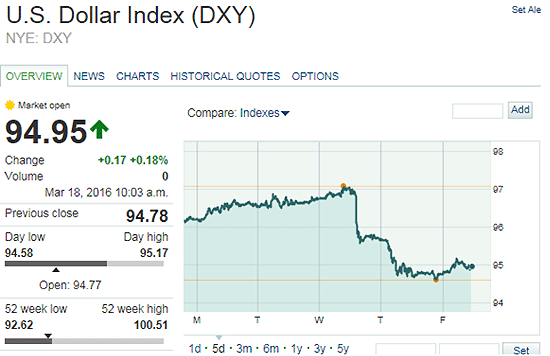 At the same time, the prospects of both a slower pace for rate hikes this year, as well as ongoing negative rates abroad, have been very supportive of a higher silver price.
Looking at the gold-to-silver ratio, we see another reason why the price of silver may be rising.
As we've discussed here before, the gold-to-silver ratio is good for seeing if one metal is cheap or expensive relative to the other.
And, as I pointed out two weeks ago, "just recently, the ratio popped above 80 to reach 82.86. In the past 20 years, the ratio has only poked above the 80 level four times. If we go back to 1990, this ratio has traded on average at 66."
Further, I added, "Let me be clear. None of this means the ratio has to head back down right now. But the probability of that happening soon is high, thanks to the concept of reversion to the mean. On that basis, I do expect silver to start making strong gains relative to gold. If this ratio were to reverse from here and head back to 66, then at a current gold price of $1,270, we'd have silver at $19.25. That's almost 24% higher than silver's current $15.55 price."
Since then, we've seen the silver price trade above $16 an ounce, and the gold-to-silver ratio has come down to 78.99.  Even though silver has retreated from $16, it's still trading at $15.82.  That's nearly 3% higher in two weeks.
Commerzbank and HSBC have noticed as well. According to Commerzbank, silver prices have outperformed gold prices lately. This caused the gold-silver ratio to fall from nearly 84 to 78 – the lowest level since early February.
HSBC commented, "We think it may narrow further, implying that silver will gain on gold. Up to now, silver failed to keep up with the gold rally. Part of this may be due to producers streaming or selling silver forward to raise cash. This increase may have weighed on prices. Longer term, this may be positive because future production has already been sold. Also silver coin and bars are becoming increasingly competitive with gold coins and bars and may see greater demand."
With all this action, and silver beginning to outperform gold, I suggest you keep a close eye on this precious metal.
I certainly will, and I'll keep you posted on ongoing developments.
Stay tuned to Money Morning for more silver price updates. Follow us on Facebook and Twitter.
The Essential Guide to Buying Gold and Silver: Precious metal investing is widely regarded as the best "crisis insurance" for your portfolio. This guide gives you everything you need to know about the best stores of value in history, gold and silver. Read more…
Join the conversation. Click here to jump to comments…
About the Author
Peter Krauth is the Resource Specialist for Money Map Press and has contributed some of the most popular and highly regarded investing articles on Money Morning. Peter is headquartered in resource-rich Canada, but he travels around the world to dig up the very best profit opportunity, whether it's in gold, silver, oil, coal, or even potash.